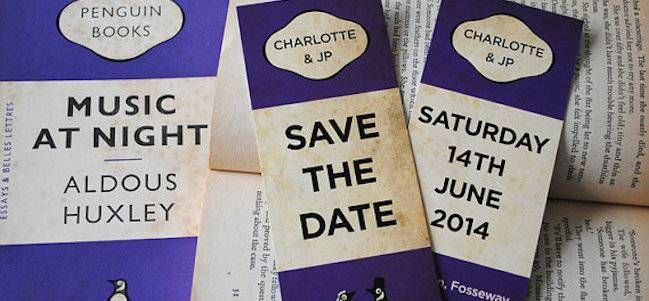 Featured
Five Wonderfully Bookish Save-The-Date Ideas Found On Etsy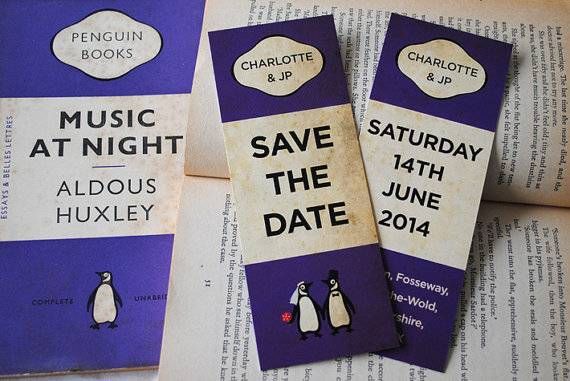 Penguin. Classics. Bookmarks. Yes. (via Marty McColgan on Etsy)
So here's the thing, BookRiot readers. I've got weddings on my mind. My fiancee and I are busy planning ours for next year, which means a lot of time has been spent clicking around the Internet for wedding advice, catering reviews, venue ideas, etc.
One of my favorite parts of planning though, has been looking up bookish, literary save-the-date ideas. Not invitations (which Becky rounded up back in May), but the simple, postcard size notes you send out to let people know invitations (and the wedding) are coming.
An invitation to let you know you'll be receiving an invitation. It's like having a meeting at work about having a meeting, and you know what? I love it.
I've gone ahead and rounded up some of the loveliest bookish save-the-dates I could find on Etsy. Here's hoping you too can find a little inspiration in these.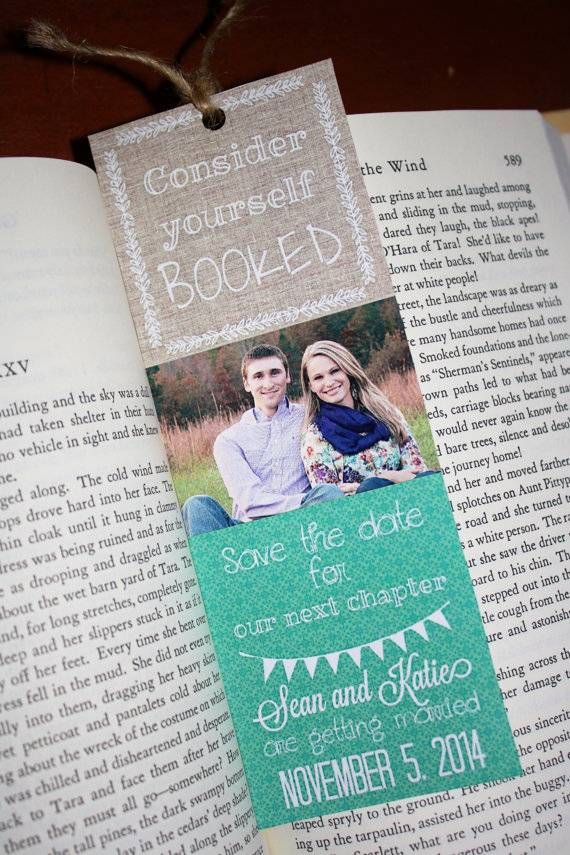 SAVE THE DATE BOOKMARKS: Sure, you could send magnets, which certainly get used and re-used on your guests' fridges. Or you could send a save the date bookmark.
You can go with something custom, like the one pictured above. Or maybe get the Penguin Classics version, featured in the header image.
SAVE THE DATE LIBRARY CARD: Instead of sending a regular ol' postcard, maybe have your save the date printed on a library-card-esque. Simple, lovely, vintage. Yes please. I'll keep this on my fridge forever.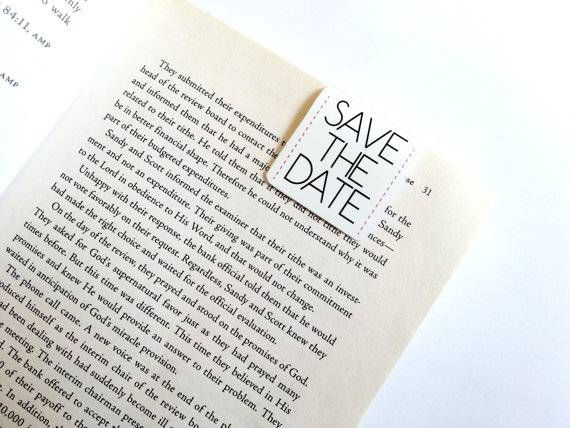 MAGNETIC SAVE THE DATE BOOKMARK: Want to up your game from the standard paper bookmark? These lovely bookmarks use magnets (magnets, how do they work?), and are really small, and really cute.
ADVENTURE BOOK SAVE THE DATE: In case you want your save-the-date peppered with the tears of your guests, you might want to look into creating an adorable adventure-book cover… inspired by Ellie and Carl from Pixar's Up. That's right. You remember those first five minutes. All the tears.
COMIC BOOK SAVE THE DATE: The tears of your guests… not your thing? Fine. But remember, they do give you power. Instead, maybe go for this. Custom made comic book covers as your save the date.
Want an all out comic book themed wedding? Becky has some awesome picks in this post.