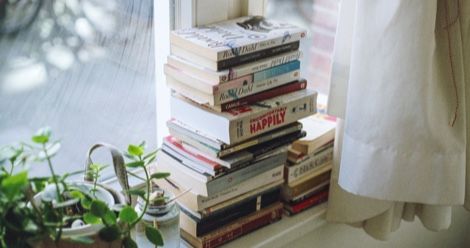 Lists
5 Popular Books That Are Still Worth Reading Now That the Hype Has Died Down
This content contains affiliate links. When you buy through these links, we may earn an affiliate commission.
For a while, these popular books were everywhere—on every book club list, in every casual reading discussion, front-and-center on library and bookstore shelves. They ended up in your TBR, too, but you weren't quite ready for them yet, and you read on to other books first.
They waited. And waited. They're still waiting there patiently, shiny and uncreased. But do you want to move these formerly popular books to the top of your pile? I submit that you do. Here's why.
Ursula Todd is born in the early 1900s, and she doesn't have it easy. She dies the day she is born. She drowns in the ocean as a toddler. She dies during the flu pandemic. She dies at the hands of an abuser. She dies during World War II. She also survives all of these things, though. In Kate Atkinson's wondrous, hard-to-peg novel—is it about reincarnation? does it traverse the multiverse?—quiet English countryside days are as frequent as unthinkable acts, and there may be opportunities to save imperiled loved ones and take down dictators, if only we trust our most otherworldly instincts. Tagged as historical fiction, this novel is so much more than that, and every one of its nearly 600 pages is a treat.
Gone Girl by Gillian Flynn (2014)
Thirty pages into this one, I declared "I love Amy Dunne!" From the people around me who'd already finished the book came the sound of a record scratch—did they have something to fear from me…? But no: it was just my first dose of Gillian Flynn, and I didn't know what was ahead.
If you haven't read this one yet, and if you've somehow evaded all of the movie news, keep avoiding spoilers; the reveal is just too troubling and delicious. (I maintain that Amy's tone early on is delicious, too.) The bare bones of it: a husband's wife disappears, and the community suspects he's committed uxoricide. Has he? You'll have to read to find out.
Station Eleven by Emily St. John Mandel (2015)
Before the pandemic, people could worry about things like the paparazzi and cheating spouses; after it, survival becomes so much more important. This post-apocalyptic delight straddles both periods, following an actor, his wives, and a young girl whose life he touches in the before period, and transitioning to focus a troupe of wandering actors in the after. It moves through Northern Michigan landscapes and troubles our most seductive and disruptive tendencies, asking questions about how we choose to survive, as well as our susceptibility to snake oil salespeople when we're feeling most vulnerable.
Colson Whitehead's novel is brutal. That's a warning, but also an endorsement. Of course a novel about slavery would be brutal, but there's something simultaneously devastating, necessary, and worthwhile about this particular novel, which handles its subject with stark, unflinching elegance and without hiding anything.
Cora is born into a brutal system that does not respect her humanity, just as it did not respect her mother's, or her grandmother's. When she is inherited by an even more unfeeling plantation owner, she decides to follow in her mother's footsteps and risk escape. It's a fraught proposition, made no less fraught by Whitehead's inventive conception of the railroad as an actual locomotive-led underground system. Various Southern states become horrific, microcosmic personifications of racism's tendencies and the lies of "well-meaning" white folks. But Cora persists. So should you; the novel's emotional demands are high, but they warrant it.
Clade by James Bradley (2017)
A cli-fi masterpiece, Bradley's novel trips through the decades, following a scientist and his descendants as the world goes to water. We watch them adapt to the unthinkable: continual floods that wipe out nations; the disappearance of species that sustain us. Through it all, we also witness them juggling their own family and personal relationships, and the combination is captivating. A little less prose poetic than The End We Start From, though there's some of that here, too; a perfect title for working your way into the genre literarily.
---
What are some popular books you've put off reading?