Lists
Five More Books to Look For in 2012
In service of my unwritten resolution to start the year without feeling like I'm already behind the eight ball, I dedicated a good chunk of my vacation reading time to 2012 releases. Here's an eclectic selection of the ones that have already made the cut onto the list of titles that will be worth talking about this year.
If You're Into Literary Fiction: Carry the One by Carol Anshaw (March, Simon and Schuster)
This novel is ostensibly about what happens in the decades after a group of friends accidentally kill a young girl in a late-night car accident. What it's really about is the way that every family has a defining moment, an instant to which they spend the rest of their lives responding, the time that separates Before from After. It's about regret, our ability to admit our mistakes and move on from them (and what happens when we can't), the impact of time, and the stories we tell to make sense of our experiences and the ways in which we are damaged. As compelling as the story is–and it is quite compelling, slipping between characters' perspectives to cover twenty-five years of their lives–the real treat of this novel is Anshaw's writing. Her creative choices and the way she crafts sentences make for surprises on every page, so this dark novel comes with a heady dose of delight. Highly recommended for, well, just about everyone.
If You're Into Nonfiction: The Lifespan of a Fact by John D'Agata and Jim Fingal (February, WW Norton)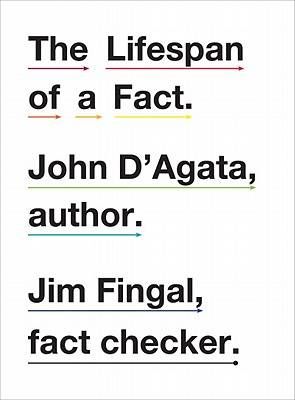 When John D'Agata, an essayist and creative writing instructor, was hired in 2003 to write a piece about a teenager's suicide jump from the Stratosphere in Las Vegas, the publication that commissioned the piece rejected it, citing factual inaccuracies in the text. The Believer picked it up and assigned then-intern Jim Fingal to be the fact checker, and what followed was nearly seven years (!) of back-and-forth as D'Agata and Fingal argued over what, exactly, the goal of an essay is and how much artistic license a writer is allowed when crafting a story about a real-life occurrence. In The Lifespan of a Fact, D'Agata's original text stands alongside Fingal's questions, notes, and factual disputes as the two have a fascinating dialogue (at times, a passionate argument) about the tension between factual accuracy and emotional poignancy.
Classifiable as meta-nonfiction, this book is a meditation on the art of writing and reading nonfiction. D'Agata and Fingal invite readers to consider the editorial process and teach us the important lesson that we cannot assume a book is factually true simply because it is labeled nonfiction. For its candor, originality, and potential to change the way you read, this book is not to be missed.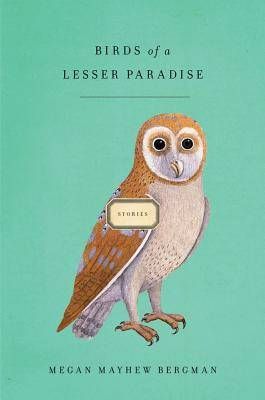 If You're Into Short Stories: Birds of a Lesser Paradise by Megan Mayhew Bergman (March, Scribner)
In the first story of this collection, a young woman packs her son into the car for a trip in search of the roadside zoo that houses her deceased mother's parrot. The parrot can speak in her mother's voice, and she is desperate to hear it, as she has realized that she no longer remembers what it sounded like. This story is terrific and heartbreaking, and it is only the beginning. Every last piece in this collection deserves to be here; there's not a weak one in the bunch. It's a rare book that deserves that praise, and an even rarer debut. Megan Mayhew Bergman's stories are as technically skilled as they are emotionally affecting. They beg to be savored, but you'll have to work hard to resist gulping them down in one sitting.
If You're Into Memoirs: Wild: From Lost to Found on the Pacific Crest Trail by Cheryl
Strayed (March, Knopf)
Devastated by the death of her mother, the dissolution of her marriage, and her dalliances with hard drugs, Cheryl Strayed (just 26 at the time) walked away from her life–what was left of it–and set out to hike the Pacific Crest Trail. No easy feat for a seasoned hiker, the PCT presented Strayed, who had no experience whatsoever with long-distance trekking, with innumerable unforeseen challenges. But it also provided months of solitude, time for reflection, and an escape from people and habits she wouldn't otherwise have had the strength to avoid, and in doing that, it made her whole again. Everything that Eat, Pray, Love wanted to be but wasn't, Wild is an authentic story about leaving home to find yourself. Highly recommended for fans of the stunt memoir who crave genuine tales of adventure.
If You're Into Literary Genre Fiction: The Lola Quartet by Emily St. John Mandel (May, Unbridled Books)
Gavin Sasaki's life implodes when his fiancee leaves him and his editor at a prominent New York newspaper discovers that he has falsified quotes in several recent articles. Gavin's sister offers him a job in his hometown of Sebastian, Florida, and though he is reluctant to accept, he doesn't have any other options. Upon his return, Gavin finds out that his high school girlfriend might have had his child without telling him, and he spends his off-work hours trying to locate his daughter and uncover a decade's worth of deception and secrets.
Chapters rotate between characters' points of view and alternate between past and present as Mandel explores corruption, culpability, and the nature of memory in a story that touches on drug dealing, theft, economic catastrophe, and crimes of desperation. Readers will recognize notes of Mandel's previous novel The Singer's Gun in these pages, and while the ground she treads here is not wholly new, her ability to turn a gorgeous phrase and invite readers to consider the questionable decisions we make in service of our own survival make it worth the read.
If You're Into Books, Period: Home by Toni Morrison (May, Random House)
If I had a firstborn child to offer in exchange for a galley of this, I'd give it serious consideration. And honestly, I don't really care what it's about. It's Toni Morrison, and reading her is like going to church for me. That's all I need to know. Can't wait to get my hands on this one.