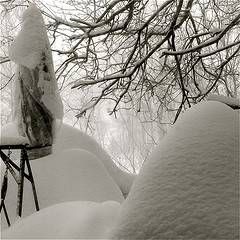 Lists
Five Books to Read During a Blizzard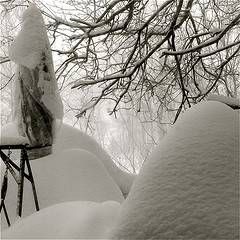 After four months of the most tame winter I can remember, we finally got a walloping winter storm across Minnesota on Tuesday and Wednesday. Sadly, I didn't get to take a snow day during the blizzard. I live about seven blocks from my office, so there's no excuse for me not to make it in.
But that, of course, didn't keep me from thinking about all of the amazing, atmospheric books I would have loved to dive into if I'd gotten to spend a day home in my flannel pjs, drinking hot cocoa and baking cookies while the blizzard raged outside.
Since there's not really time to head to the library once a snow day gets called, I limited my choices to five books I have on my shelves right now:
Safe from the Sea by Peter Geye
This is the one winter book that I haven't quite finished reading, but even just a few chapters in I know it's a perfect stormy read. Set in northern Minnesota, the book is a story about a father and son reconnecting at the end of the father's life and trying to make sense of a tragic shipwreck years earlier. I don't know where this book is going just yet, but it's so darkly evocative of the danger of winter that I can't put it down.
Jane Eyre by Charlotte Brontë
Oh, Jane Eyre. This is always the first book I think of with the sort of dark and twisty winter setting that I want to settle into during a blizzard (followed closely by Wuthering Heights — you know, the moors). Jane's flinty personality, the hot-and-cold romance, the chilling escape and betrayal… it's all just great. But if you're not up for the classic, a more recent adaptation of the novel, Margot Livesey's The Flight of Gemma Hardy, which sets the story of Jane in 1960s Scotland, is also a good read.
Into Thin Air by Jon Krakauer
If you ever need to convince someone that climbing Mount Everest is a terrible idea, to be undertaken by only the most foolhardy people, make them listen to the audio book of Jon Krakauer's Into Thin Air. In the book, Krakauer writes about one of the deadliest climbing seasons on Everest and his experience climbing the mountain when a rogue storm killed eight climbers. The first time listened to this book, I was literally yelling at the characters while driving in my car. I'm sure I looked insane, but, for real, this book is that good.
Blankets by Craig Thompson
Set in Wisconsin, Blankets is a beautifully illustrated, autobiographical coming-of-age graphic novel by Craig Thompson. A big story in the book is Thompson's first romance with a girl he meets at a winter Bible camp. What I love about this book is the way Thompson does an exquisite job of capturing the feeling of disconnect loners can feel even while in a crowd, the feeling of both loving and hating your family, the feeling of being in love for the first time, and the feeling of losing love for the first time. And so much of the book takes places outside in the snow, with these looping and exquisite drawings, it's a perfect winter read.
But Not for Long by Michelle Wildgen
This is actually a weird book to put on the list, since it takes place in the middle of a sweltering summer in Madison, Wisconsin. Over three days, the main characters have to "reckon with a disquietude lurking under the surface" as blackouts, gas shortages, and a disappearance bring on a quiet apocalypse. There's something eerie and disconcerting about this book that makes me want to pick it up again in the middle of a storm.
Photo Credit: Denis Collette via Flickr