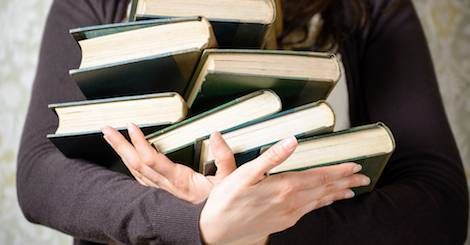 Humor
Five Books I "Borrowed" And Will Never Ever Give Back
This content contains affiliate links. When you buy through these links, we may earn an affiliate commission.
We talk (and write) about lending books all the time, usually with a caveat that the books don't come back home, and we're mad about that. I've even written a shame post about the books I know I've lent out which are never coming back. (No results from that, fyi.)
But then it occurred to me that I too have borrowed books from friends – really good books, some even considered collectibles – books I will never, ever give back because now they are a part of me and my book library and belong on my shelves forever. (I really should've thought about this before I created a list called "Books People Stole from Me and I NEED BACK NOW", written on cute rainbow colored faux library cards. Darling. A friend came over and saw that and was just – wow, Alison, wow.)
The statute of limitations on returning books is apparently very, very brief.
So with all apologies to the friends I've borrowed/stolen from, here are the books you'll never get back.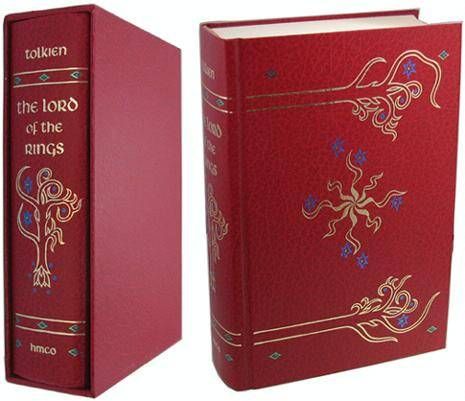 1. The Complete Lord of the Rings Trilogy, by JRR Tolkien. Collectors edition. Leather bound. Includes appendices A-F, hobbit family trees, a helpful Shire calendar ("For use in all years"), and a frame-worthy map of Middle Earth, FTLOG.
The story goes waaaaay back to my formative years. From a friend in high school, I borrowed it right from his bedroom shelf one day and secreted it away. I mean, the book nerd in me knew he didn't really know or appreciate what he had, and it deserved to be in Hobbit-loving hands. And it is. Forever.
I've read it numerous times, when my paperback copies just wouldn't suffice. There are no marks on the inside, no highlights underlines or exclamations, as befits a collectors edition, and oh, the nights I've spent absorbing the map, all in black, white and red, a simple, heartfelt offering. I love this book.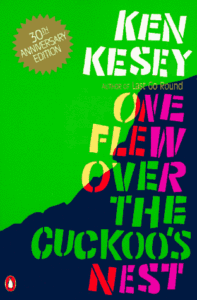 2. One Flew Over the Cuckoo's Nest, by Ken Kesey. So my friend says to me he says – WHAT?? You've never read One Flew Over? And I said – nope. So he says you've GOT to read it, you can borrow my copy.
And then he moved far, far away, and yes, maybe we're Facebook friends and of course I could get in touch…but I haven't. And won't. Because this is the 30th anniversary edition, a funky sixties arty paperback, gently used and well loved and standing testament to time. Miss Ratched lives on to sweetly torture new souls.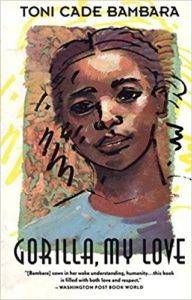 3. Gorilla, My Love, by Toni Cade Bambara. A college roommate, a stolen treasure, a lifelong friendship sealed. My favorite stories in this collection remind me of my friend, and so the book stays with me, a memento.
The Lesson, where an adult is taught about the hard facts of life from a young girl who grew up too soon, by way of a visit to F.A.O. Schwarz – will always remind me of the times we spent taking BART to San Francisco and running around Union Square, and our absolute childish (but still appropriate, college aged) glee when the F.A.O. Schwarz appeared: three stories of endless afternoon delight.
Raymond's Run, a story about a sister who takes care of her brother – who is not little or younger, but needs to be taken care of in the way that only family understands – Raymond's Run ends on a sweet note about friendship, and includes a neatly scribbled note that I love like a yearbook inscription: "The two girls come together at the end. Community." And that's what this friend is to me – someone I met along the way, bonded with and loved, and over time we created our own community.
I think that's worth one borrowed book.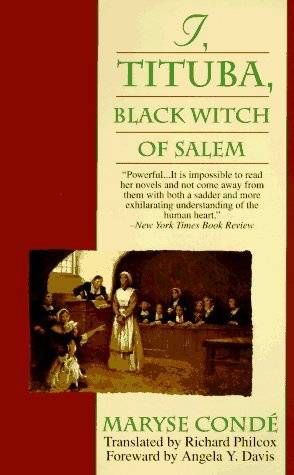 3. I, Tituba, Black Witch of Salem, by Maryse Condé, translated by Richard Philcox. This book is the only one I truly feel bad about not returning, because it was lent to me as a message of support, in the way that bookish people lend books to friends going through things, and the book is meant to be a sort of sympathy, empathy, feel-better, empowerment gift.
This is a spectacular book, an historical fiction based on the very real Tituba, one of the first three women arrested in Salem in 1692 and tried for witchcraft. She was also the first, and only, black witch, and after a year in prison she was sold off as a slave, and there her story ends, as far as recorded fact. But Conde, a black Caribbean writer, gave Tituba her own story, her own place in history, and her own ending to a dark story that began with her conception – her Barbados-born mother's rape on deck of an English ship – and ends in much the same way.
Tituba is a hero created from a historical footnote, a story purposely not told. In the foreword to the novel Angela Davis writes that "Tituba's revenge consists in reminding us that all the doors to our suppressed cultural histories are still ajar. If we are courageous enough to peer through the narrow openings, we will discover our fears, our rage, our hopes, and our roots."
Thank you, friend who will never see this book again.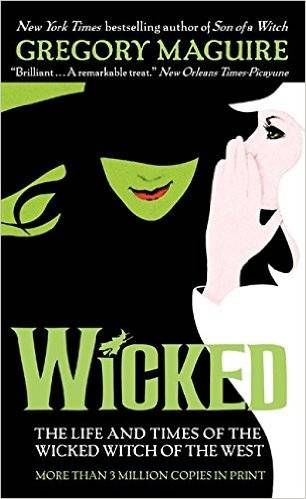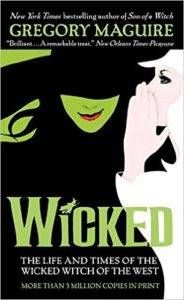 4. Wicked: The Life and Times of the Wicked Witch of the West, by Gregory Maguire. My mom leant me this one years ago after her spectacular book club read and loved and dissected it. I was supposed to read it before I saw the musical production. I didn't, and then I didn't want the book to spoil the musical (a twist for me, as I usually don't want the dramatization to spoil the book). I even re-read the original Wizard of Oz, just so try to ease myself back into this remixed backstory of a classic witch. And now it sits greenly on my shelves, to be read when the time is right. So I can't give it back. Not yet anyway.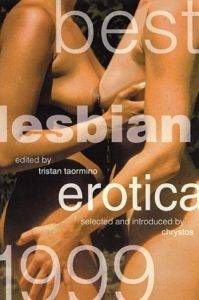 5. Best Lesbian Erotica 1999, edited by Tristan Taormino. (Selected and introduced by Chrystos! "Don't be lonely. Have fun, use latex and stay wet.")
This last one is just sort of embarrassing. Not to read, because a lot of the stories in this collection of titillating lesbian lust are sublime – some are just not, but that's why it's a collection, and there's something to suit everyone's erotic fantasies.
No, it's embarrassing because I borrowed it sooooo long ago, when I was new to the lgbtq verse, and the friend who lent it to me understood that I needed to read something that was in my new wheelhouse. And that's exactly what this book is for. In her introduction, lesbian social justice writer and poet extraordinaire Chrystos notes that, "somewhere, a young girl will pick up this book and learn what it took me years to find out." Amen. The book even moved with me once or twice, and there have been many versions published in the intervening years, and so to give it back now would just be ridiculous. All dog-eared, spine bent and cocktail spilled. Besides, I might need it for inspiration some day.
In conclusion, if you recognize your book and want it back…good luck.