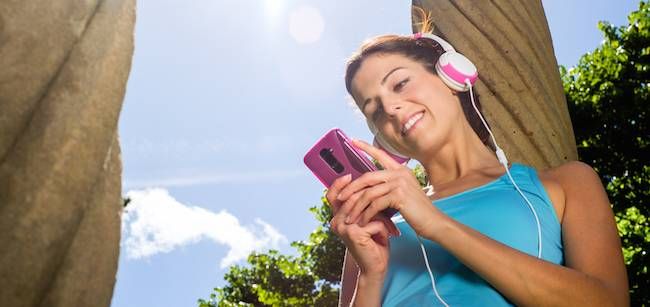 Humor
Fitness and Books Are Like Peas and Carrots
This content contains affiliate links. When you buy through these links, we may earn an affiliate commission.
Can I get a holla from all my bookish fitness buffs? The stereotype may go that jocks and book nerds don't mix, but we know you're secretly complex, beautiful creatures who can be both.
Personally, I love books, and I love working out. I've been trying to get more active lately, so last month I splurged on a Fitbit fitness tracker. And after I'd fiddled around with it for a few days, I noticed how perfectly it pairs with audiobooks. It's like my Fitbit and audiobooks were made for each other — like Forrest and Jenny, like peas and carrots. Together, they're a bookish fitness buff's dream come true.
Curious things started happening when I started tracking my steps with a Fitbit. I started parking farther away at the grocery store. I stopped driving to the coffee shop that's a 15 minute walk from my house. And I started getting up from my desk every few hours to take a mini walk around the block.
Also my neighbors started wondering: "didn't that crazy lady walk by just an hour ago?"
All that walking has been ideal listening time. Sometimes I don't even take earbuds — I just grab my phone and hold it up to my ear. I find myself looking forward to logging a few more steps because it means I get to find out what happens next in my book, too.
But it's not just my Fitbit. There are so many ways my love of books and fitness intersect.
Can you relate? You might love fitness as much as you love books if:

1. You don't care if you get stuck in front of the TV with infomercials at the gym because you brought your copy of The Goldfinch.
2. Your playlist in RunKeeper is an audiobook.
3. When you travel, you budget room in your luggage for books plus tennis shoes and a tri-blend T-shirt.
6. You stake out the gym for those plexi magazine holders so you can prop up your library book while you work out.
7. You'd lift books instead of free weights in a pinch.
10. You prefer to go to the gym alone because work out time = reading time.
12. Your books occasionally get water damaged from sweat. (Eww.)
13. You keep a "gym book" in rotation with all your other books.
14. You've considered joining an actual Quidditch League.
15. You occasionally extend your work out to get to the end of the chapter.
16. You caught up on A Song of Ice and Fire while training for your last event.

Any of these sound familiar? Rock on — wear your bookishness on your fitness-loving sleeve, and I'll see you at the gym! (Even if my nose might be buried in a book.)
____________________
Book Riot Live is coming! Join us for a two-day event full of books, authors, and an all around good time. It's the convention for book lovers that we've always wanted to attend. So we are doing it ourselves.