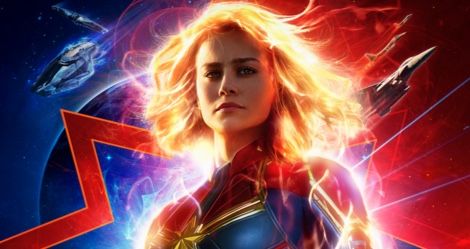 We are not worthy
The first full-length trailer for Captain Marvel is here, and IT. IS. AWESOME.

Krees? Skrulls? Freaking awesome powers? CHECK! Not to mention Nick Fury baby talks to a cat.
"Aren't you the cutest little thing?" 🐈 #Goose #GooseTheCat #CaptainMarvel pic.twitter.com/aXjBuugYEY

— Dolby Cinema (@DolbyCinema) December 4, 2018
But really, the full-length trailer shows us a bit more of Captain Marvel's (aka Carol Danvers) time away from Earth. It also lets us see her return and build a relationship with Fury as she searches for her past. Based on this clip, the entire venture into finding out how she came to be this immensely badass hero is going to be quite the ride.
It's pretty much a given that this movie is going to get everyone prepped for Captain Marvel entering the Infinity Wars fray. And, with so many heroes gone, Carol looks like the secret weapon the Avengers need to come back from devastation.
Reactions
I stood up, fist-pumped the air, and immediately forgave my ginger cat for all his recent crimes after watching the trailer.
The internet reactions have been similar:
LITERALLY ME AND ME WATCHING THE NEW CAPTAIN MARVEL TRAILER pic.twitter.com/X2ee1MmMWO

— maia ceo of kaztastrophe (@belledalle) December 4, 2018
Mood #CaptainMarvel pic.twitter.com/alMdaewzRE

— ✨Captain Marvel News (@CaptMarvelNews) December 4, 2018
this gif of Captain Marvel just saved me pic.twitter.com/EUjPRcn4a0

— aaron (@disneythingz) December 4, 2018
Perfection #CaptainMarvel pic.twitter.com/03WN7QzWmH

— David ⚡️ (@davidhaux) December 4, 2018
https://twitter.com/quacksonqueen/status/1069794430134050816
Thanos? She's coming for you, boo. We're all looking forward to it. I personally hope she breaks your snapping fingers.
Want to prepare for the movie by reading the comics? Here's a good place to start.