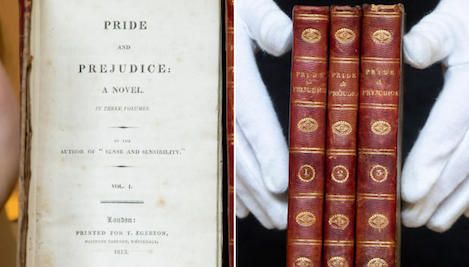 First Edition of PRIDE AND PREJUDICE Is Going Up For Auction: Critical Linking, September 2, 2018
Sponsored by Under My Skin by Lisa Unger, new from Park Row Books.
---
A first edition of Jane Austen's "Pride and Prejudice" is expected to fetch up to $23,390 at auction.
The classic novel, which consistently appears near the top of lists of "most-loved books" has become one of the most popular novels in English literature.
Austenites with some money to spend, here's a once in a lifetime opportunity!
____________________
A report on publishing-industry net revenues for the first third of 2018 has been released by the Association of American Publishers. The report's findings are consistent with what the AAP has been reporting for a little while now: e-books are down by 3.8% over the same period in 2017, while downloaded audiobooks are up 36.1% (physical audiobooks are, unsurprisingly, down 11.4%, because there aren't many people buying CDs and cassette tapes anymore).
Audiobooks are doing so, so well.
____________________
Theatre artists in 15 cities across the U.S. will unite during Banned Books Week (September 23–29) for Banned Together 2018, a series of "censorship cabarets" featuring material from plays and musicals that have been censored or challenged on American stages.
Organized by the Dramatists Legal Defense Fund, the non-profit organization that advocates on behalf of writers and other theatre artists facing censorship, the concert series will kick off September 23 in Atlanta, continuing throughout the week with performances taking place in Baltimore, Boston, Chicago, Dallas, Kansas City, Nashville, Los Angeles, San Francisco, New York, and more.