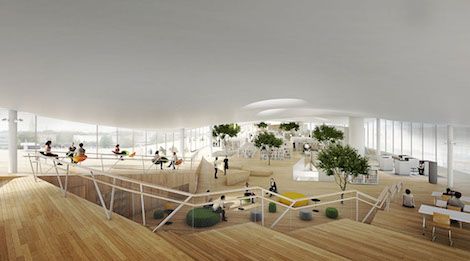 Finland's 100th Birthday Gift To Its Citizens Is A New Library: Critical Linking, November 25, 2018
Sponsored by our $250 All the Books Barnes and Noble gift card giveaway!
---
Like a wave sweeping between the buildings of what is known as Citizens' Square, Oodi (pronounced 'awdi) is a veritable ode to Helsinki. The new central library breaks the boundaries of silence and invites children, tourists, contemplatives, rock bands, the whole world, in fact, to partake in its multi-faceted facilities and what's more, it's all for free!
Booking my flight to Finland ASAP to check out this amazing library!
____________________
The holidays are approaching, and it's time to start shopping for all the gifts you're going to give to your family and friends. Of course, I'm here to tell you that the best gift is a book. And here's a secret: some of the best book gifts I've received have actually been graphic novels. With so many great comics and graphic novels that came out in this past year, you're bound to find one that makes the perfect gift for someone on your list.
On top of getting a great story, a graphic novel also delivers a wonderful piece of art. It's so exciting to unwrap a graphic novel and find a visual treat inside.
Gotta love a good gift guide to graphic novels.
____________________
A centuries-old doodle of a cyclops has been discovered in a study-shy teenager's book of ancient Greek plays by conservation staff restoring his family's library in a Hampshire mansion.
William John Chute, who lived at The Vyne between 1757 and 1824, was the owner of the book and is believed to have drawn the sketch when he was 15. The National Trust has identified it as the cyclops Polephemus, from Homer's Odyssey.
Don't draw in library books (but if you do, may your story be like this one). Yes, I know it's a family library book, but the point remains.