This content contains affiliate links. When you buy through these links, we may earn an affiliate commission.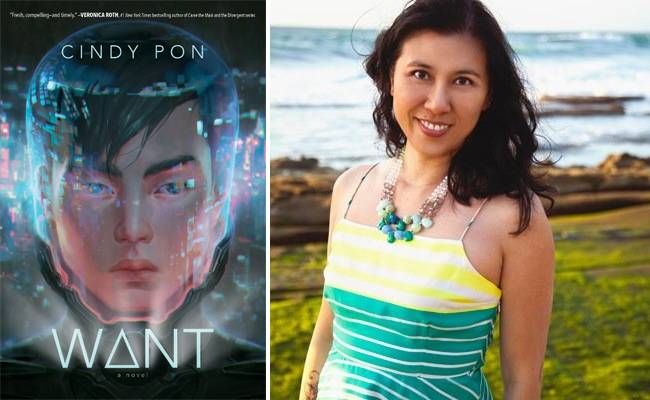 "Books aren't afraid to show you the truth." – Cindy Pon, Want
When Cindy Pon first announced Want, I immediately knew I couldn't wait to get my hands on that book. You can't describe a book by saying it has "echoes of Blade Runner" in it around me. That's just unfair.
In Want, readers are thrown into a future-set Taipei, where pollution is strangling not just the city, but a lot of the world. Here, society gets divided up into two pretty clear castes of people, separated by who is wealthy and well, who isn't. And those who have money, are afforded privileges that stretch far beyond just nice cars and fancy homes.
They're given the ability to breathe. Or at least, breathe easier.
See, the wealthy in Want can afford special exo-suits, that keep them safe not just from the dirty air, but strains of viruses that also teem within the polluted city. In addition to living their life of excess, full of gorgeous dance clubs and the ability to alter their appearances to almost supernatural extents, the wealthy in Want aren't just given a better life. They're given life. Period. Does that seem unfair? It is.
And for Jason Zhou, a poor thief, this is no longer acceptable. Especially after the loss of his mother.
Want follows Jason as he claims one of those expensive exo-suits and moves to infiltrate the wealthy, with the help of his brilliant friends, each of whom has lost something at the hands of the corruption that fills the dying city.
But another hero emerges in the novel, from the smog that clouds the city. As Jason pushes his way through to the truth, fighting to save those like him that have been cast aside, he returns to something again and again.
Books.
Want, and Jason's heart, is full of them. Even in a crumbling Blade-Runner-esque world, literature remains. Shakespeare, classic works of Chinese writers, and even comic books (Superman and Hulk get mentioned a few times)… the power of stories play a huge role in Jason's story. They existed long before Taipei turned into what it is in Jason's world, a landscape of corruption and lies. Like Pon says about halfway through the novel… "books aren't afraid to show you the truth."
Because even when everything seems dark, words can make a difference. The truth can make a difference. And that's a major theme at the heart of Pon's stunning novel. So! Let's take a look at some of the books mentioned or referenced throughout Want, with no spoilers of course.
The Talented Mr. Ripley by Patricia Highsmith: There's a nod to Tom Ripley in Want, which shouldn't come as much of a surprise when you look at the story here. Jason, much like Tom, assumes an identity to infiltrate a world that isn't his own.
A Wrinkle in Time by Madeleine L'Engle: Meg Murray is specifically mentioned in Pon's novel, and we know her as the main character in Madeleine L'Engle's classic quintet. When you get to know many of the characters in Want, and their connection to science, the tie here is clear.
William Shakespeare's Romeo & Juliet: A story of star crossed lovers from different worlds, who can't be together? The fact that this classic is brought up is no accident, especially when you consider Jason's love interest, Daiyu, the daughter of the wealthy corporation who makes the suits him and his friends can't afford.
The Count of Monte Cristo by Alexandre Dumas: Just like how Meg Murray is brought up, we hear about Edmond Dantes in the story… the main character in Dumas' novel of revenge. Much like Jason, Edmond takes on a new persona and identity to infiltrate, and get justice.
The Shining by Steven King: King's classic novel of horror gets a mention. A story full of anxiety and distrust, it fits quite well in Jason's world.
The Stranger by Albert Camus: Jason often questions the purpose of what he's doing, wrestling with the meaning of everything… so well, bringing up the existential classic by Camus makes sense. There are other reasons why this one gets brought up, but let's not dish spoilers, friends.
Grass Soup by Zhang Xianliang: Pon doesn't just bring up novels! The non-fiction account of Xianliang's two decades in Chinese prisons and labor camps gets a nod in the book.
Rather than reference specific books, a few times Pon's characters simply talk about great authors.
Luo Guanzhong, Leo Tolstoy, Virginia Woolf: While discussing that "nothing big was ever gained without sacrifice" and the idea of misguided heroes and villains, Jason references these three authors. Maybe pick up the epics Romance of the Three Kingdoms, War and Peace, and Orlando?
Roald Dahl: The spy who would later become a beloved author of books for children? With his dual life, there's no surprise that he's brought up here, by Jason who finds himself leading a double life of his own.
Yu Hua: One of Hua's most popular novels, To Live, is critical of the government. Fits in perfectly with Jason's uprising, as well as the beliefs of his friends and allies in Want, challenging the system. You're not supposed to question in Pon's Taipei.
Other authors that get mentioned through Want include Beverly Cleary and Edgar Allan Poe.
And last, myth plays a big part in Pon's world. In addition to referencing acclaimed Chinese authors like Yu Hua and Zhang Xianliang, she also weaves in nods to myths, including The Red String of Fate and The Monkey King.
Want an absolutely fantastic read involving The Monkey King folktale? Pick up Gene Luen Yang's American Born Chinese. You'll love it.
---
Did you read Want? Did I miss a reference in this YA book? Leave it in the comments!