This content contains affiliate links. When you buy through these links, we may earn an affiliate commission.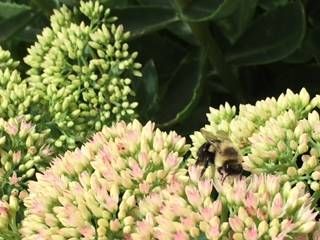 Last year, when the weather began turning nice, I started my Friday afternoon tradition of reading out on the front porch. I have two nice chairs and a table, and I like to spend an hour or two decompressing by reading out there, free of any and all distractions. The one challenge is that when the weather begins getting warmer — which is something I welcome — the wasps begin their reproduction in ernest. They enjoy nesting in the shutters behind my seating arrangement. While I can move my reading set-up to the other side of the porch, another problem occurs: I have more bees that take residence in the hostas and other plants.
I spent more and more time thinking about bees as I sat outside on those Fridays and began realizing I wanted to learn more about them. I knew wasps had no purpose, but bees had been in a losing battle over the last couple of decades. What was happening to them? Why were they experiencing colony collapse? How did honey or any of the consumption of the natural sweetener impact the bees themselves?
That afternoon, I asked Book Rioters to recommend a solid book or two about bees. Not about how to raise them, but rather, anything about why they were important, what was happening to them, how I could be a better citizen of the natural world and ensure I'm not harming them.
The Beekeeper's Lament by Hannah Nordhaus was the title that came up and I immediately borrowed it from the library.
Nordhaus is an award-winning journalist, and her writing style agreed with me immediately. The book follows John Miller, who is one of the most well-known beekeepers in the United States. I traveled from central California to North Dakota, through Wyoming and Idaho, and discovered how bees are transported and moved, where they thrive best, and how, in what sounded like an instant, hundreds and hundreds of colonies of bees didn't survive. The science behind beekeeping was fascinating, and hearing how people do this year after year, with no guarantee of solid honey production, kept me engaged.
I could not put the book down. It was perfect non-fiction reading, being engaging, educational, and offered insight into the human-nature connection that I find fascinating. While reading it outside surrounded by the hum and buzz of bees and wasps, I started to look at them a little bit differently.
Then I stumbled upon the chapter that literally changed my life.
I've been a honey user for a long time. I never loved it nor had I thought about it a whole lot. I picked up the jar at the store labeled "Raw Wisconsin Honey" because it came in an appealing bottle and the label said it was from Door County — a part of the state that just has a dreamy, delicious quality about it. I had a cashier once tell me it was essential I refrigerate that with the "raw" label on it (to which I nodded, never having put said honey in the fridge in the many years I've purchased and eaten it, since that's not necessary).
The Beekeeper's Lament opened my eyes to the entire, broad world of honey in a way I'd never seen it before. I learned how to tell good honey from cheap, crummy honey; it comes down to the way honey runs down the side of a jar. Does it move quickly? Then it's been filled with water and it's mass produced in a way to change the natural makeup of the product. If it moves slow, then it's been kept at its most pure.
I discovered that the labels of honey aren't about the way the honey has been flavored, but rather, it's about what the bees have pollenated. Orange blossom honey? The bees have been hanging out in orange blossoms. Buckwheat honey? From fine buckwheat and limited in its creation to states like Wisconsin.
After reading the book, I've enjoyed exploring the world of honey. Every time I travel to a new grocery store or a farmer's market or a local eatery, I pick up a bottle of honey if they have it. The more locally created your honey, the more you offer direct support to the beekeepers working to keep the supplies up. But beyond that obvious economic value of going local, the more assurance as a honey enjoyer that the honey is as pure and free from being watered down as possible. Without doubt, buying honey made on the farm three miles away has been more delicious and flavorful than honey I've gotten that's not made that way.
I've let myself explore the world of foreign honeys, too — I've picked up French honey, as well as a wide variety of German honeys, and I've enjoyed trying each, discovering the flavor profiles present in each, and learning about just how different each honey really is. They do different jobs, serve different purposes, and each have their own stories to tell, from bee to bottle.

I can and want talk about honey in the same way a lot of people can talk about wine, and I enjoy talking about honey and thinking about it in those same ways. It's a weird little passion, one that I'm learning more and more. I'm excited to spend this season of farmer's markets traveling my little corner of the world and sampling the honey that the beekeepers are creating. I'll continue to avoid those wasps that take up residence in my shutters each summer, but rather than fear the bees pollenating in the hostas and other flowers in my front yard, I'll let them do their thing, knowing they are not interested in me in the least.
The first thing I did when the threat of a hard freeze passed this year was to plant a variety of sunflowers in the backyard. It won't be long before I pick up a small tray and rocks to fill with water that will encourage honeybees to take residence in my yard.
The best books change your perspective on the world. And if you're lucky, the best books can expose you to entirely new worlds that excite, engage, and encourage you to be a better citizen of the world. I'll forever be grateful to The Beekeeper's Lament for showing me that each honeybee matters, that each kind of honey has a history and a story, and that exploring those stories can be fun, satisfying, and a way to support the world in small and big ways.