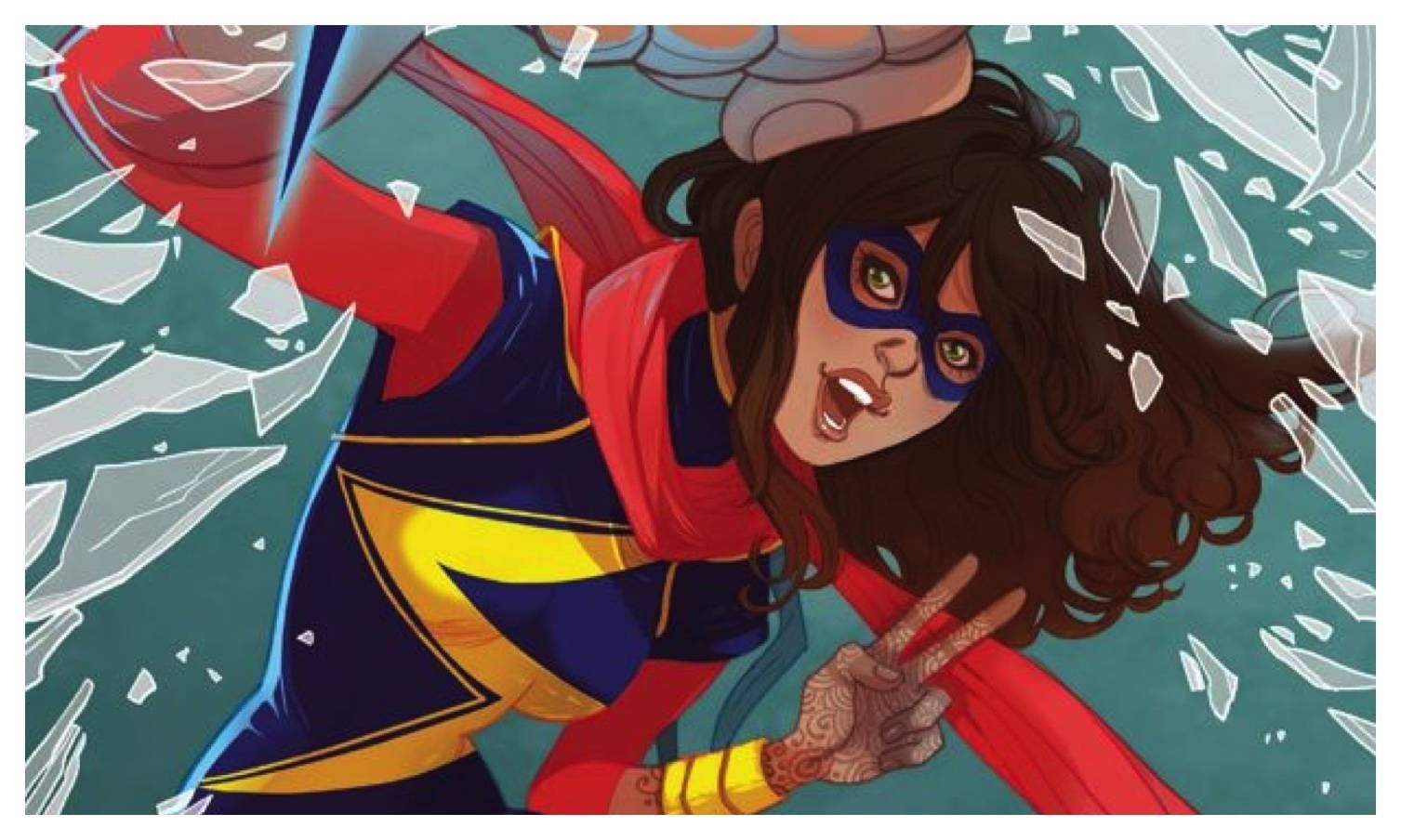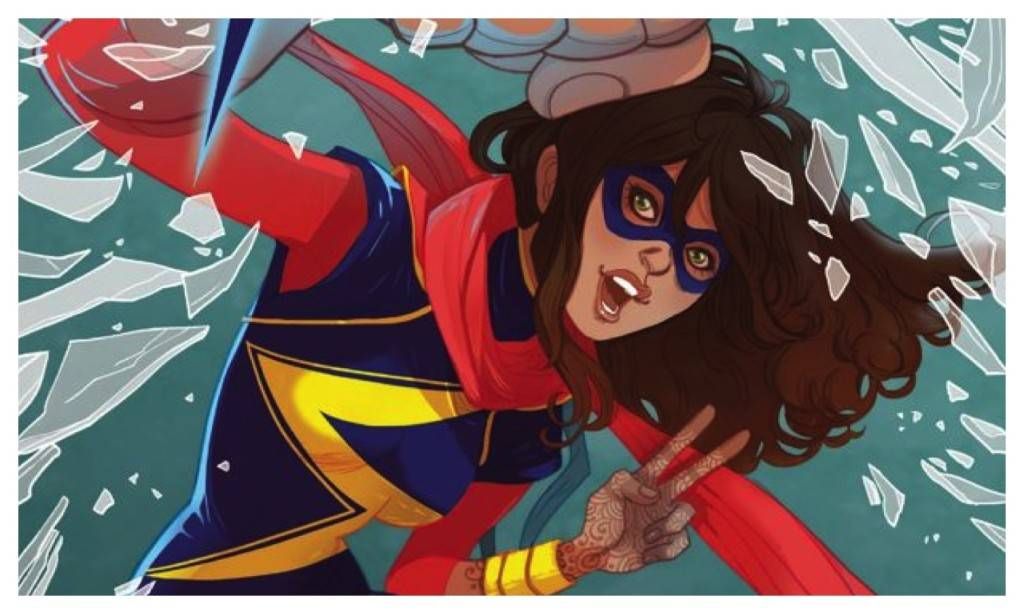 I don't usually read superhero comics. In fact, the only superhero characters I've ever cared for were Marvel's Runaways and DC's Static (though I know him from the cartoon series rather than the comic). These characters appealed to me because they struggled with relatable everyday life issues as well as supervillians. I wanted a brown-skinned female of color like this, but my cynicism toward superhero comics and films convinced me this didn't exist. Then, Kamala Khan slowly came into my life.
When her comic debuted, I ignored the rave reviews I read on the internet. As more issues came out, I tried to ignore pieces about how cool Kamala Khan was because she fangirled over Wolverine and punched Donald Trump in fanart. Then last year, Ms. Marvel, Vol. 1: No Normal winked at me at a bookstore, enticing me to flip through the pages before the cost of the comic made me put it down. Yet, the seed of curiosity had been planted. This year, I caved in and bought digital copies of Ms. Marvel Vols. 1-4 for my birthday.
As soon as I finished Vol.1, Kamala Khan had become my favorite female superhero. Despite being about a decade younger than me, she related to my experiences as a daughter, nerd, and brown-skinned woman. More importantly, she related to my experiences as a twenty-something.
As a newbie freelance writer and recent college grad, there have been times that I've thought if only I were less alternative, if only I could were white, if only I were more normal, then I could have better opportunities. Even though I built up a good-size portfolio prior to getting paid gigs and have received mostly positive feedback for my writing, I couldn't help comparing myself to the white entertainment pop culture writers who wrote for bigger publications.
When she first got her powers, Kamala Khan felt like she had to be someone else and had a few screw-ups as well. The same thing has happened to me, but at the time, I felt alone in my experience. Last summer, I lost my first job out of college after only one month without any explanation. It was a freelance writing gig that didn't pay much, but it did increase my portfolio a little.
The day I was laid off, I felt I had been sucker-punched. I kept wondering if I put too much of myself into my writing. During the time I was laid off, I became pretty depressed after reading a LOT of articles that claimed my generation sucks. All the articles I have ever written came from small sites that embodied the DIY perspective that fueled some of my generation. Did getting laid off mean that my perspective wasn't valuable enough?
As it turns out, I had to learn to work better with editors and my writing style, just as Kamala had to learn to work better with her powers. Four months after being laid off, an inspirational lifestyle magazine hired me as a freelance writer. At the same time, I discovered a pop culture site aimed at women that took articles from freelance writers. Between the two of them, I learned to be more patient with editors and myself and became more punctual and flexible with the articles I did. More importantly, I didn't have to worry about toning down my writing voice as much as I did before. Instead, I was encouraged to express my ideas and thoughts freely while keeping in mind the goals of each site.
Kamala Khan came into her own as a superhero and a person by learning to be the best version of herself. She did this despite dealing with an identity crisis, generational ageism, and screw ups, things that teens and twenty-somethings have in common. Four months into my freelance writing career, I am learning that I don't have to be someone I'm not in order to be successful. I am a brown skinned, nerdy, and opinionated marvel like Ms. Marvel, and I am learning to be the best version of me.