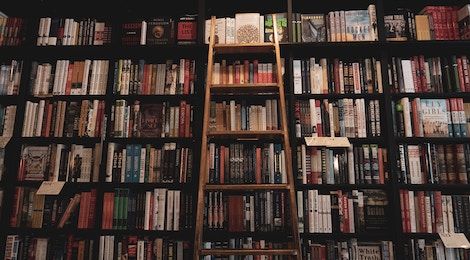 How To
How To Find A Book By Description
One of my favorite reference librarian questions came from a patron who said she wanted to read the latest Danielle Steele book, which she'd seen at the local grocery store. It had a blue cover. As she gave me the things she could remember about the book cover and title, I realized she wasn't talking about a Danielle Steele book, but a Daniel Silva book. She'd hoped I could find a book by description and indeed, I did—it just wasn't the book she'd hoped it was.
We've all been in the position of hoping to find a book by description at some point if we're readers. Even for someone like me who writes down every book I read and have since high school, there are times I remember a scene or pieces of a book's story that make me realize I've forgotten the title or author and I desperately want to reconnect with the book. Fortunately, there are a lot of ways to help you find a book by description. I've compiled some of my best tips and tricks as a reader and former librarian to help you track down those former favorite gems. Note: these tips are also useful if you're itching to find a new-to-you book based on some keywords or descriptions of things you really like or want to know more about.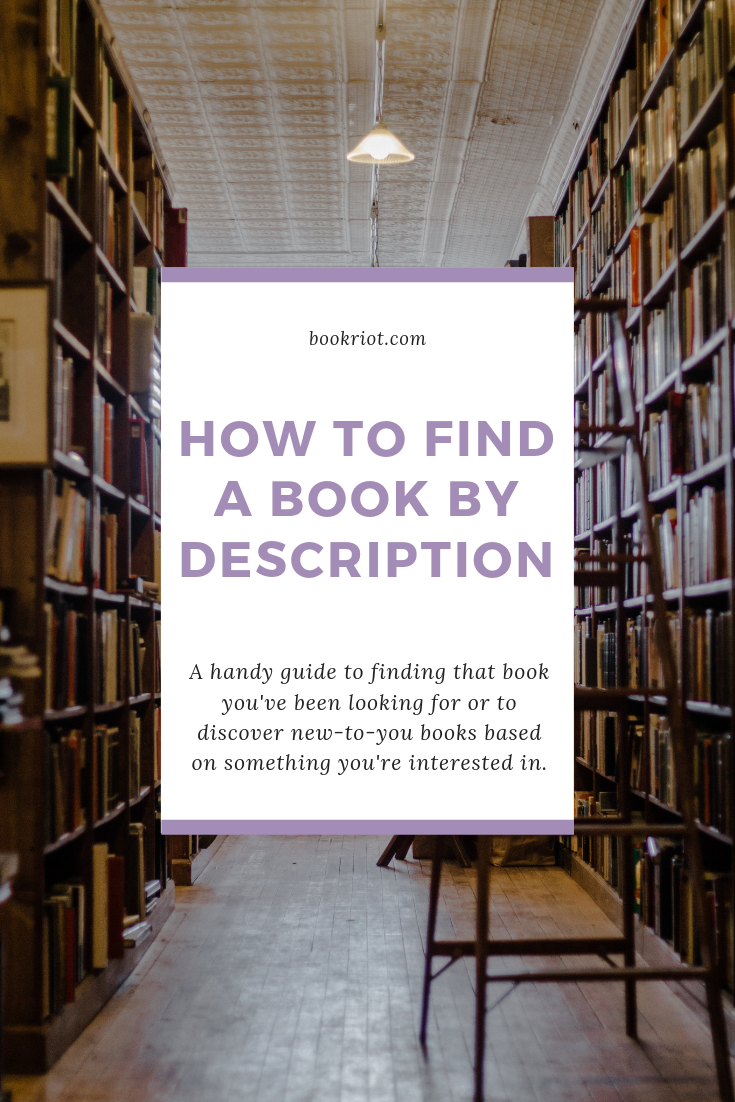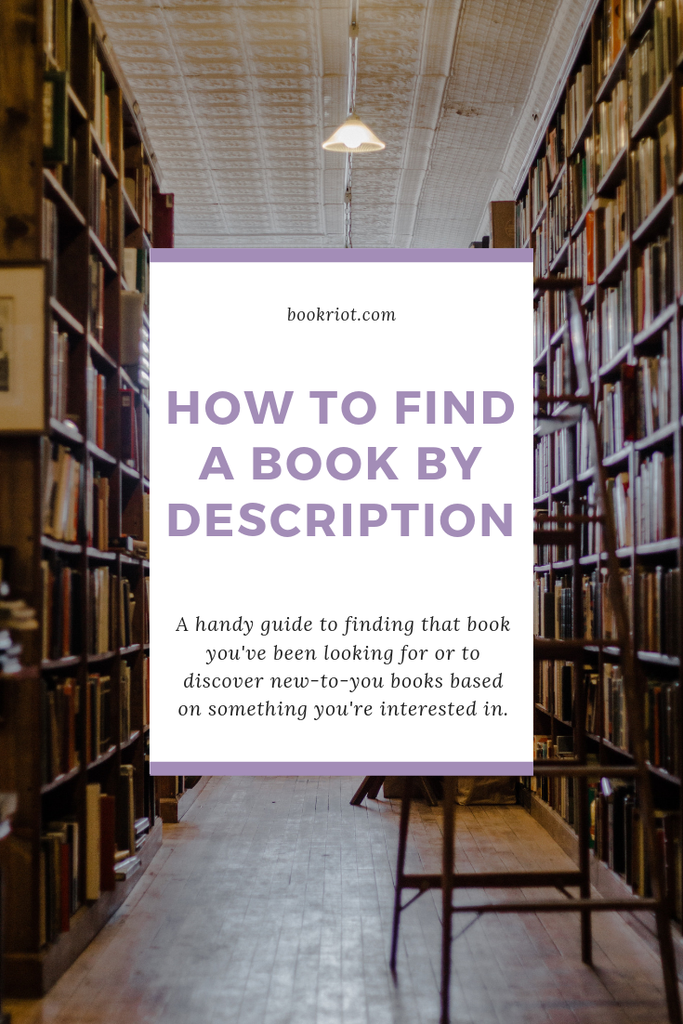 How To Find A Book By Description
Google Like A Librarian
This is going to be the most obvious tip, but I will offer up some steps to get you above and beyond that here. Google is, indeed, your friend, but you have to know how to use it well.
When you only remember parts of a book, use those fragments of memory as your search terms. But use them as quotes to ensure that Google is searching exact phrases.
A few years back, I wanted to recall the name of a book I loved from many years ago. I knew it was a middle grade or young adult book, that the cover had a mermaid on it, and that one of the key parts of the story was that it was set in a trailer somewhere in Texas. Here are some of the ways I'd pull together that search in Google, using the quotation marks.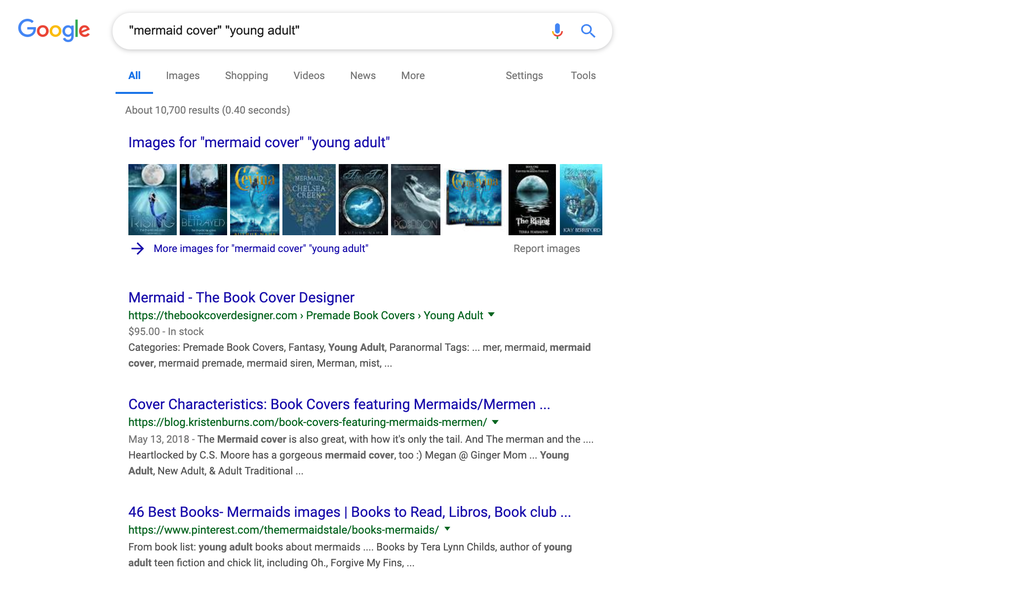 "Mermaid cover" and "young adult" brought up a sea (heh) of blue tinted covers for the book. But I know that the book did not have a blue cover. The first page of results doesn't look especially promising here, as the results are primarily about mermaid book covers on young adult books (which makes sense since that's literally the search).
From here, I'll add another detail I remember to the search. You do not need quotes around single word descriptions, but you will want to include a + between them, so that Google picks up all of those search terms as critical in the search.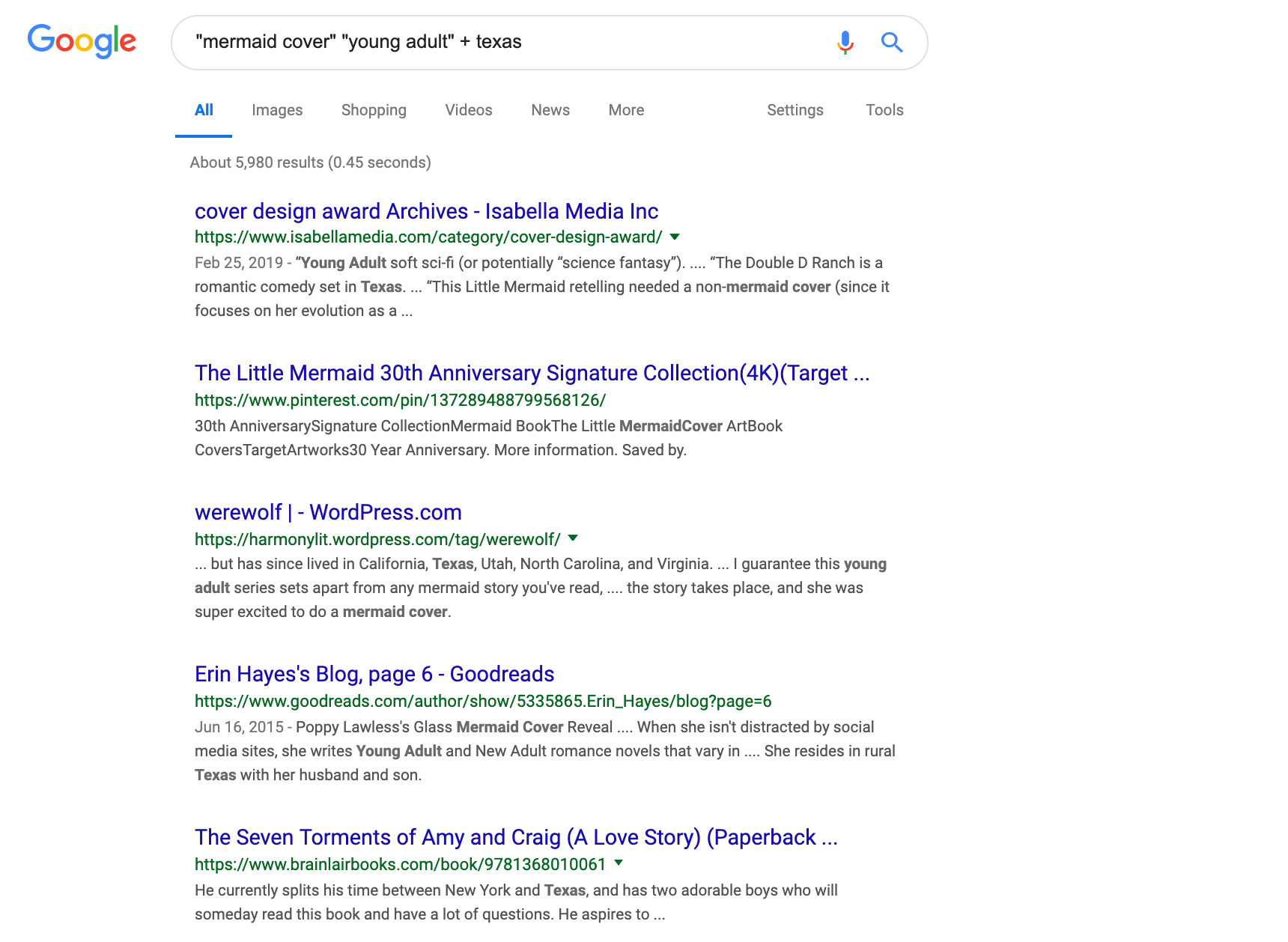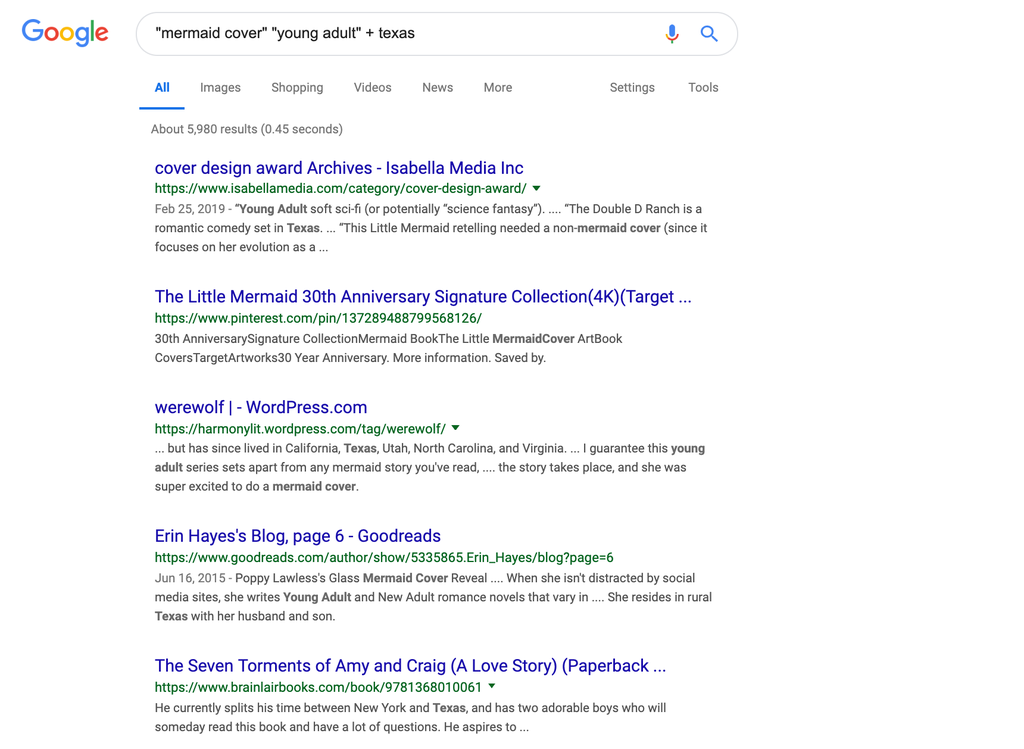 I thought adding Texas would drill down a bit more, but in this case, it didn't. It did remove the blue covers popping up at the top, but it highlighted The Little Mermaid more than anything. I don't think that book was set in Texas, though, and I know for a fact that the book was not actually about mermaids. It just had one on the cover.
Often at this point in a book search, I like to tab over to images. I'm a visual learner and my memory is sparked by how something looks. This might not be ideal for everyone, but it's especially useful for those who remember book covers.
With the "mermaid cover" "young adult" + Texas search, these are the image results: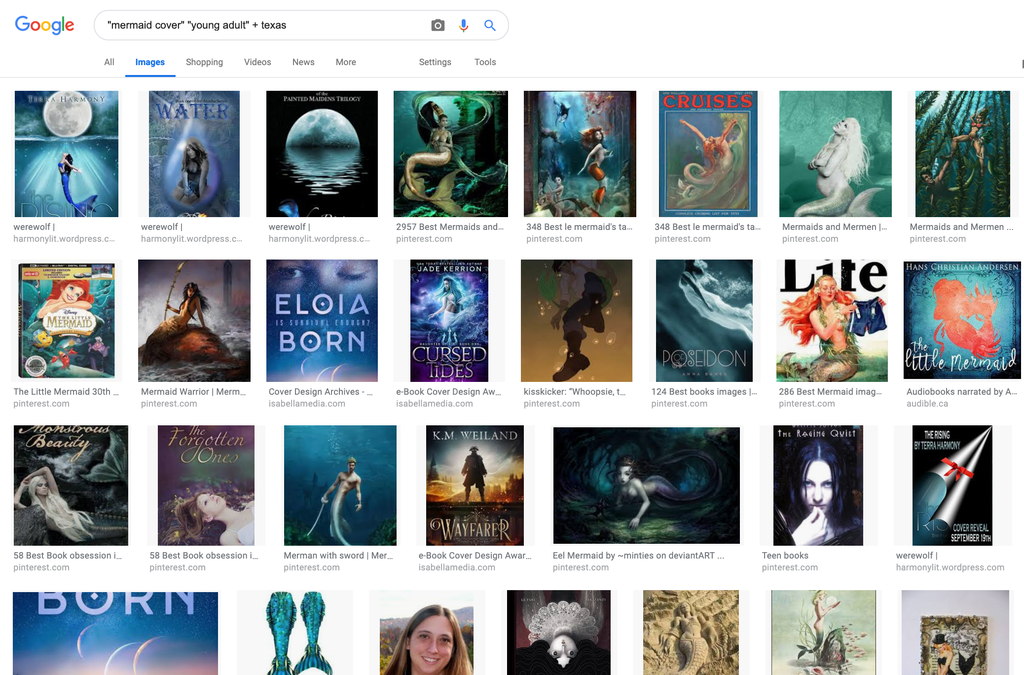 None of these covers looked right to me. It's time to refine that search, this time using the piece of information I remember that I think will really refine the results: "trailer park." I suspect there aren't a lot of books featuring mermaids in trailer parks.
Since I can't remember if it was set in a trailer park or rather in a trailer, my first search will be the simpler one, using the single word trailer. Again, this will require a plus sign after Texas.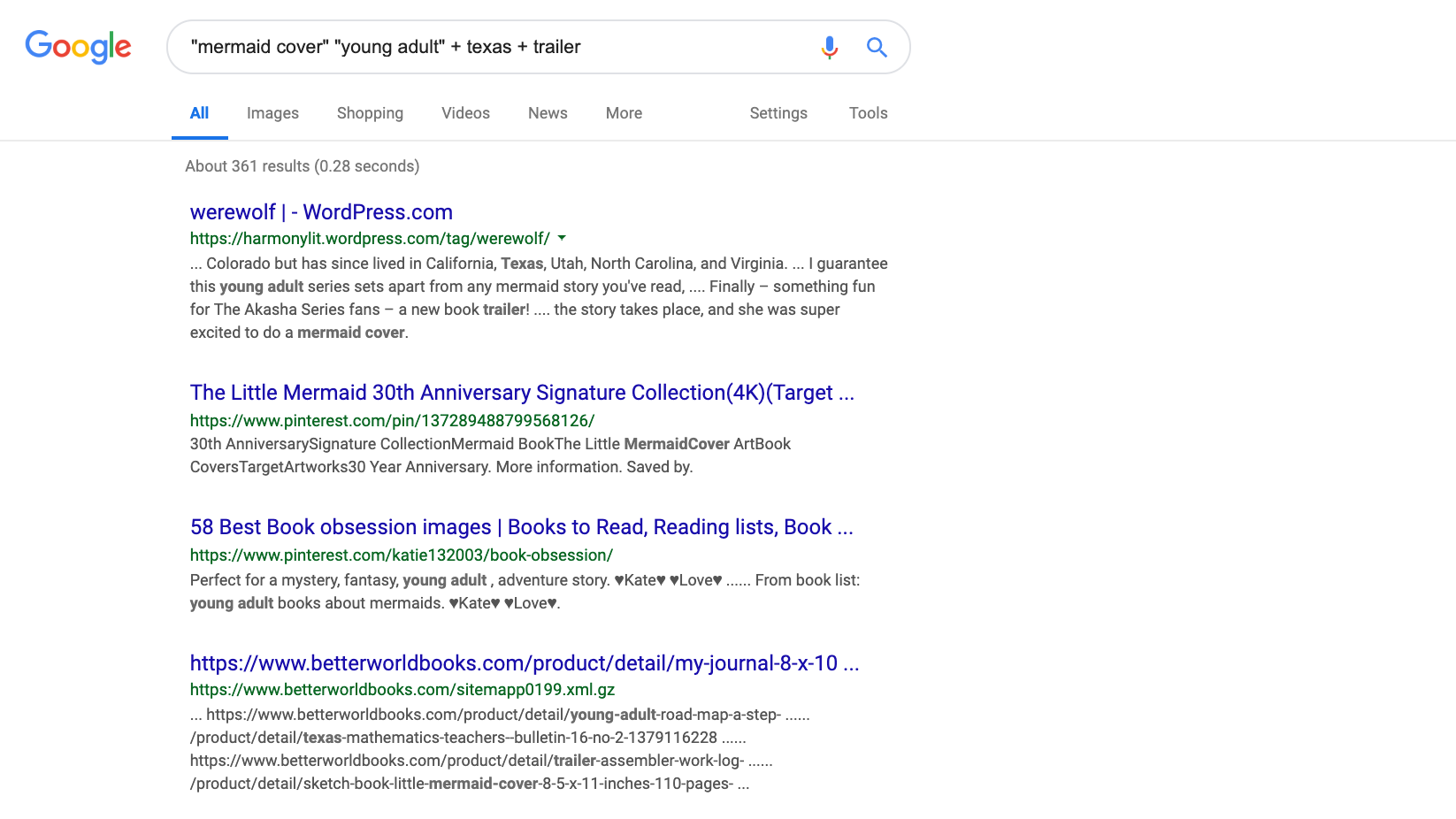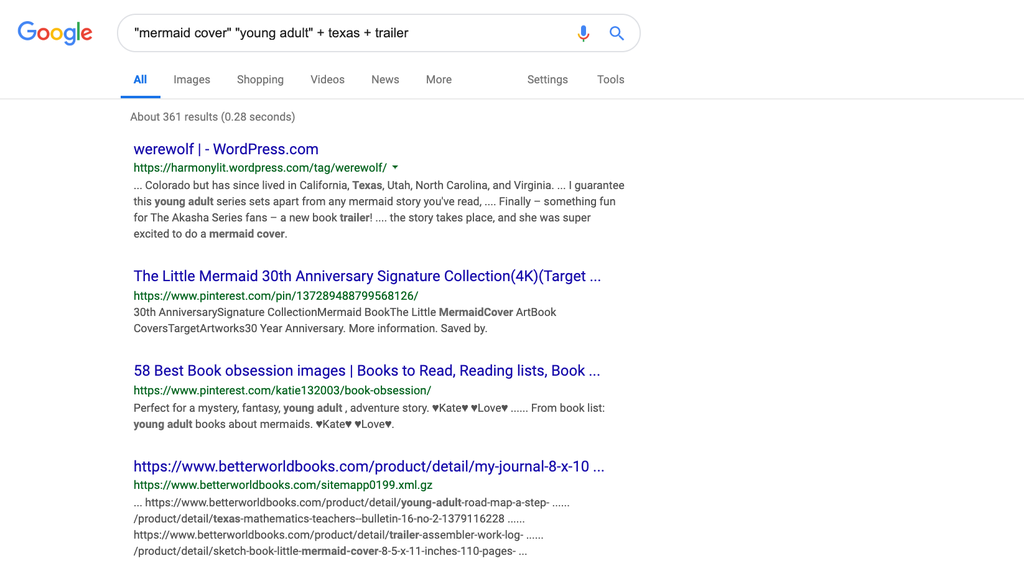 The results for this search aren't getting me anywhere new, and the results after the last one are to adult-themed sites. This is always a possibility when you're searching key terms and ideas, for what it's worth. Because this search didn't change anything, I'm going to refine the final term from trailer to trailer park, which will be in quotes.
Google will be searching for anything with the terms "mermaid cover" and "young adult" and Texas and "trailer park." My results will absolutely narrow down. Maybe even to the book I'm looking for.
Except in this case, it did not. I won't share the image of the results, since it's all links to adult websites. When you use quotes around ideas and use them in conjunction with other quotes, Google searches for only results that have all of those words exactly. In many cases, this would be useful. In the case of this search, it's not.
But if I took this search and removed all of the quotation marks, maybe that would help. Instead of searching for all of the words exactly, Google will search for each of these words individually and bring back results that fit the most of those words in ranked order. You do not need to use a + sign in this instance. The + is only useful for quoted term searches, where you want the exact phrasings all to be included.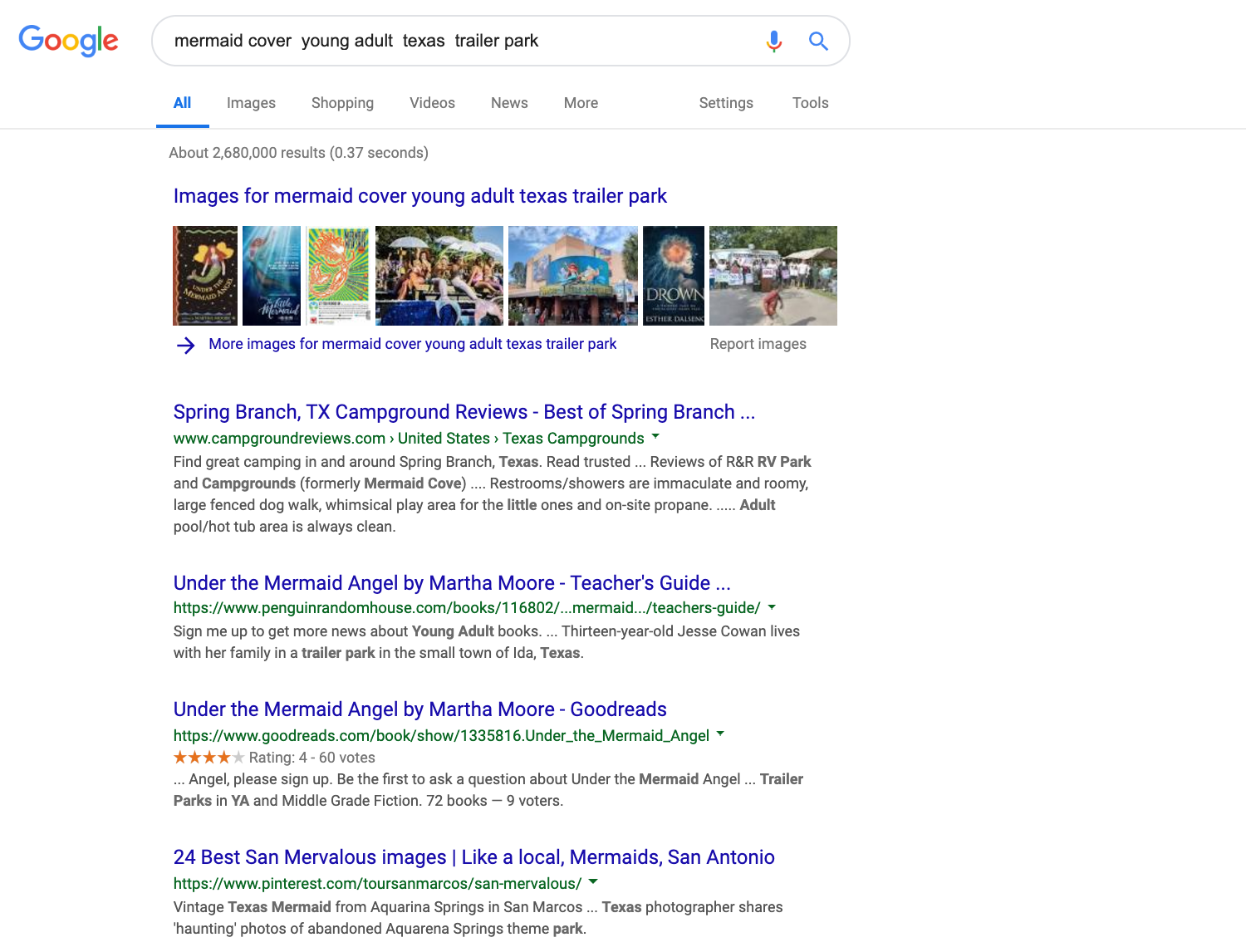 This search brought up a book cover with a mermaid on it right at the top that looked familiar. When I clicked on the first image on top, featuring the mermaid on a cover, I was taken to the second result below to a page on Penguin Random House's website for Martha Moore's Under The Mermaid Angel. Unfortunately, the website was a dead link. Fortunately, the link below the one I clicked led to the Goodreads page for the same title. Here's the book's description:
Thirteen-year-old Jesse leads a pretty boring life in just about the most boring place in the universe — otherwise known as Ida, Texas. She cannot forget the death of her baby brother seven years ago, and how she just couldn't pray for him when he was sick. She never talks about it though, not even to her best friend, which is something she doesn't have, anyway. But all that changes when Roxanne moves into the trailer next door. Thirty years old, with her fake fur coat, wild red hair, and romantic notions, Roxanne is a revelation to Jesse. Why has she moved to Ida, of all places? Their growing friendship will change Jesse's life, giving her back a vision of hope beyond the mundane world around her.
Although it did not hit all of the search criteria in the description, it did pick up on a number of them, namely Texas and trailer. Reading reviews of the book showed that Google picked up some of the additional terms from those reviews and indeed, this was the book I wanted to remember. Success in four quick searches!
Using a variety of search terms, in a variety of quoted and unquoted means, helps narrow down your Google searches to find a book by description.
An additional trick is to use the – symbol while searching. This will remove any search results that include a specific word (or phrase, if used in quotation marks). In the above search, for instance, knowing that the book was not about mermaids in water, I may have selected to do this as a search, too:
This actually brought up even better results, since Moore's book is pointed to in all of the top results. It would make me more confident that this was indeed the book I hoped to find.
Any phrases or details you can remember about a book will help your Google skills in this capacity. Again, don't forget to check the images tab, too, especially if your memory is most vivid around book covers. This was exactly how I deduced the Danielle Steele/Daniel Silva mystery for a patron.
There are other ways to modify Google searches, as well, and you can play with some of those Google tips and tricks offered in their guide.
Your Local Library
Whether you head to your library in person or visit it digitally, it's always a great resource to help you find a book by description. Your local librarians are likely not only well versed in strong Googling, but they have an arsenal of databases and other resources at the ready to help you find that book you remember by having just a blue cover. If you don't already, ensure you have an up-to-date, active library card, especially if you want to access any of your library's databases from home or the workplace.
One database you'll want to get to know—and one your librarians may be using—is NoveList. Though not available at every library, this resource is a tremendous collection of information about books of all stripes and searching it with some of the keywords you recall about a book can help you find that book. If you aren't familiar with NoveList and want to give it a whirl, here's a handy guide to using NoveList.
Another library resource you may have access to is Books in Print, which is precisely what it sounds like: a database of books available in print. One of the cool things about Books in Print is you can do a character search, meaning that if you remember that a book you are looking for is part of a series with a character named Sherlock Holmes, you can winnow down results to that character, his various iterations, and his storylines until you find that book you're seeking.
WorldCat, which is the world catalog of books, is accessible whether or not you have a library card and can also be useful for hunting down a lost book. Though the search mechanisms aren't as robust as those on Google, WorldCat can work similarly through keyword searching. Taking the example above, I struggled to find any matches when I plugged in the words mermaid cover Texas and mermaid cover young adult. Young adult is something I can select as an in a later search screen if necessary, so I don't need to include it here.
Tinkering with the search a bit, though, and putting in the words mermaid Texas trailer park into WorldCat landed me precisely on the correct book (a cover image search in WorldCat isn't as useful as it is on a more visually-driven search engine like Google).
If you look on the lefthand side of the image above, you'll see that the option exists to limit results to juvenile (aka children's books, middle grade books, and young adult books), so putting it into the search bar isn't necessary.
WorldCat can be especially useful if you're searching for a book by description and aren't seeking a specific title. For example, if you're seeking children's books set in Latin America, you can do a search for Latin America, then limit your search to juvenile and go from there. It's like your library catalog, but with access to every record for every library that's part of the world catalog, which is a whole lot of them. You can get a few more tips on how to use WorldCat to find a forgotten book here, as well as some insight into a couple of other databases that might help you find a book by description.
Library-focused listservs can also be useful, whether you yourself subscribe and ask a question or you ask your local library to seek the book out for you via one. The Fiction-L listserv, hosted by the Cuyahoga Library System, is an excellent resource. Even if you don't subscribe to it, there is a search feature from the subscribe page. A savvy searcher might plug their own key terms for a book into the search box and see someone else has asked about the same book.
Goodreads, LibraryThing, Reddit, and Other Social Sites
Back in the day, LiveJournal had a robust community for those searching for a book they could not remember. Even though it's not active like it used to be, there are a number of great places to help you find a book by description.
Goodreads has a forum called "What's The Name Of That Book?" brimming with readers who are eager to help you track down a forgotten title. What's great about using this is that not only can you get help, but you can put your skills and knowledge to the test in helping others find a missing title, too. Like with the Listserv noted above, you can do a search on this particular forum and maybe discover the title of the book you're seeking without ever posting.
LibraryThing has a similar community-focused book finding effort with the group "Name That Book."
You can also search through Reddit's answer to these two services with their subreddit "What's That Book?"
Finally, an outstanding resource not only to use but to read is the "Stump The Bookseller" service offered by Loganberry Books in Shaker Heights, Ohio. Write in with the book you're trying to find, and the booksellers will do their best to help find the title. Librarians are great at finding books, but never forget that booksellers are as well. I'm especially into the fact this particular project encourages stumping the bookseller. No question is too hard (though, as has been the case in my librarian experience, sometimes the question is a misremembering or a blending of two different books into one in one's memory).