Romance/Erotica
My New Obsession: Alternate Universe Filipino Romance Novels
This content contains affiliate links. When you buy through these links, we may earn an affiliate commission.
One of my favourite things about romance novels is how varied and specific stories can be. Want a fake marriage supernatural werewolf novel? Romance has got you covered. Craving a sweet childhood best friends–to-lovers story set in a spaceship? Okay, I haven't seen a book like this yet, but if you know of any, please do point me in that direction.
While I've only been reading romance for just under ten years, I've figured out which tropes are my favourite to watch unfold, and the kind of characters I respond to and want to read about all the time. Friends know to wave me down if they hear about a fake dating novel, and I adore it when characters argue their way into a confession of love. But there's one trope I didn't anticipate becoming a fan of in my reading life, and that's the alternate universe Filipino family dynasty romance.
It's a bit of a mouthful, and I'm not 100% sure that's the best phrasing, but essentially, these are books where the two main characters are (a) Filipinx and (b) part of a dynasty that rules the Philippines, whether that's through a constitutional monarchy or families that have been in politics for decades. For those who aren't familiar with Philippine history, the country has never been ruled by a Filipinx monarch, and has been a republic with a president since the early 1900s (on and off). Pre-colonial times were more regionalistic, with datus and babaylan sharing in the governance and guidance of their communities.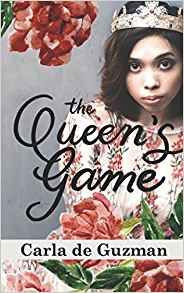 Truth be told, I had never really considered what it would be like to have had a royal family in the Philippines. The Queen's Game by Carla de Guzman was a delightful dive into what might have been, as the kingdoms of Concordia and Cincamarre watch their young royals fall into an unpredictable relationship. Carla de Guzman's kingdoms are fictional island countries, with many of the same traditions and traits of the Philippines, and the descriptions of the landscape will be familiar to anyone who's traveled through the mountains of Luzon. As a Filipina reader, I thoroughly enjoyed seeing de Guzman's reimagining of our people, and how Nina and Felipe's families lived with the challenge of being just and fair rulers.
Readers who prefer something a little closer to home and history might find a lot to love in The Future Chosen by Mina V. Esguerra. Here, political dynasties form the backdrop of Maria Lourdes and Andre Miguel's story, as their relationship is threatened by one simple rule: only one politician is allowed per family. With their families training and expecting them both to enter the political arena—Maria Lourdes as a future president like her grandmother and Andre Miguel as a future senator like his uncle—there might not be room for love along the path. I can confirm that this doesn't stop either Maria Lourdes or Andre Miguel from trying anyway, but you'll just have to check out the book yourself to find out if they succeed.
It's been a few months since I first read these two Filipino romance novels, and I've spent that time casually thinking about why I find them so appealing. Not having truly grown up in the Philippines, living there as a teen was full of catching up on history and culture and what it meant to me to be a Filipina. These days, being part of the diaspora means something different than it did as a kid, and books like The Future Chosen and The Queen's Game are touchstones for me and my heritage. I've always identified as a diaspora kid but there's a cheer and determination to these stories that feels like home. They might be fictional, and they might not reflect the exact government system we have there today, but they remind me of the unique heart and soul of the Filipino people, wherever we might be.