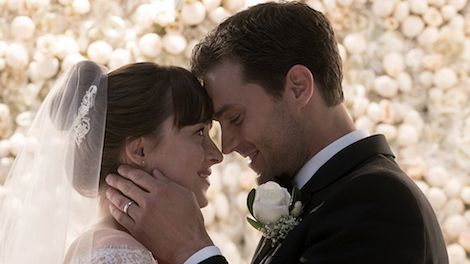 Fifty Shades Freed Dominates International Box Offices: Critical Linking, February 13
Sponsored by Freshwater by Akwaeke Emezi, available from Grove Press

---
Universal's international opening of "Fifty Shades Freed" has taken in $98.1 million in 57 markets since its Feb. 6 international premiere, marking the biggest overseas launch of 2018.
The finale of the erotic romance trilogy launched in first place in 54 markets, and topped Sony's "Jumanji: Welcome to the Jungle" for best international weekend of the year, coming in 20% above the action-comedy's $81 million take during the Jan. 12-14 frame.
Having heard only terrible things about this movie, this is pretty surprising.
---
A school district in Minnesota has pulled To Kill a Mockingbird and The Adventures of Huckleberry Finn from its curriculum, arguing that the classic novels' use of racial slurs risked students being "humiliated or marginalised".
The Duluth school district will keep the titles in its libraries, but from the next school year, they will be replaced on the curriculum for ninth and 11th-grade English classes, according to local newspaper the Bemidji Pioneer.
---
The exchange, which happened in 2012 at SCBWI's winter conference in New York and was witnessed by one of the writer's friends, left the woman feeling "horrified" and "disgusted." The illustrator, David Díaz, was a member of SCBWI's board and a faculty member at the conference. Still, the writer, who at that point in her career was an unpublished aspiring children's book author, did not complain about the incident at the time. However, in December 2017, Díaz resigned from his position on the SCBWI's board, after sexual harassment complaints emerged about his past.
The comments on this piece about sexual harassment in children's literature has turned into a naming of names, so: trigger warning.