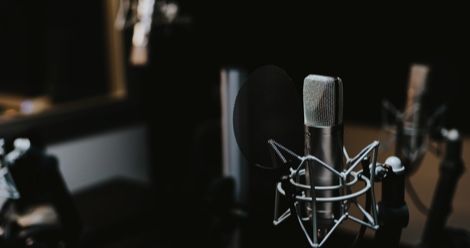 Audiobooks
6 Fiction Audiobooks Narrated By the Authors
This content contains affiliate links. When you buy through these links, we may earn an affiliate commission.
I am a huge audiobook fan. They account for about a third of my book consumption each year. I am not, however, a big fan of authors reading their own fiction. Memoirs and nonfiction I can handle just fine. I love to hear entertaining performers like Trevor Noah and Tina Fey read their own words. But when it comes to fiction, I overwhelmingly prefer listening to a talented actor deliver the story.
The varied demands of narrating fiction—multiple characters, compelling storytelling, diverse accents—require a certain finesse. It is not so easily managed by authors who are best known for writing alone in an office at home. I have bailed on quite a few cringeworthy attempts by marvelous writers whose skill at putting pen to paper far exceeds their capacity to relay their brilliance in speech.
But every once in while I stumble upon that rare author who wows me with a terrific performance of their own work. I have discovered these six fiction audiobooks narrated by their authors that I can heartily recommend to my fellow audiobook lovers. My standards are high, and these totally passed the test. Enjoy!
When inept astronaut Tom Barren inadvertently causes a rip in the fabric of time, potentially changing the course of history, he must try to make his way back to where he belongs. This wildly inventive time travel story is equal parts brainy nerd-fest and engrossing emotional family drama. It has true love, alternate realities, mad scientists, and plot twists aplenty. Mastai's engaging and amusing performance as the befuddled Tom is absolutely flawless.
Beloved by Toni Morrison
This Pulitzer Prize–winning novel traces the life of escaped slave Sethe as she tells the harrowing story of how she and her daughter came to be in their new home. The tale is chilling and dreamlike, told in flashbacks and snippets, and builds to a devastating conclusion. Morrison's measured, haunting narration sets the perfect tone for this story about memory, loss, and the lingering wounds of slavery.
Saeed and Nadia meet just as their country descends into civil war. The newly established couple must look for safety in a dangerous and quickly changing world. Hamid eschews the gory details of battle to shine the spotlight on the couple's personal relationship as it is being formed and altered through war and uncertainty. It is a very human, intimate story, and the author's quiet and sensitive narration lends a needed sense of gravity to the account.
This character-driven thriller centers on a crew of college friends reunited 20 years after an incident that shattered the group. When the long-buried event resurfaces, Judith is the one witness who can shed light on the events of that distant night. But she must unearth her own secrets to save her friend. Boylan is a great storyteller, and she keeps you enthralled as she shares Judith's journey.
This author's unembellished manner of speaking is fitting for this story of a farmer's wife who happens upon a scientific curiosity on her rural Tennessee farm. As biologists, reporters, and the media descend on the town for explanations, Dellarobia must look for answers of her own. I've listened to a couple of Kingsolver's audiobooks and I find her narration drags just a bit, but upping the speed a notch or two puts it at just the right pace.
A random act of kindness pulls Richard Mayhew out of his boring British life and thrusts him into a fantastical quest in an alternate London underworld that he never knew existed, a world with monsters and angels and talking rats. It is amusing, clever, a tad creepy, and super entertaining. Gaiman narrates a lot of his books, and this one is a gem. He creates these amazing accents and brings all his gleefully ghoulish characters to life, keeping you laughing all the while.
Do you like books narrated by the author? Share your thoughts in the comments. For other great audiobooks read by authors, try this list or check out this list of YA fiction audiobooks.