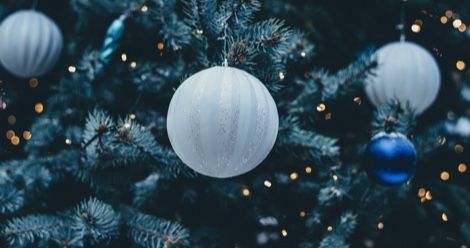 Poetry
10 Festive Christmas Poems To Get You Ready For The Holidays
Ready to get your holiday season started off right? Try these festive Christmas poems that can be read alone with a mug of tea or read out loud to bring in the season.
The Best Christmas Poems
3. Christmas Comes Again by Elizabeth Drew Stoddard
Excerpt:
Let me be merry now, 'tis time;
The season is at hand
For Christmas rhyme and Christmas chime,
Close up, and form the band.
4. Why I Dread Christmas by Marena Koenka
5. For the Neighbor at Christmas by Maria Catherino
Excerpt:
On Christmas day you show me how to seed a pomegranate

to split it down the center and
pluck out the pulpy red eyes with a fork.
I pile them on the cutting board, their white pupils watching as we talk about
music, bicycles, the liberal arts
and what passes for pleasantries between strangers.
Christmas Poems for Kids
6. Singing Christmas Carols by Jack Prelutsky
Excerpt:
On Christmas Eve we bundle up
and go out caroling,
our neighbors shut their windows
when they hear my family sing.
7. Merry by Shel Silverstein
8. Dear Santa Slam from SPARC Poetry
Winter Holiday Poems
10. A Poem of Unity: Kwanzaa, Day 1 by Sonia Dixon
Excerpt:
Here we are on distant shores,
Searching for love ones lost,
Knowing their pain and suffering
Was an ocean of love lost.
Can't you see the sun is shining
Bringing energies of love?
Want more poetry this holiday season? Book Riot has you covered!