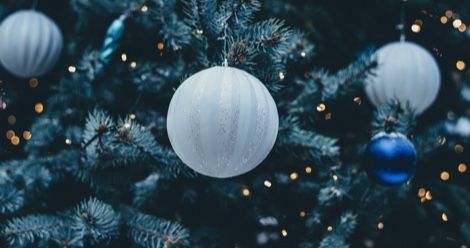 Poetry
10 Festive Christmas Poems To Get You Ready For The Holidays
Ready to get your holiday season started off right? Try these festive Christmas poems that can be read alone with a mug of tea or read out loud to bring in the season.
The Best Christmas Poems
3. Christmas Comes Again by Elizabeth Drew Stoddard
Let me be merry now, 'tis time;

The season is at hand
For Christmas rhyme and Christmas chime,
Close up, and form the band.
The winter fires still burn as bright,
The lamp-light is as clear,
And since the dead are out of sight,
What hinders Christmas cheer?
Why think or speak of that abyss

In which lies all my Past?
High festival I need not miss,
While song and jest shall last.
We'll clink and drink on Christmas Eve,
Our ghosts can feel no wrong;
They revelled ere they took their leave—
Hearken, my Soldier's Song:
"The morning air doth coldly pass,

Comrades, to the saddle spring;
The night more bitter cold will bring
Ere dying—ere dying.
Sweetheart, come, the parting glass;
Glass and sabre, clash, clash, clash,
Ere dying—ere dying.
Stirrup-cup and stirrup-kiss—
Do you hope the foe we'll miss,
Sweetheart, for this loving kiss,
Ere dying—ere dying?"
The feasts and revels of the year
Do ghosts remember long?
Even in memory come they here?
Listen, my Sailor's song:
"O my hearties. yo heave ho!
Anchor's up in Jolly Bay—
Hey!
Pipes and swipes, hob and nob—
Hey!
Mermaid Bess and Dolphin Meg,
Paddle over Jolly Bay—
Hey!
Tars, haul in for Christmas Day,
For round the 'varsal deep we go;
Never church, never bell,
For to tell
Of Christmas Day.
Yo heave ho, my hearties O!
Haul in, mates, here we lay—
Hey!"
His sword is rusting in its sheath,
His flag furled on the wall;
We'll twine them with a holly-wreath,
With green leaves cover all.
So clink and drink when falls the eve;
But, comrades, hide from me
Their graves—I would not see them heave
Beside me, like the sea.
Let not my brothers come again,
As men dead in their prime;
Then hold my hands, forget my pain,
And strike the Christmas chime.
4. Why I Dread Christmas by Marena Koenka
5. For the Neighbor at Christmas by Maria Catherino
On Christmas day you show me how to seed a pomegranate
to split it down the center and
pluck out the pulpy red eyes with a fork.
I pile them on the cutting board, their white pupils watching as we talk about
music, bicycles, the liberal arts
and what passes for pleasantries between strangers.
I think our degrees are in optimism, the
ability to see the gilded edges around anything, even
a Christmas in this drafty old house on the corner of our next lives.
You lent me your book of poems by Raymond Carver
dog-eared with little blue x's by the ones you liked.
I'm reading the poems but more often
reading you,
decoding your cipher.
I scan the pages
for corners bent by your careful folding through the
yellowed valley of the page looking for the elusive x:
a roadmap for hope.
Christmas Poems for Kids
6. Singing Christmas Carols by Jack Prelutsky
On Christmas Eve we bundle up
and go out caroling,
our neighbors shut their windows
when they hear my family sing.
My voice is very beautiful,
I sing just like a bird,
but everybody drowns me out
so I am barely heard.
Dad sings like a buffalo
and Mother like a moose,
my sister sounds like breaking glass,
my brother like a goose.
Some people come and greet us,
they bring cookies on a tray,
I think they give us cookies
just to make us go away.
Though our singing sounds so sour
it sends shivers down my spine,
when we're caroling together
there's no family sweet as mine.
7. Merry by Shel Silverstein
8. Dear Santa Slam from SPARC Poetry
Winter Holiday Poems
10. A Poem of Unity: Kwanzaa, Day 1 by Sonia Dixon
Here we are on distant shores,
Searching for love ones lost,
Knowing their pain and suffering
Was an ocean of love lost.
Can't you see the sun is shining
Bringing energies of love?
Come, my people, unite together;
Wake up, stand up, be the love for all!
The bells are ringing – it is time
To answer the call of one.
Get together, my brothers and sisters,
It's time you must unite as one.
Unite, unite – it's time, it's time,
You must unite as one.
Hold together, brothers and sisters,
It's time to unite as one!
Want more poetry this holiday season? Book Riot has you covered!