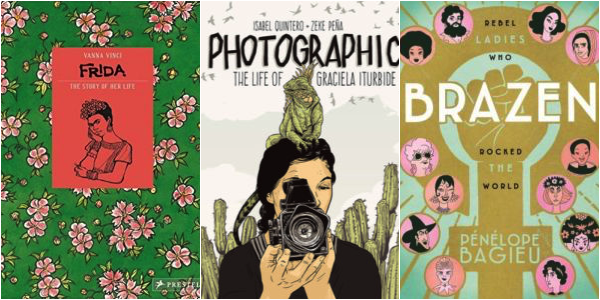 This content contains affiliate links. When you buy through these links, we may earn an affiliate commission.
Today's Free Comic Book Day coverage is sponsored by All Summer Long by Hope Larson, published by First Second.
Thirteen-year-old Bina has a long summer ahead of her. She and her best friend, Austin, usually do everything together, but he's off to soccer camp for a month, and he's been acting kind of weird lately anyway. So it's up to Bina to see how much fun she can have on her own. At first it's a lot of guitar playing, boredom, and bad TV, but things look up when she finds an unlikely companion in Austin's older sister, who enjoys music just as much as Bina. But then Austin comes home from camp, and he's acting even weirder than when he left. How Bina and Austin rise above their growing pains and reestablish their friendship and respect for their differences makes for a touching and funny coming-of-age story.
---
Hey! Tomorrow is Free Comic Book Day! Whooooo! Now I know when you think about comics you probably don't automatically think feminism or nonfiction, but you really should. There are some fantastic feminist graphic nonfiction books to check out at your local comic book store today, or tomorrow, or whenever your little hearts desire (just make sure the store is open because that's called breaking and entering otherwise, and that's rude.) Don't believe me? Here are some A++ recommendations to get your started on your feminist graphic nonfiction library:
Biography
Obsessed is an understatement for my feelings about this gorgeous book. I love how Bagieu's cute style pairs so effectively with her brazen (heh!) and unapologetically frank female characters. While I will literally own every awesome ladies book ever printed regardless of repetitious content, I really appreciate that Bagieu has included quite a few fantastic dames I haven't seen get much love in print. Brazen includes profiles on 29 accomplished and inspiring women, including Agnodice, Leymah Gbowee, Christine Jorgensen, Naziq al-Abid, Peggy Guggenheim, and Las Mariposas. If you haven't read her graphic novel Exquisite Corpse or her graphic biography of Cass Elliot, California Dreamin', you absolutely should.
I had seen some of Iturbide's work in passing, but prior to this biography hadn't actually known much about her. This is a fleeting look at the (still ongoing) journey of Iturbide's life and work told by Quintero, who also wrote the phenomenal Gabi, a Girl in Pieces. Quintero's biographical text pairs exceptionally with Peña's true-to-life illustrations. (If Peña's work seems familiar, it's because he is a frequent cover artist for Cinco Puntos Press and did the Gabi cover as well as the covers of both of Sonia Patel's novels, Jaya and Rasa and Rani Patel in Full Effect.) Now I just need a print of "Nuestra Señora de Las Iguanas" for my living room.
Who is Ana Mendieta? by Christine Redfern, illustrated by Car Caron
Havana-born Mendieta was a video artist, sculptor, performance artist, and painter whose work has appeared around the world. "Her work was generally autobiographical and focused on themes including feminism, violence, life, death, identity, place and belonging," and she favored references to the natural elements—fire, earth, wind, water, and blood. If you haven't heard of Mendieta before, this biography will get you caught up quickly.
Bagge's style is easily recognizable and he brings his boisterous technique to the page to tell the tale of two complex pioneers of feminism. Margaret Sanger is best known as the woman who popularized the phrase "birth control" and for opening the first birth control clinic in the United States. Hurston was a key contributor, as folklorist and author, to the Harlem Renaissance. Bagge does both ladies justice in these graphic biographies.
It's possible that one day I will tire of the badass Parisian ladies of the 1920s, but I doubt it'll be any time soon. Bocquet and Muller do a fantastic job bringing an authentically French perspective to two of the leading muses of interwar Paris. Baker is so much more that the banana-skirt dancer and Kiki is far more than an artist's model. If you're un- or less than familiar with either, I strongly recommend both of these beautiful books about these trail-blazing, self-sufficient, and determined babes.
As a bisexual woman who deals with chronic physical and mental health issues, as well as infertility, Frida Kahlo has long been one of my personal saints. This fantastical spin on her biography interweaves Kahlo's story and art with a fictional (?) relationship she carried on with Death, or Santa Muerte. This is an incredibly emotional book and the Vinci's illustrations are stunning. Vinci treats her subject with the same reverence and mysticism that Kahlo, herself, treated her native Mexico and it pays off.
I've got a thing for Ada Lovelace, mathematician and world's first computer programmer! The daughter of eccentric (and syphilitic) poet Lord Byron even has her own holiday, Ada Lovelace Day. This book is a mixture of written biography with graphic and really give a fantastic look at her career with Charles Babbage. It's a pretty hefty book, so be prepared to spend some time with this one.
Featuring contributors the likes of Kelly Sue DeConnick, Marguerite Sauvage, Ming Doyle, Sanford Greene, and Sonny Liew writing and illustrating mini biographies on Michelle Obama, Kate Bush, Sally Ride, Misty Copeland, Harriet Tubman, Rumiko Takahashi, and so many other phenomenal, women past and present! Pre-order this Kickstarter backed anthology of 50 inspiring, kick-ass dames now! It's due to hit shelves (and your hands!) in early September.
An inspiring story of 13-year-old Malvika Iyer who lost both of her hands, and changed her family's life, when childhood curiosity go the better of her. The exploding grenade responsible for Iyer's bilateral amputation hasn't hindered her drive or her spirit, however. Since that unfortunate day in her hometown in Rajasthan, Iyer has gone on to become a motivational speaker, disability advocate, and a model for accessible fashion. Jagannathan does a great job of telling her life story (to date).
Socialist firebrand and revolutionary, Rosa Luxemburg is the subject of this powerful biography from Evans. Luxemburg is a controversial figure for historians and political analysts, simultaneously the darling of the far-left and ignored by them. Red Rosa is pro-Luxemburg but does a great job of trying to maintain a level of impartiality in regards to her story. This graphic biography is the perfect way to get (better) acquainted with this feminist, socialist, Jewish woman who lived and died ahead of her time.
Memoir
Satrapi's Persepolis might be one of the most well-known works of graphic nonfiction available today. Satrapi's memoir of her childhood in Iran during the Islamic Revolution of the late-1970s is a fantastic look at how the role of women in Iran changed dramatically and quickly. Embroideries is a more intimate exploration of Iranian woman and feminism. An afternoon with (all female) family and neighbors over coffee is recorded in these pages and topics range from divorce and arranged marriages, to the merit of European men over Middle Eastern men, to the pros and cons of embroideries (hymen repair). Satrapi offers no analysis of the opinions the women in her life offer up—we get them raw and unadulterated.
Bechdel has no shortage of graphic nonfiction under her belt. Hell, she has an entire test for feminist merit named after her. (It's sad that the Bechdel test is really the bare minimum and the entertainment industry still fails to meet it even half the time, isn't it?) I chose Are You My Mother? not only because of the complex mother/daughter relationship, but because Bechdel's mother is a woman restricted by her era. A woman who struggles with personal, sexual, creative, and maternal fulfillment. As women, we still struggle with all of these things. You should definitely check out Bechdel's Fun Home and The Essential Dykes to Watch Out For, too!
This memoir deals with the author's personal struggles coping with her eating disorder, mental health struggles, and burgeoning sexuality. Nagata doesn't pull any punches. This story is full of raw, unfiltered emotion. But if talking about mental health, sex workers, sexuality (queer and otherwise), and generally finding your way in the world as a female aren't feminist topics, then I don't know what is.
Breast cancer and the way we, as women, react to it, in a society that has only taught us our breasts are only good for mothering and sex appeal, has led to a slew of inspiring memoirs over the years. Hayden's graphic memoir of her fraught relationship with her tits is equal parts laugh-out-loud and sweetly sentimental. As an inspiring memoir, this book stands strong, but it also sneaks in as a unique voice in the conversation over women's bodies. Who do we owe them to (Answer: NO ONE!) and what makes your tits, your tatas, your boobs, well, what makes them great? The answer to that one is more personal.
Forced to flee her home with her family following the fall of South Vietnam during the Vietnam War, Thi Bui's life has long been an immigrant story. The Best We Could Do not only explores Bui's history but also the intersection of her immigrant identity with her identity as a mother following the birth of her first child in 2005. This memoir touches on personal identity as affected by world politics, the definition of home, and the importance and meaning of family. It was nominated for multiple awards in 2017 for good reason.
The art style in Samanci's memoir reminds me fiercely of Le Petit Prince. Her childhood in Turkey on the Aegean coast is explored with love and fondness. Where I really related, as someone who came from a loving home, with parents who really did want to best for me, was with Samanci's struggles to please everyone without losing herself. Women are conditioned to be the peacemakers, to make people smile, and we end up doing that at the cost of our own happiness too often.
I actually had the pleasure of meeting A.K. Summers when she did a reading of this book in Seattle a few years back! Summers's memoir of her pregnancy as a butch woman explores a lot of the ultra-feminine bias involved with motherhood. How should a mother look? How does society treat mothers that are "other"? This is a fantastic conversation starter for the next person who tries to tell you about pregnancy. It's your body and your experience will be unique and Summers's tale proves it.
Essay
This collection of graphic essays straddles the line between social commentary and personal memoir in a lot of cases. Not always strictly nonfiction, but that's okay, life is rarely "strictly" one way or another. Every comic is a meditation on what feminism means to each artist. Featuring contributions from Charlie Jane Anders, Angie Wang, Emily Flake, Suzanne Kleid, and Hilary Florido among others.
Interested in a fiction companion to this list? Check out our list of feminist-friendly comic books!