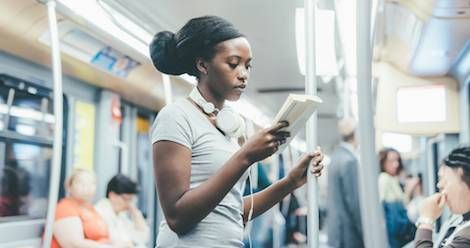 Are Feminist Dystopias the #MeToo Movement of Literature? Critical Linking, February 27
Sponsored by Everything is Horrible and Wonderful by Stephanie Wittels Wachs
---
The New York Times recently ran an animated ad online that featured a blinking cursor spelling out the words "He said" followed by "She said. She said. She said." Ad infinitum. The ad, of course, was in reference to #MeToo, a feminist movement of truth-telling about sexual harassment and assault. Perhaps not coincidentally, there has also recently been a steady rise in post-apocalyptic/dystopian books that feature control over some aspect(s) of female reproduction. But these literary efforts have not been entirely lauded.
Artists making art that's relevant to a current cultural moment seems pretty normal.
---
When Francisco Cantú started touring to promote his new book, The Line Becomes a River: Dispatches from the Border (Riverhead, Feb. 6), he was basking in the support of indie booksellers around the country, with having been named the top Indie Next List pick for this month. Cantú braced himself for the reality that the book, which focuses on the author's struggle to come to terms with his work and his own family history (as the grandchild of a Mexican immigrant), might draw ire from his former employer and conservatives. He never imagined, though, that it would draw a backlash from the group that now seems to be railing against the title: liberals.
I thought this book was fascinating, but I'm surprised he didn't see liberal backlash coming.
---
I see some non-Native readers looking for recommendations of works by Native writers who aren't Sherman Alexie. It's honestly pretty tiring to fight for attention and only get it at times like these, but I'm willing to take the opening and make some recommendations:

— Elissa Washuta (@elissawashuta) February 25, 2018
This is a useful thread.