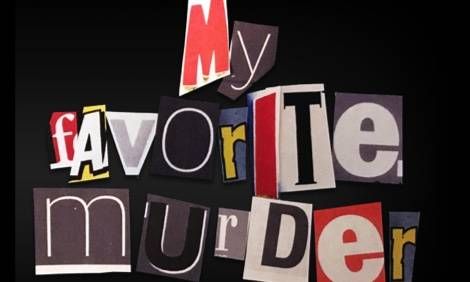 This content contains affiliate links. When you buy through these links, we may earn an affiliate commission.
I once thought my interest in true crime set me apart. I spent my childhood watching Lifetime movies that were based on true (and murderous) events and staring at the crime books on my mom's shelf. But when I set foot outside the house, I discovered that it wasn't entirely normal for a kid to know who Betty Broderick was before she hit third grade. That outlook changed thanks to the right friends–and the podcast My Favorite Murder, hosted weekly by Georgia Hardstark and Karen Kilgariff.
As my reading habits have been well-informed by my early indoctrination into the true crime lifestyle, I decided to put together a list of crime comics that I thought would make Karen and Georgia proud. Though not all of the books below deal with actual murder and there are some stellar nonfiction crime comics out there, I think the fictional takes here will hit just the right crime-and-feminism spot for an My Favorite Murder listener.
Stay sexy and don't get murdered, fellow comics murderinos!
Joëlle Jones & Jamie S. Rich (story); Joëlle Jones (art); Laura Allred (colors); Crank! (letters)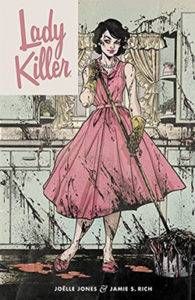 On the surface, homemaker Josie Schuller has the perfect family, the perfect home, and the perfect life. But beneath the sheen of 1950s domestic bliss lies Josie's deep, dark secret: she's a killer for hire (and she's good at it).
This is probably the comic that most directly relates to the topic of the podcast–it focuses on murder, after all. But what really makes this a great read for MFM listeners in particular is the look and feel of the book. The Americana advertising art and bright colors stand in stark contrast to the dark blood seeping off the pages, just the way we like it. And if you look at Josie, both in appearance and manner, I think she's the perfect blend of Karen and Georgia.
Yes, Josie is a murderer, and no, we don't like murderers. But her contract killings have all the pizzazz that make a great hometown murder really sparkle.
Ed Brubaker (words); Sean Phillips (art); Dave Stewart (colors)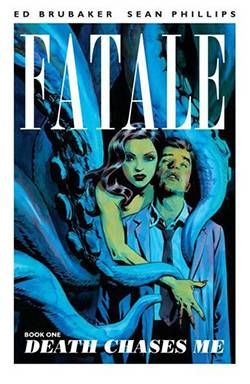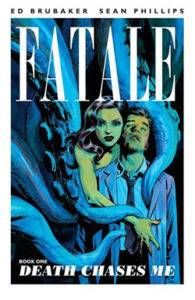 On the day of his godfather Hank Raines's funeral, Nicolas Lash meets Jo, who says that her grandmother knew Hank well. Later, while going through his godfather's estate, Nicolas comes across an unpublished manuscript, probably the first one Hank ever wrote. But just then, an unknown car pulls up outside the house and a man with a gun climbs out, and Nicolas escapes with his life only because of Jo's sudden reappearance.
But Jo isn't all that she seems. It is she herself who first met Hank back in 1956, when she offered him–then a journalist–information on two crooked San Francisco cops. As Jo and Hank grow closer, the body count rises dramatically and the descent into the story's mythology becomes more twisted, bringing readers the likes of monsters, demons, and cults. No one calls any dads, unfortunately, but Jo is a force to be reckoned with and the murderous plotline that surrounds her will be a winner for those who enjoy their noir with a side of the supernatural.
Christopher Sebela (words); Robert Wilson IV (art); Nick Filardi (colors); Crank! (letters)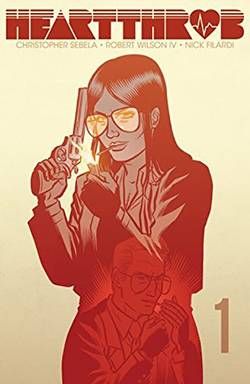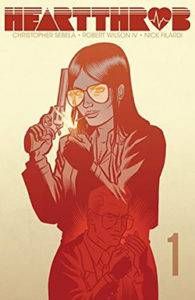 In 1977, after Callie undergoes heart transplant surgery to remove her defective heart and replace it with a new one, she finds herself drawn to the darker side of life. She quits her dead-end insurance job and begins hooking up with a criminal named Mercer, who teaches her everything she knows. Though Mercer might be a figment of her imagination–he's supposedly the one whose heart Callie now has beating in her chest–Callie embraces her new Robin Hood lifestyle, robbing insurance companies and banks to give the money back to those who really need.
Nothing makes a murderino feel right at home like a 1970s crime with a killer (pun intended) soundtrack.
Ollie Masters (words); Ming Doyle (art); Jordie Bellaire (colors); Clem Robbins (letters); Becky Cloonan (trade cover art and original series covers)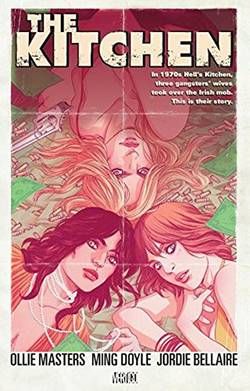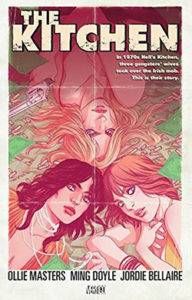 Nothing goes entirely against the typical New York gangster tough guy mold like a trio of housewives who step up to become the queens of the streets while their husbands are incarcerated. At the start of The Kitchen, Kath, Raven, and Angie are not unaware of the underworld of which their husbands are a part in Hell's Kitchen. But when the boys get caught, it's up to the women to carry on with the work. Things come to a head when the three friends realize they enjoy their new lifestyles–just in time for their husband to get parole.
The Kitchen again falls into that sweet spot of 70s crime that Georgia and Karen seem to so enjoy. The murders might be a little "tame" in comparison to some of the cases covered on the podcast (they're just mafia hits, after all), but the tangled web around those murders are sure to entice your inner storyteller.
The Mockingbird series. All of it.
Chelsea Cain (words); Kate Niemczyk (#1-4) and Ibrahim Moustafa (#5) (art); Sean Parsons (inker, #4); Rachelle Rosenberg (colors); Joe Caramagna (letters); Joëlle Jones & Rachelle Rosenberg (cover art)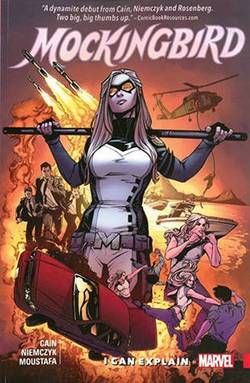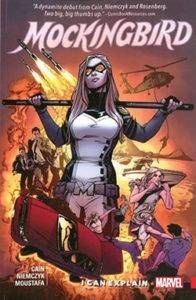 Some might best remember Mockingbird for the flurry of anti-feminist outrage the book caused with what turned out to be its final issue, #8. On that cover, Bobbie Morse, the titular Mockingbird, was standing on a beach in a shirt that read "Ask Me About My Feminist Agenda." But while some who called to "keep politics out of comics" (as if that has ever been possible), others rallied around Bobbie and writer Chelsea Cain, and spoke out against the harassment Cain faced in response to her run.
Personally, I think this book is brilliant, full of smart humor and fantastic espionage adventure. And while it technically isn't a murder book — and it may not even really be considered a crime book — I'm sure Karen and Georgia would overlook that for the feminism apparent throughout Cain's run. Bobbie Morse's humor dovetails beautifully with Karen and Georgia's and I think the ladies who created and proudly wear the "Toxic Masculinity Ruins the Party Again" t-shirt are the perfect audience for Mockingbird.
Emil Ferris (words and art)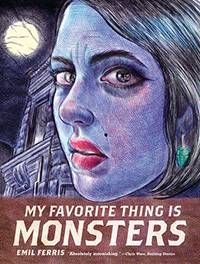 Karen Reyes is not like other young girls in 1960s Chicago. For one, she's a gifted artist. For another, she might be a werewolf.
Or at least that's how readers are first introduced to Karen in this incredible work of art, both in terms of the visual imagery and the prose. My Favorite Thing is Monsters is presented as Karen's notebook, where she draws herself as a wolf-girl in a detective's trench coat and floppy hat. It is here that she copies the covers of her favorite horror magazines and keeps close, vividly illustrated notes on the world around her, including points on her older brother Deeze, her superstitious mother, and the death (under suspicious circumstances) of her upstairs neighbor, Mrs. Silverberg.
My Favorite Murder fans will love the mystery of Mrs. Silverberg's death and the twisted path that led to the tragic event in question, and will undoubtedly find themselves cheering Karen on in her search for justice. Don't we all wish we could embrace our monstrous sides and uncover the truth?