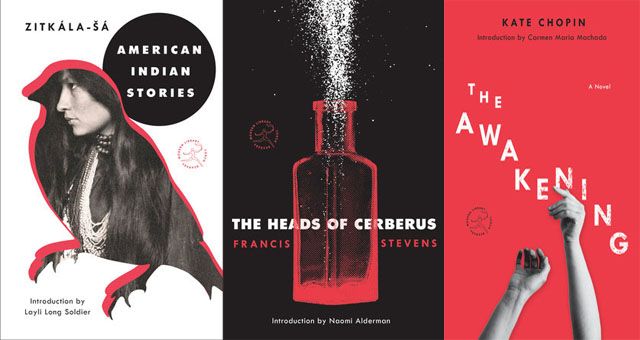 Sponsored by Kingsbane by Claire Legrand.
---
"A new series of woman-authored classics, Modern Library Torchbearers will kick off publication on May 21 with American Indian Stories by Zitkála-Sá, The Heads of Cerberus by Francis Stevens, and Passing by Nella Larsen. An additional trio of texts — The Awakening by Kate Chopin, Lady Audley's Secret by Mary Elizabeth Braddon, and Villette by Charlotte Brontë — are slated for a June 18 release. Random House also lists three other titles — The Transformation of Philip Jettan by Georgette Heyer, Nada by Carmen Laforet, and Love, Anger, Madness: A Haitian Triptych by Marie Vieux-Chauvet — as Modern Library Torchbearers on its website, but only Heyer's novel has a new release date (Sep. 10).
All six books feature an all-new cover designed by a woman artist. Check out the first six Modern Library Torchbearers below:"
I'm obsessed, OBSESSED, with the cover for American Indian Stories.
---
"Poetry isn't dead — it's just living its best life on social media.
Instagram has turned into a poetry hotbed. Users share a couple of aphoristic short lines composed to fit the platform's square frame and followers, up to the tens of thousands, declare their love by liking the poem and reposting it on their own accounts."
An interesting look at a bunch of poets on Instagram.
---
"Meet Vincent, the one-year-old rat with a very important volunteer gig. Vincent is a therapy rat, heading into schools and libraries to help children learn to read. To be clear, this is not a genius rat able to sound out words and teach children about spelling and grammar. He's there to provide comfort and a non-judgmental ear for kids who need a confidence boost when it comes to reading aloud. As part of Pet Partner's Read With Me scheme, Vincent will sit with a child and accept strokes and cuddles as they read through whichever book they fancy."
Vincent is perfect and I demand the picture book, middle grade series, and Disney movie about him!