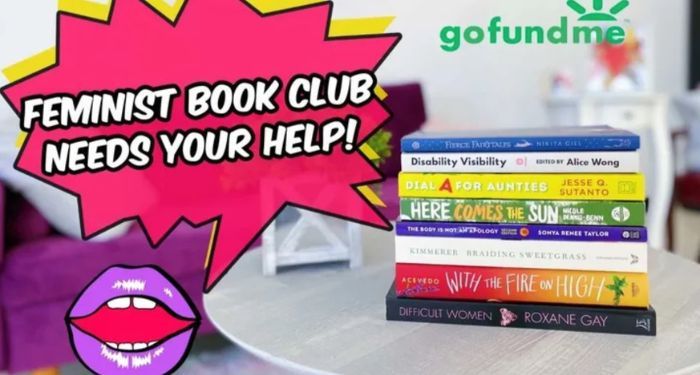 Feminism
Feminist Book Club Experiences Second Break-In & Needs Help to Recover
Feminist Book Club is an online book club founded by Renee Powers in 2018. Borne from Powers's academic background in feminist theory, the club offers a monthly feminist book pick selected by members. There are fiction, nonfiction, and, as of this summer, audiobook options, and with the monthly membership comes the opportunity to connect with other feminist readers across the country in online discussions. Subscription boxes focus on sustainable, feminist bonus goodies, and the community is not only about book talk. They put their words into action to help build a better world.
Since its founding, Feminist Book Club has grown both in size and in mission. It has a diverse staff of four–two full time–plus an intern; a robust contributor and community moderation team; and Feminist Book Club has earned several distinctions, including 2023′s The Vision award from The Next Challenge for Media & Journalism.
Feminist Book Club launched a Go Fund Me in honor of their 5th anniversary this July, with the hopes of giving the group more money in order to grow their mission. Moreover, the Go Fund Me was also meant to help disrupt the capitalist values that felt out of alignment with the group more broadly and their commitment to intersectional feminism. Powers, in order to keep the group afloat, took herself off payroll two years ago in order to keep the company afloat and ensure that her team continued to receive compensation for their work. Feminist Book Club never took investor money and have kept themselves going alone, and the Go Fund Me aimed to help them achieve solvency.
However, the last two weeks have turned what was supposed to be an opportunity to expand and revision the organization as a worker-owned coop into a desperate need to recuperate significant financial loses from two break-ins at their Minneapolis office.
Shortly after posting the update about the loss of over $800 in equipment that helps Feminist Book Club do outreach and events, the group updated the post to note that the losses are even greater than anticipated. Theft is estimated at over $5,000, putting an even harder dent into their budget.
Whether you've been a member of Feminist Book Club or support their commitment to their words, values, and intersectional feminism, if you can make a donation to support their recovery, now is the time.
Can't make a straight donation but still want to support the group and their mission? Then sign up for one of their monthly book clubs. Even if you don't love the book selected by members, one of the unique features of Feminist Book Club is you're not committed to the selected title. You can choose something else entirely–pick a previously selected title or something else all together. Feminist Book Club also offers many of their previous boxes, select titles, and other merch in their online store.
Sharing the news and following the group across social media also makes an impact. Feminist Book Club is active on Instagram, TikTok, and Facebook. You can find more information about the group, as well as an active blog and podcast, on their website.