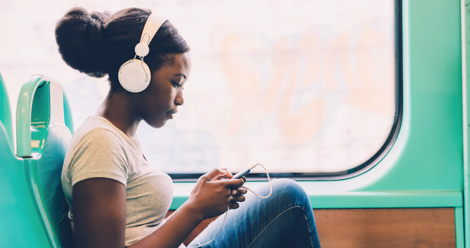 This content contains affiliate links. When you buy through these links, we may earn an affiliate commission.
My favorite way to consume feminist books is having them read calmly into my ears while I drive to work. I get all fired up and everything feels a little bit less hopeless. Feminist audiobooks are like an electrifying blanket for me. When I'm feeling stuck, I listen to one, and I start to feel better. I get enraged at injustice and then I get amped up to make a change.
Here are a bunch of my favorite feminist audiobooks, including a bunch of bonus reads because I just can't help myself. If you can't help yourself, we also have 100 must-read feminist books, 24 feminist books coming out in 2018, 100 must-read young adult books for budding feminists, and my not-so-accidental month of feminist reading.
This is sometimes a bit hard to swallow (single women almost always struggle to be as successful as single men, etc.) but so important. Rebecca Traister weaves together the stories of single women through history, noting all the social, political, economic, sexual, and emotional bits. We have this idea that it's only recently that women have wanted to live a single life, but it turns out it's always been pretty common. Just not talked about as much.
Bonus read: Spinster: Making a Life of One's Own by Kate Bolick
I picked up American Hookup purely for the cover, and it did not disappoint. Lisa Wade teaches a sexuality course and talks to her students throughout their college careers, compiling data along the way. Mostly, everyone thinks everyone else is having more sex than they're having, so they have sex even when they sometimes don't want to. It's like sex is the only thing people go to college for. It's a wild ride, and an absolutely fascinating look at sex on campus.
Bonus read: Girls & Sex: Navigating the Complicated New Landscape by Peggy Orenstein
Be prepared to yell at the universe while listening to this one. Kate Harding analyzes rape culture and muses on the ways in which college women going out at night is similar to men going to battle—everyone stay together. No one gets left behind. I spent a lot of time sitting in parking lots, trying not to puke as I listened. But it's a necessary book for every human right now. It's one of the first feminist audiobooks that got me hooked on taking in my feminism through my ears.
Bonus read: Missoula: Rape and the Justice System in a College Town by Jon Krakauer
Bad Feminist by Roxane Gay (read by Bahni Turpin)
Hey, have you heard of this woman, Roxane Gay? She writes really great words and has a lot of great opinions on things pertaining to feminism and pop culture. (Beyonce! Channing Tatum! The Hunger Games!) If you haven't read Bad Feminist yet, please, listen to it. You won't regret it.
Bonus read: Hunger: A Memoir of (My) Body by Roxane Gay
Dirty Thirty by Asa Akira (read by Veronica Worthington)
Asa Akira is an intimidatingly badass porn star. Dirty Thirty, her memoir about turning 30 in the adult film industry, shows a different side to her. She's cute and quirky, and, oh yeah, explodes into a feminist rant about halfway through the book. She reminisces on her youth, her early days in porn, some monumental moments in her career, and her fears about being "too old" now. She talks about being a daughter and how her mother found out about her career. She talks about being married to another porn star, and how she refuses to abide by housewife-y "rules." She's great.
Bonus read: Insatiable: Porn—A Love Story by Asa Akira
This is the handbook I want given to college freshmen. Corinne Fisher and Krystyna Hutchinson are here with a stellar collection of essays on sexuality in today's world. The book is broken up into sections: Shame, anatomy, sexy acts, relationships, sex ed, and the serious stuff: sexual assault and abortion. It's a great guide for a sexual debut.
Bonus read: Becoming Cliterate: Why Orgasm Equality Matters—And How to Get It by Laurie Mintz
Is your office sexist against women? You need this book. Jessica Bennett offers lots o' tips on how to handle situations that arise at work. And she has badass feminist playlists and other ephemera sprinkled throughout.
Bonus read: How to Be a Bawse: A Guide to Conquering Life by Lilly Singh
A collection of interviews and essays from Angela Davis? Yes, please. She tackles police brutality, racism, capitalism, and every issue that starts local and ends global. Freedom is a Constant Struggle is a great listen for a wide-lens view on social issues.
Bonus read: Headscarves and Hymens: Why the Middle East Needs a Sexual Revolution by Mona Eltahawy
This. Book. Ruined. Me. I grew up with the idea that women who put their babies up for adoption did so flippantly because, oops, they got pregnant and didn't want to be a mom. But in this book, Ann Fessler interviews women who gave up their babies, and their stories are all so heart-breakingly similar. Girl had sex for the first time (or was raped), missed her period, started showing, didn't know what was happening to her, got sent off to a maternity home, gave birth, and lived with a secret for the rest of their lives. Some girls simply had no sex education, or couldn't afford abortions, or were threatened by their family if they even thought about keeping and raising the baby. Do yourself a favor and listen to this book.
Bonus read: Ten Days in a Mad-House by Nellie Bly
Every essay in this collection blew me away. Cheryl Strayed writes about locking herself in her room on Nov. 9, 2016. Sarah Michael Hollenbeck, co-owner of the badass feminist bookstore Women & Children First in Chicago, writes about her physical disability and the gaze of strangers, the prospect of motherhood, and the way the election of a bully affects all of us. Nicole Chung writes about living in a country under an administration that sees white people as American and non-white people as Other. If you only choose one book about 2016 to read, this should be it.
Bonus read: What Happened by Hillary Rodham Clinton
It may sound strange to compare Mary Shelley, Charlotte Bronte, and Billie Holiday to Britney Spears, Miley Cyrus, and Amy Winehouse, but then again, maybe it doesn't. These women are deemed trainwrecks while the men who act similarly are beloved. We are fed tabloid madness about women, but the men are usually left out, unscathed. Sady Doyle digs into famous women throughout history and finds that many stories are similar, decade after decade. I absolutely loved this on audio.
Bonus read: Sex Object by Jessica Valenti
The queen of Bitch herself wrote about marketplace feminism—the idea that a movement that used to be about fighting for justice turned into a movement of looking cool and buying T-shirts emblazoned with FEMINIST. Andi Zeisler takes a look at what the feminist movements have looked like, and how they've changed.
Bonus read: You Don't Have to Like Me: Essays on Growing Up, Speaking Out, and Finding Feminism by Alida Nugent
Because if your feminism isn't intersectional, you're doing it wrong. Patrisse Kahn-Cullors co-founded the Black Lives Matter movement and witnessed first-hand from a young age that Black people are among the most vulnerable in the U.S. Please listen to this book.
Bonus read: Pushout: The Criminalization of Black Girls in Schools by Monique Morris
What are your favorite feminist audiobooks?