Feminism
Feminist Agenda: Olivia Gatwood in London
This content contains affiliate links. When you buy through these links, we may earn an affiliate commission.
My youth in Ireland passed with no real knowledge of spoken word poetry. Though I loved poems generally, and studied for over a decade with the London Academy of Music and Dramatic Art, creative expression was overwhelmed by the necessities of clear diction, strong voice, and comprehension of iambic pentameter.
An ex-boyfriend introduced me to spoken word, in the form of the United States Poetry Slam competitions on YouTube. The boyfriend himself later ghosted me (ironic given his love of the strong feminist voices that pushed him down the rabbit hole of slam videos), but my affection for this format has remained through the years. A particular video, 'Say No', featured Olivia Gatwood and Megan Falley in the early days of their poetry careers, roaring for feminist justice and telling truths that, in my guilted Catholic world, tasted like freedom.
A few months ago, I found myself in a seat at London's Rich Mix to see Olivia Gatwood speak truth to power. Though broadly known in the U.S. and often touring there, this was my first chance to see her read in person, as she doesn't often appear in the UK.
Gatwood's first collection, New American Best Friend, was a tribute to the current American woman, tearing down stereotypes and covering a broad scope of issues from sexuality and violence to childhood. The collection features a series of odes that push the book to a point of celebrating women, flaws and imperfections included and lauded along with the courage and strength of the contemporary woman. It was a collection full of heart and though I rarely read a poetry collection start to finish, this was one of the times I did.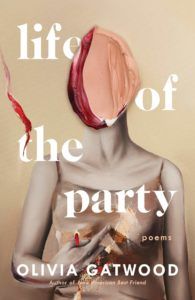 Bounding through her work in London, Gatwood stopped to tell funny stories, keeping the audience afloat with her support for LGBTQIA women, and particularly trans women. She talked about the dearth of lesbian-specific spaces in the U.S. and her renewed fascination with murderers, which has been an inspiration for her second collection Life of the Party, which, based on the work I heard that night in London, focuses on how women internalise fear and violence and how we live our lives on a daily basis surrounded by abject fears that could so easily come to define us.
Joaquina Mertz was the first act on the night. In my rush to book the ticket to see a poet I'd been watching for years, I did no research on Mertz and was blown away by her. She brought stinging political power to her music, forcing the audience to consider their thoughts about what makes an immigrant, why we value some cultures ahead of others, and what it means to be vulnerable in the country you've chosen to call home. Mertz's work is available on Spotify.
Ahead of their words and performances, Mertz and Gatwood made me remember something that I've forgotten in recent years as my friends have spread across the world and my close-knit circle of female friends has dissipated somewhat. They stood on that small stage with the pure joy of sisterhood, sparking funny stories back and forth, bringing the audience inside their jokes and experiences, opening up their world for everyone else to see that being a loudmouth feminist means being part of something real, welcoming and growing.