Children's
Travel by Cat: 17 Feline Kids' Books from Around the World
This content contains affiliate links. When you buy through these links, we may earn an affiliate commission.
My relationship with international feline lit began a year or two back. I was searching, fruitlessly at first, for a birthday present for a nine-year-old cat-lover and bibliophile.
I wasn't sure which series this particular book vacuum had already read, but I felt fairly safe going to Pushkin Press's kid-lit imprint. There, I bought him Nilanjana Roy's delightful The Wildings and The Hundred Names of Darkness, both set in Delhi.
As it turns out, literary cats are everywhere: from India to Iran to Italy and beyond. Cats sleep, eat, survive the Lebanese Civil War, save the world, and help their friends. A few for your international obsession:
India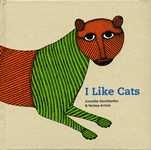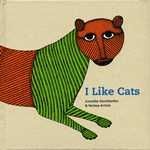 I Like Cats by Anushka Ravishankar
Gorgeous illustrations and simple texts for this gallery of "sunny cats, fat cats, sad cats, grinning cats, brat cats, and cats with scowls and cats with jowls."
Readers 0+.
The Boy Who Drew Cats, by Anushka Ravishankar
Part of the charm of this book is that it takes a well-known Japanese folktale, retold by Anushka Ravishankar, illustrated in a Japanese style by German illustrator Christine Kastl.
It's hard to get more international-cat-lit than that.
Readers 5+.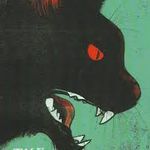 The Wildings and The Hundred Names of Darkness, by Nilanjana Roy
I highly recommend these cat-centered fantasies about the Wildings, who have ruled over Nizamuddin for centuries—and everything seems to be going just fine—until a house cat with odd powers shows up.
Wonderful, visceral, excellent for readers of many different ages.
Readers 8+.
Iran
Will and Nill, by Farhad Hasanzadeh, translated by Azita Rassi, illustrated by Atieh Markazi
From India, we might as well take a short flight northwest to Tehran, where we can meet two hungry alley cats, Will and Nill. These are an odd couple of cats: Nill's a sleeper and Will's a doer, and this is both fable-like and contemporary.
From the excellent Tiny Owl.
Readers 3+.
Syria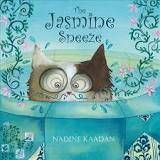 The Jasmine Sneeze, by Nadine Kaadan
West from Tehran to Damascus!
I must admit, real-life cats—unlike their fictional counterpart—make me sneeze. So it was with great delight that I met the sneezy Haroun, who'd like to be spending his days sleeping in the sunlit courtyards of Damascus. But the poor dear's allergic to jasmine!
Readers 3+.
Lebanon
What Happened to Zeeko, by Emily Nasrallah, translator not listed.
After leaving Damascus, we go west again, to Beirut.
Emily Nasrallah is a celebrated Lebanese novelist who also has written books for young readers. This one is about little Zeeko, who is cared for by his friend Mona, and lives in a comfortable Beirut household when war breaks out.
Readers 11+.
Greece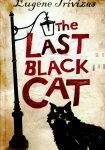 The Last Black Cat, by Eugene Trivizas, translated by Sandy Zervas.
From Lebanon, it's only a hop and jump to Greece.
According to Outside in World, "This is the story of a black cat that lives a peaceful and happy life on an island. He has only ever had to worry about stealing fish, hanging out with fellow cats and the love of his life, Graziella. One night however, he witnesses the kidnapping of a fellow cat. Suddenly, one by one all the black cats on the island begin mysteriously disappearing until there is only one black cat left. Behind these abductions lies a sinister society who have convinced the government that black cats bring bad luck and are responsible for the nation's problems."
Readers 12+.
Italy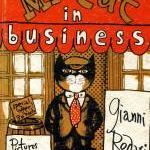 Mr Cat in Business, by Gianni Rodari, illustrated by Jan Brychta, translator not listed
From Greece, we travel along the Mediterranean to Italy.
From Outside in World: "Mr Cat is very ambitious and wants to become rich so he decides to set up a business as a grocer selling tinned mice. He rents a shop, makes the necessary arrangements with the bank and buys all the proper equipment for his new business. He also hires a kitten as an assistant and employs another kitten as a delivery boy. Now the empty tins start to arrive and the problem is how to fill them with the product. Mr Cat tries desperately to convince the mice to cooperate with his new enterprise but to no avail. Unfortunately business does not go according to plan and Mr Cat decides to try his hand at selling mouse poison instead. It is the mice who have the last laugh in the end by becoming very rich, and all thanks to Mr Cat."
Readers 6+.
France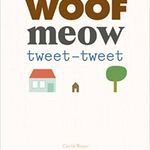 Woof Meow Tweet-Tweet, by Cécile Boyer, translator not named.
This book doesn't depict the animals it's about (dog, cat, and bird, we assume) but portrays their sounds in a way that reflects the animals' movements and mannerisms.
A simple story that works as a wonderful read-aloud.
Ages 3+.
The Netherlands
The Cat Who Came In off the Roof, by Annie M.G. Schmidt, translated by David Colmer
To the Nethercatlands!
By the celebrated Annie M. G. Schmidt, this novel, wittily translated from the Dutch by David Colmer is the story of a timid newspaper reporter and a woman who used to be a cat. Working together they collaborate on news items, with other cats feeding the reporter the news he needs for his job. The book, which was actually written in 1970 but was only translated in 2014, is absolutely relevant today in this tale of bravery in the face of personal fears and challenges. It was also made into a film called Miss Minoes.
Featured in our first-ever list of 100 translated children's books from around the world, which debuted in 2016.
Readers 10+.
Sweden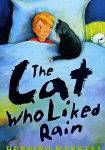 The Cat Who Liked Rain, by Henning Mankell, translated by Laurie Thompson
Up to cold Sweden!
From Outside in World: "For his seventh birthday Lukas receives the most special present ever—a little black kitten he calls 'Night'. He adores his new pet and is desolate and inconsolable when one day, Night simply disappears. Lukas is determined to find his cat and sets in motion some amusing antics as a result of his quest. With the help of his mum, Lukas puts up posters around the town (later adding that a large reward is on offer, which encourages a queue of people outside his home, much to the surprise of his parents). He runs away and attempts to stay in a hotel for the night and rashly deposits his piggy bank in the town fountain when he makes a wish. Whatever Lukas does, nothing brings Night back. Just where has Night really gone to? Has Night disappeared to the mysterious yet wonderful Rainy-Weather Land that Lukas's dad has told him about?"
Spain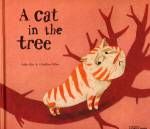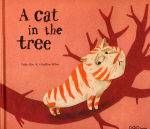 A Cat in the Tree, by Pablo Albo, translated by Mark Heslop, illustrated by Geraldine Alibeu.
South to the cats of Spain!
From Outside in World: "A Cat in the Tree is a quirky story by Spanish author, Pablo Albo. Chased by a dog, a cat runs up a tree and realises that it is unable to get down.
'The cat at the top waited for the dog to go
and the dog at the bottom waited for the cat below
But the cat didn't come down because the dog wouldn't go,
and the dog wouldn't go because the cat wouldn't come down'"
CHILE
And So It Goes,
by Paloma Valdivia, translator not listed
Across the ocean and south to Chile!
From Kirkus reviews: "As loved ones leave this world, others arrive in this existential meditation on the cycle of life, an import from Mexico."
The Story of a Seagull and the Cat Who Taught Her to Fly, by Luis Sepulveda, translated by Margaret Sayers Peden and illustrated by Satoshi Kitamura.
From Mexico, south to Chile!
From Outside in World: "Covered in oil, Kengah, an exhausted Seagull lands on a balcony in the port of Hamburg where Zorba, a big black cat lives. The dying gull manages to lay her final egg while asking Zorba to promise three things: to look after the egg, not to eat the chick once it has hatched and, the most difficult of all—to teach the orphaned baby gull to fly. Zorba is an honourable cat and realises the enormity of the task ahead so he enlists the help of his feline friends—the gregarious resident skinny Italian cat Segretario; the wise and stammering Colonel; and the encyclopaedic consulting Einstein. They have a massive task to take on in order to honour the promise made to Kengah and give Lucky, the adopted little seagull, the strength to discover her true nature."
Readers 9+
Japan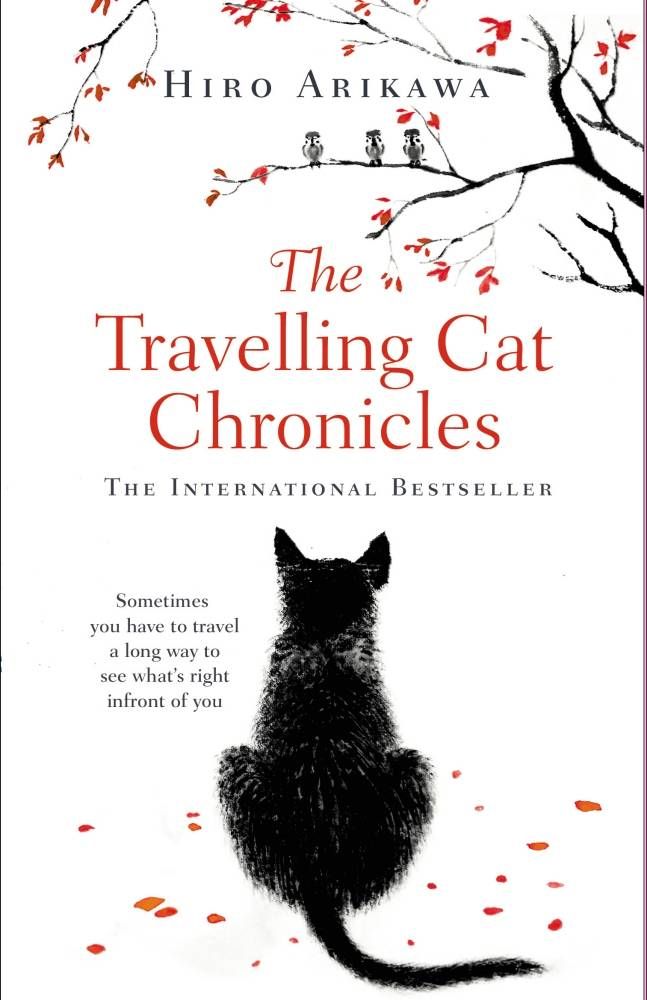 The Traveling Cat Chronicles by Hiro Arikawa, translated from Japanese by Philip Gabriel.
Avery Fischer Udagawa recommends this "YA/adult novel narrated partly in a cat's voice. Guaranteed to hook non-cat people."
The book made her 2017 list of 100 translated children's books from around the world.
Readers 13+.
Russia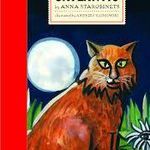 Catlantis, by Anna Starobinets, translated by Jane Bugaeva
From Japan, it's just a short flight to the Russian Far East, our last stop.
In this acclaimed middle-grade novel, a house cat turns out to be descended from the magic Catlanteans. Baguette always seemed to be an ordinary house cat, but not so! He is a descendent of the Catlanteans, who once lived in peace and harmony on the isle of Catlantis. Baguette falls in love with the alley cat Purriana, and she insists, in classical folk-tale style, that Baguette do a heroic deed before she'll agree to marriage. A fantastic and silly modern classic. Illustrated by Andrezj Klimowski, translated by Jane Bugaeva.
For readers 9+.
Save
Save