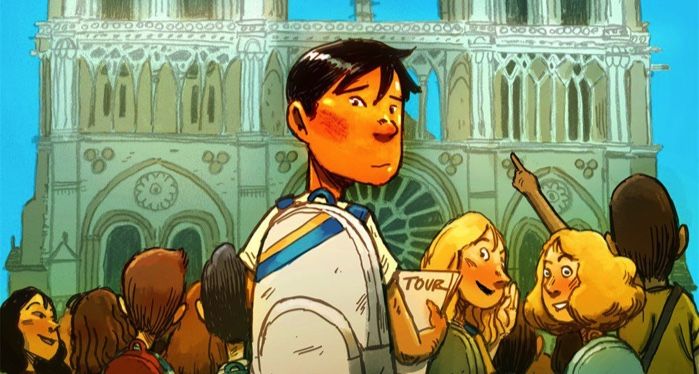 Children's
12 Of The Best New Children's Books Out February 2023
This content contains affiliate links. When you buy through these links, we may earn an affiliate commission.
It's February! In February, we celebrate Black History Month, Groundhog Day, Valentine's Day, and Presidents' Day, and I pray my kid doesn't get sick for the third time this year. I'm also getting her signed up for kindergarten, which is exciting! By the time this list of new February children's book releases publishes, the Randolph Caldecott and John Newbery Award winners should be announced. Past me can't wait to see the results!
I know I sound like a broken record writing these lists, but it was hard to narrow down new February children's book releases to this list of 12 books. Many of my picture book new release picks are based on the author's experiences, whether they're immigrating from Vietnam to America, navigating a busy bazaar in Tehran, or figure skating in a competition. In February middle grade new releases, Dan Santat is publishing his first graphic memoir, Colombian folklore is explored in an action-packed fantasy, and a boba tea shop must be saved. Many of these books are by debut authors, though some are by authors and illustrators I've loved for a long time, like Grace Lin, Kate Messner, and Thi Bui. I can't wait for everyone to start reading these February children's book releases!
As a side note, several of these books are published by HarperCollins. I support the HarperCollins Union in striking for equitable pay and benefits. Find out more here, and consider donating to support striking members. These books would only happen with their fantastic behind-the-scenes support.
Now on to February children's book releases!
February Children's Book Releases: Picture Books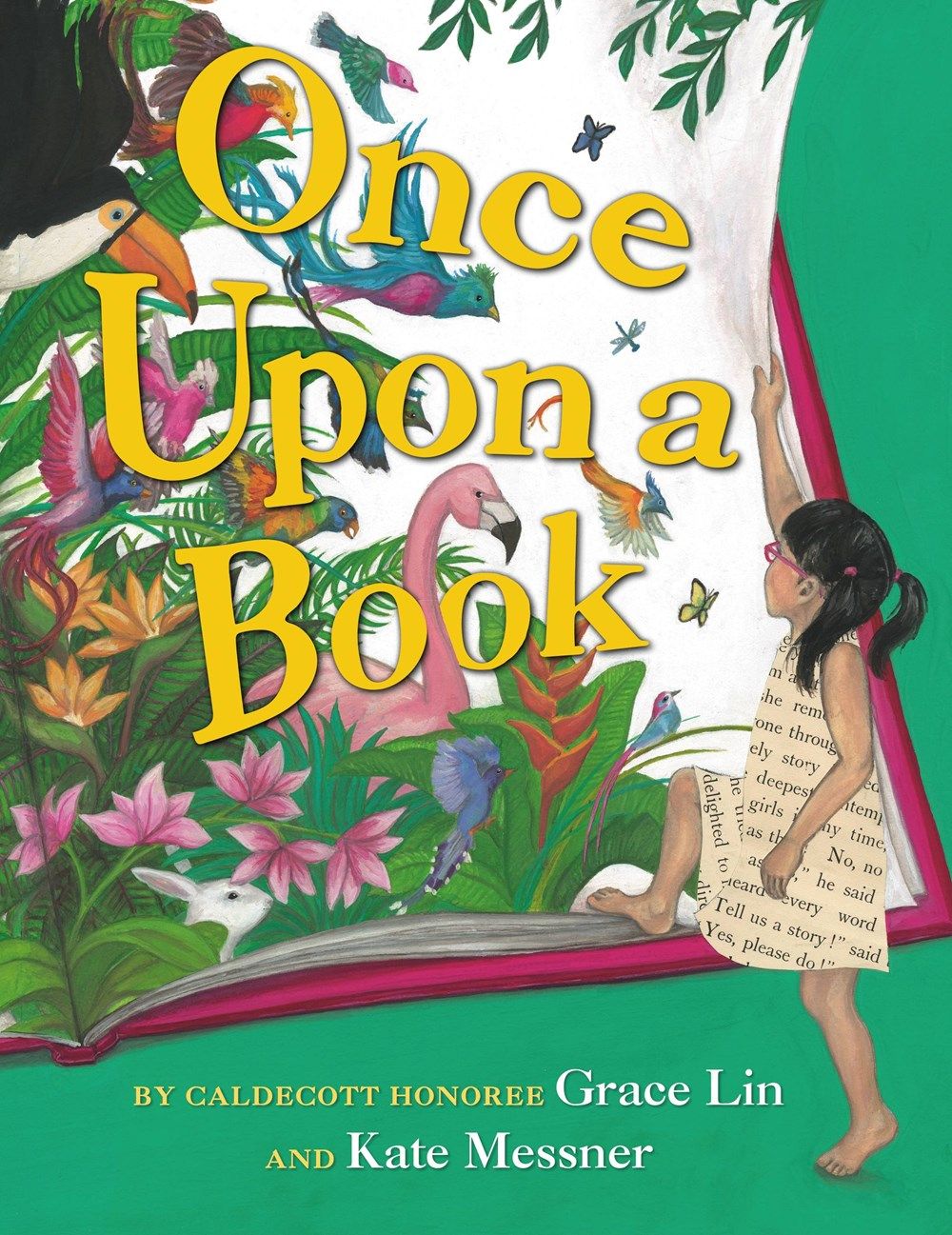 Once Upon a Book by Grace Lin & Kate Messner (February 7; Little, Brown Books for Young Readers)
Powerhouse children's book authors Grace Lin and Kate Messner team up in this whimsical picture book celebrating the joys of reading. It's winter, and Alice is tired of staying inside all day. When she spots a book lying open on the floor, she begins to read and steps inside the book as characters invite her to. She travels to bird-filled jungles, swims with colorful fish in coral reefs, becomes a cloud in a thunderous sky, and more. Her bunny Lovey, transformed into a real bunny, travels with her. It's a mesmerizing, imaginative read book lovers of all ages will adore.
The Fire of Stars by Kirsten W. Larson, Illustrated by Katherine Roy (February 7; Chronicle Books)
This innovative and beautifully illustrated picture book biography entwines two narratives on each page spread: the biography of Cecilia Payne — the astronomer and astrophysicist who discovered the makeup of stars — and a star's birth. As a child growing up in the countryside in the early 1900s, Cecilia fell in love with studying nature. However, when her family moves to the city, she's forced to attend a Catholic school where the nuns refuse to teach her science. She studies in her own time and wins a scholarship to Cambridge University, only to be disappointed when they refuse to let a woman major in astronomy. Instead, she goes to America and studies at Harvard, devoting herself to researching stars. Katherine Roy's parallel illustrations in two strikingly different styles are stunning, as is author Kirsten W. Larson's lyrical text.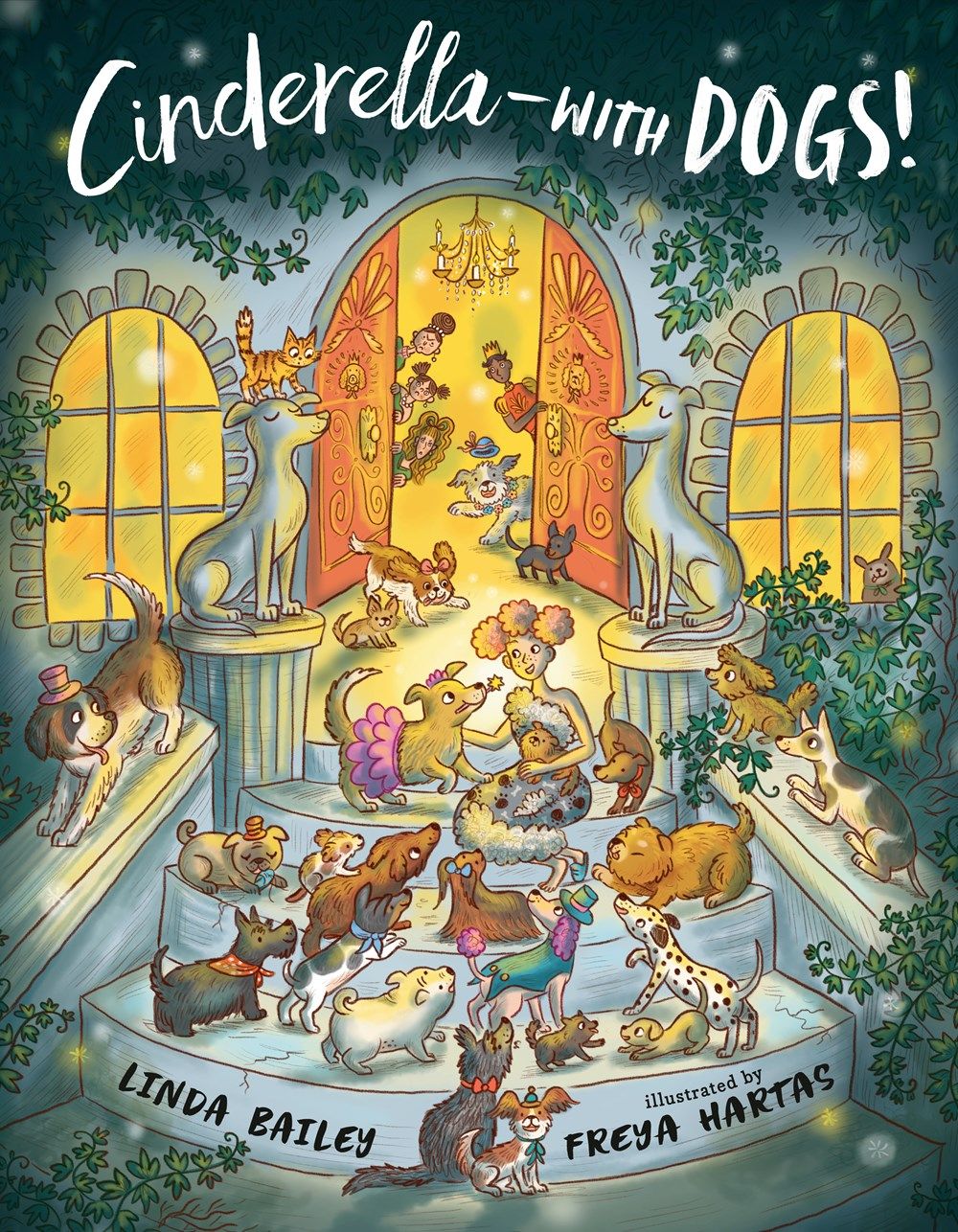 Cinderella—with Dogs! by Linda Bailey, Illustrated by Freya Hartas (February 7; Nancy Paulsen Books)
This Cinderella retelling is hilarious. Cinderella is sad when everyone leaves to go to a ball and she has to stay home and clean up after the cats. She wishes she had a fairy godmother. Misunderstanding her words, a fairy dogmother arrives. But this fairy dogmother might be precisely what Cinderella needs. After the two chase squirrels in the yard, the fairy dogmother transforms a dog blanket into a dress with a woof and a poof, and the two run to the ball, where the royal family's dogs rush to greet Cinderella. This is such a fun book for dog and fairytale lovers, but no need to fret, cat lovers. An orange tabby cat follows Cinderella and the dogs around on every page — my daughter's favorite character.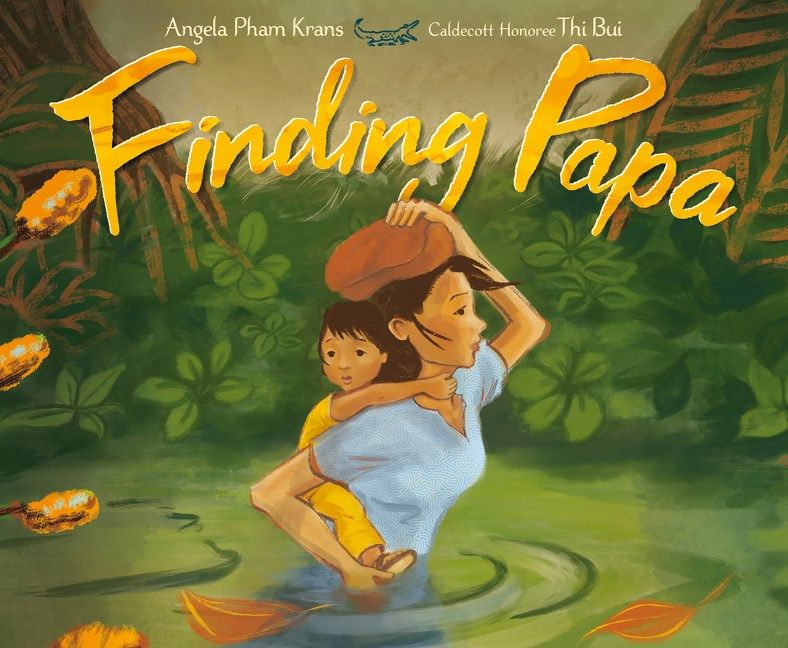 Finding Papa by Angela Pham Krans, Illustrated by Thi Bui (February 7; Harper Collins)
Debut author Angela Pham Krans bases this touching debut picture book on her childhood experience of moving from Vietnam to America. Mai loves playing with her papa, especially the crocodile game, where Papa goes "Chomp! Chomp!" with his hands. But then one day Papa is gone, and she misses him very much. Eventually, she and her mother pack up their belongings to make their way toward Papa, traveling on foot, through rivers, and on boats until they finally reach America. At first Mai doesn't recognize her Papa, but with a "Chomp! Chomp!" she knows it's him. It's a lovely story paired with vibrant illustrations by Thi Bui, the illustrator of the picture book A Different Pond and the author and illustrator of the graphic novel The Best We Could Do.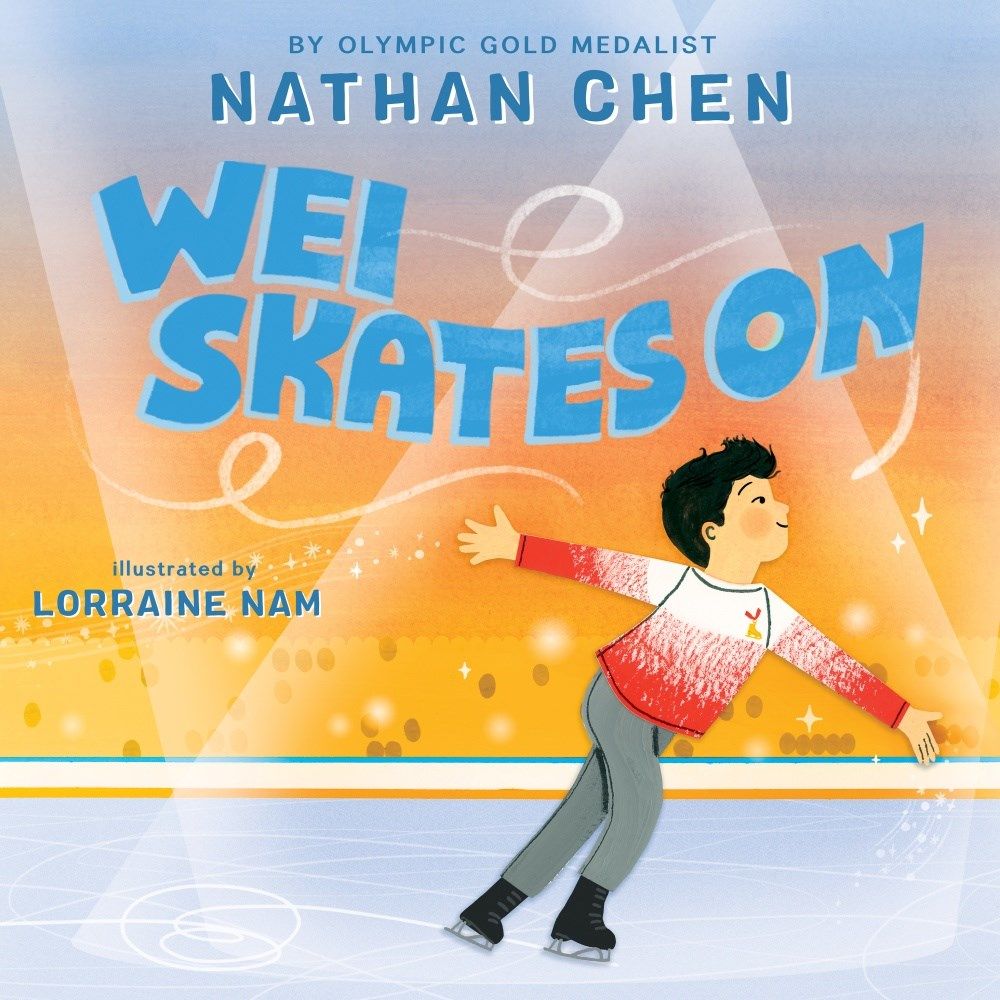 Wei Skates On by Nathan Chen, Illustrated by Lorraine Nam (February 21; HarperCollins)
Gold medal figure skater Nathan Chen bases his debut picture book on his experiences as a figure skater. Wei has been training hard for his first skating competition and is so excited. However, in the practice before the big competition, Wei falls in front of his whole family. He's so nervous and worried about winning. How will he be able to land a jump? With his mom's help, Wei remembers what he enjoys about figure skating and that maybe winning shouldn't be his primary goal, but instead he should remember what makes him feel good about skating. This is an excellent social/emotional picture book about feeling nervous and refocusing negative thinking. It's also the only picture book I know of that centers a male figure skater.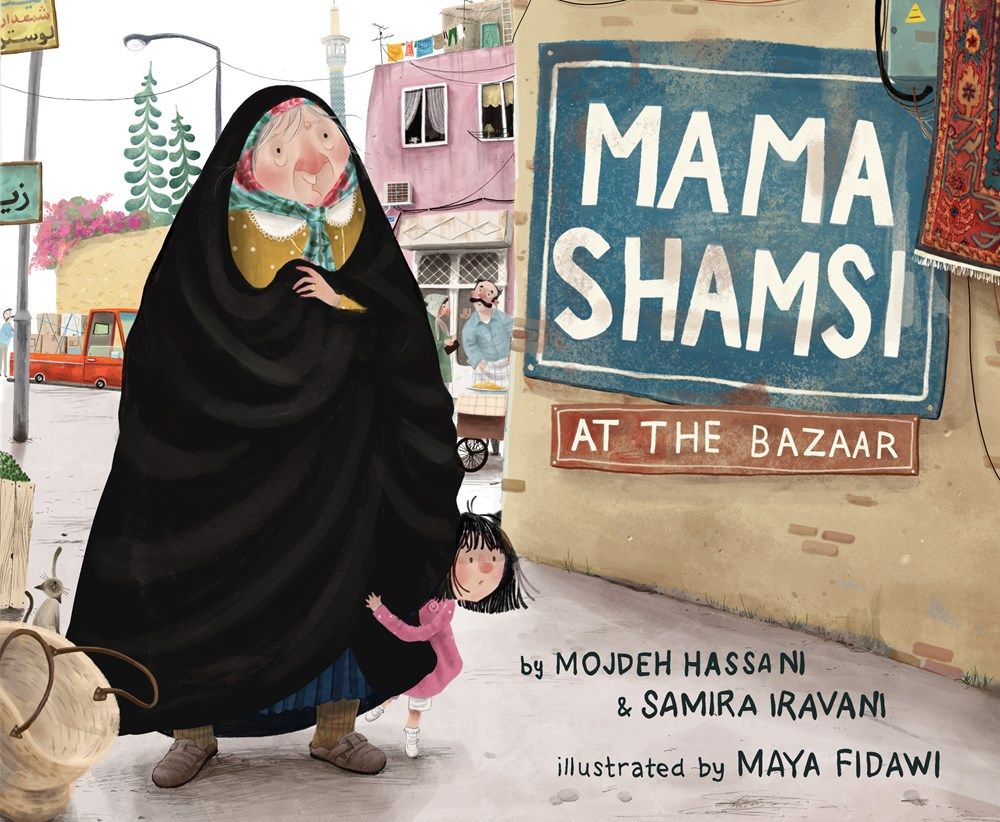 Mama Shamsi at the Bazaar by Mojdeh Hassani & Samira Iravani, Illustrated by Maya Fidawi (February 28; Dial Books)
Mama Shamsi and her granddaughter Samira are off to the busy bazaar, but the crowded streets of Tehran make Samira nervous. What if she gets lost? Then Samira has an idea — she could hide in Mama Shamsi's chador! In a series of hilarious images, Samira proposes different ways to hide in her grandmother's chador, while Mama Shamsi refuses, comparing them to various animals. With some good advice, Mama Shamsi reassures her granddaughter. This is a rhythmic, super fun read aloud based on the author's childhood experiences. The illustrator's vivid illustrations really bring Tehran to life.
February Children's Book Releases: Early Reader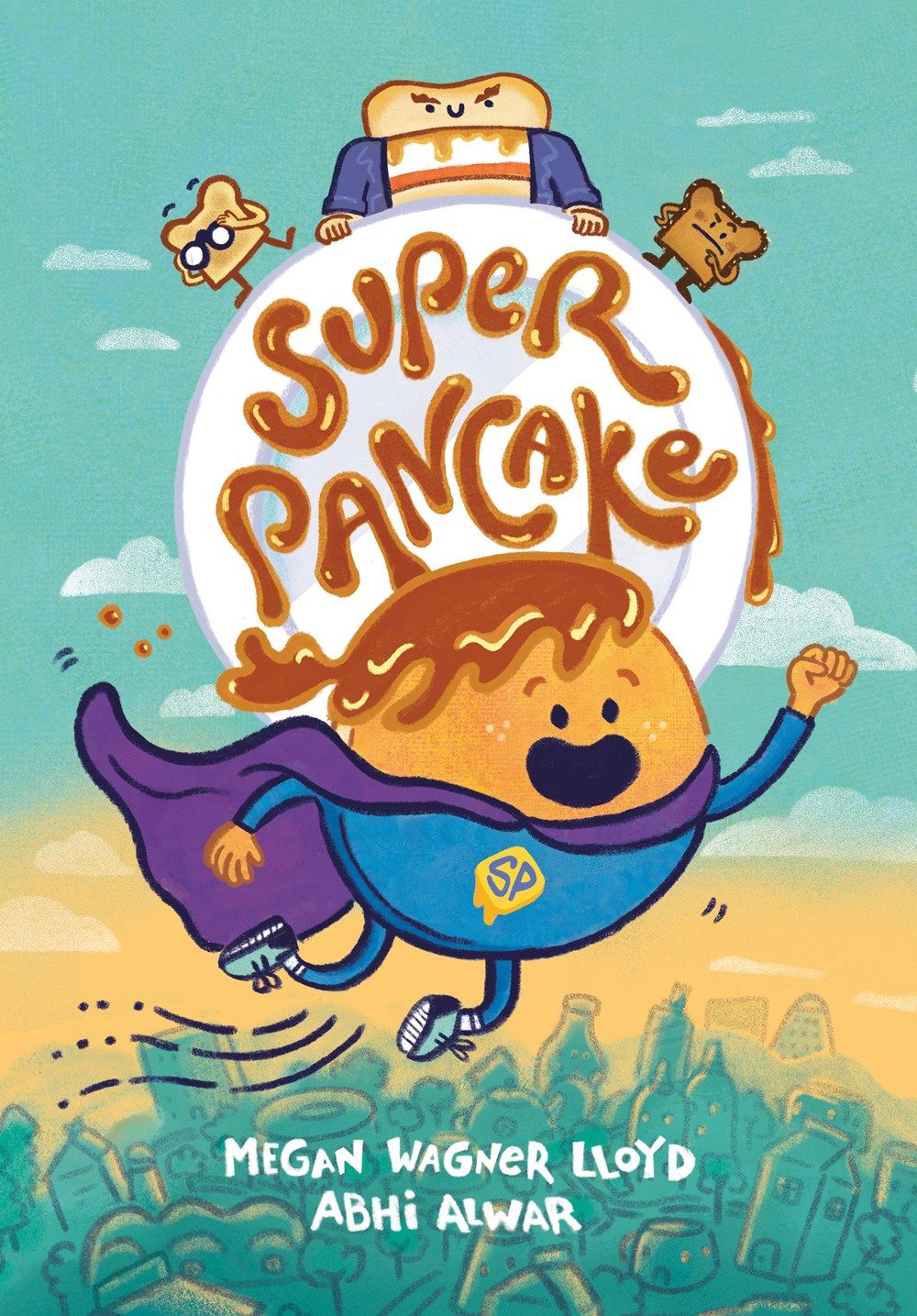 Super Pancake by Megan Wagner Lloyd, Illustrated by Abhi Alwar (February 14; Knopf Books for Young Readers)
Early reader graphic novels are the funniest place to be right now in kid lit. Superheroes come in all shapes, sizes, and, ahem, breakfast foods, as Peggy Pancake is about to find out. The morning starts just like every other morning— she wakes up late, again, misses the school bus to Winifred Waffle Elementary, again, and gets picked on by the bacon bullies, again. After a science experiment goes wrong, Peggy ends up with superhero powers. And it's just in time to face off with Dr. Breakfast Sandwich and his two Henchtoasts. She and her sidekick Luc Croissant will have their work cut out to keep Breakfast Town safe. This is an absolutely hilarious read, and I'm really hoping it will be a series!
February Children's Book Releases: Middle Grade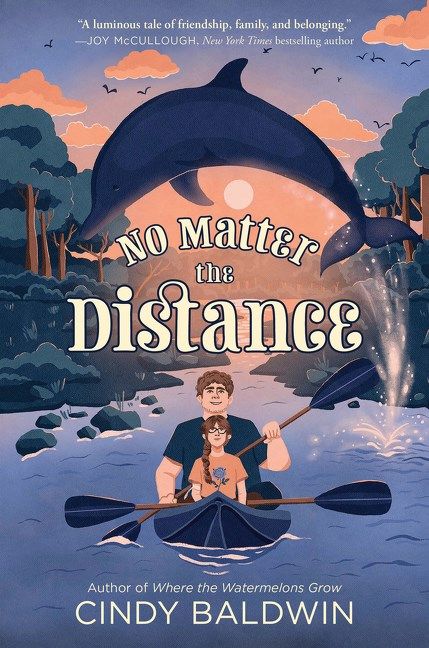 No Matter the Distance by Cindy Baldwin (February 21; Quill Tree Books)
This moving contemporary middle grade novel in verse marks the first time a character with cystic fibrosis (CF) written by an author with CF has been published by a traditional publisher. A creek runs through Penny Rooney's backyard where she lives outside Durham, North Carolina. She and her sister are happily playing in the creek one day when they spot the impossible: a dolphin. Their parents call a scientist who comes to investigate the dolphin, whom Penny names Rose. It turns out Rose has health problems that, in many ways, echo Penny's experiences with CF. However, Penny and Rose's bond is complicated by Rose's refusal to return to the ocean. Penny will have to help Rose, but in doing so, she'll also have to say goodbye to her dolphin friend. Meanwhile, her best friend from school is also moving away, and Penny is struggling to write a poem for a school poetry slam assignment.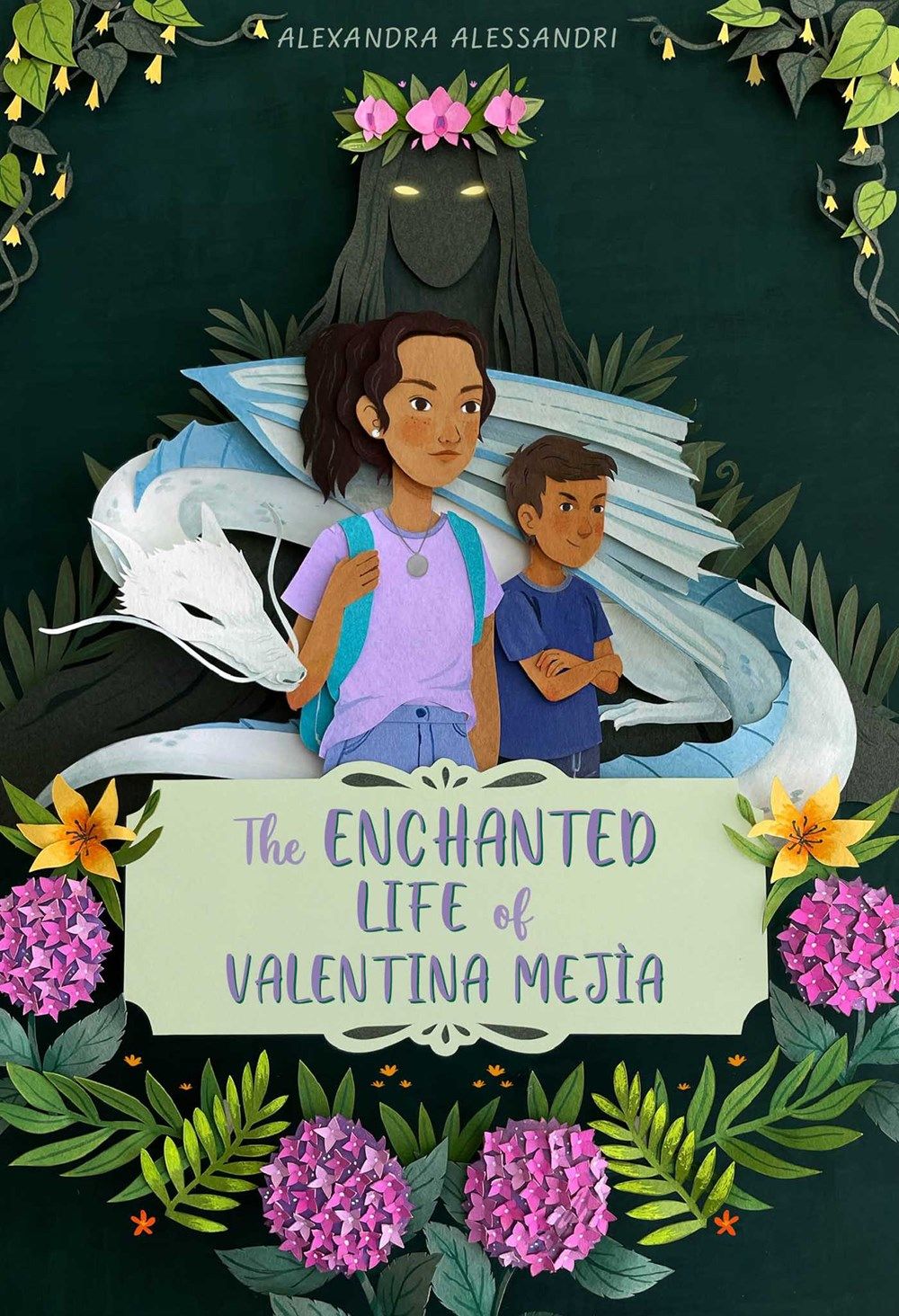 This middle grade fantasy is pitched as "Encanto meets The Chronicles of Narnia by way of Colombian folklore," and that's a surefire way to get me to read a book. Twelve-year-old Valentina loves art and science like her mom, so she's less than impressed when her father — who studies Colombian mythic creatures in the hopes of proving their existence — drags her and her brother to the Andes Mountains in search of a rumored patasola, a vampire with one leg. When an earthquake strikes, her father falls into a crack, and the two siblings can't find him. In their search, they discover a cave that opens up into a mirror Colombia, an alternative world where the creatures from Colombian myth really do exist. However, unlike Papi's idealistic portraits of kind and helpful magical creatures, these mythic beings are not happy to have humans in their world. If they want to save their father, they'll have to convince them they mean no harm. This is a captivating, magical adventure for fantasy readers.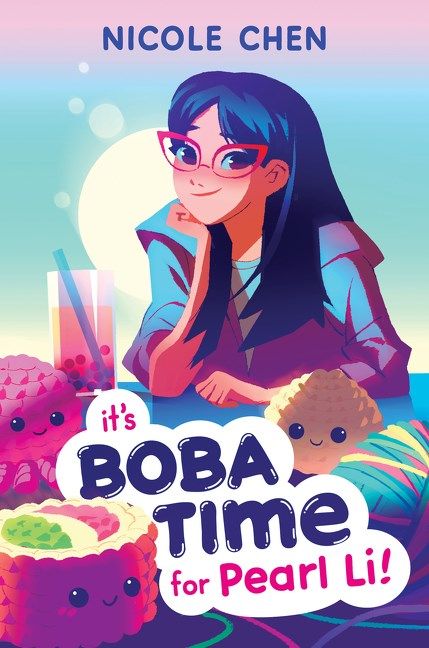 Pearl, who is Taiwanese American, loves making amigurumi, but her practical, tech-minded family disapproves. They don't see how crocheting will help Pearl's future prospects. The one adult who really gets Pearl is the owner of Boba Time, Auntie Cha. When Pearl finds out Boba Time might close due to financial hardship, she decides to sell her amigurumi in the hopes of raising enough money so Boba Time can remain open. She devotes all her free time to figuring out how to run her own business, but in doing so, she alienates her school friends. How can she save Boba Time, run a successful business, create amigurumi, and be the good friend her BFFs deserve, all while lying to her parents? I loved this sweet, contemporary middle grade.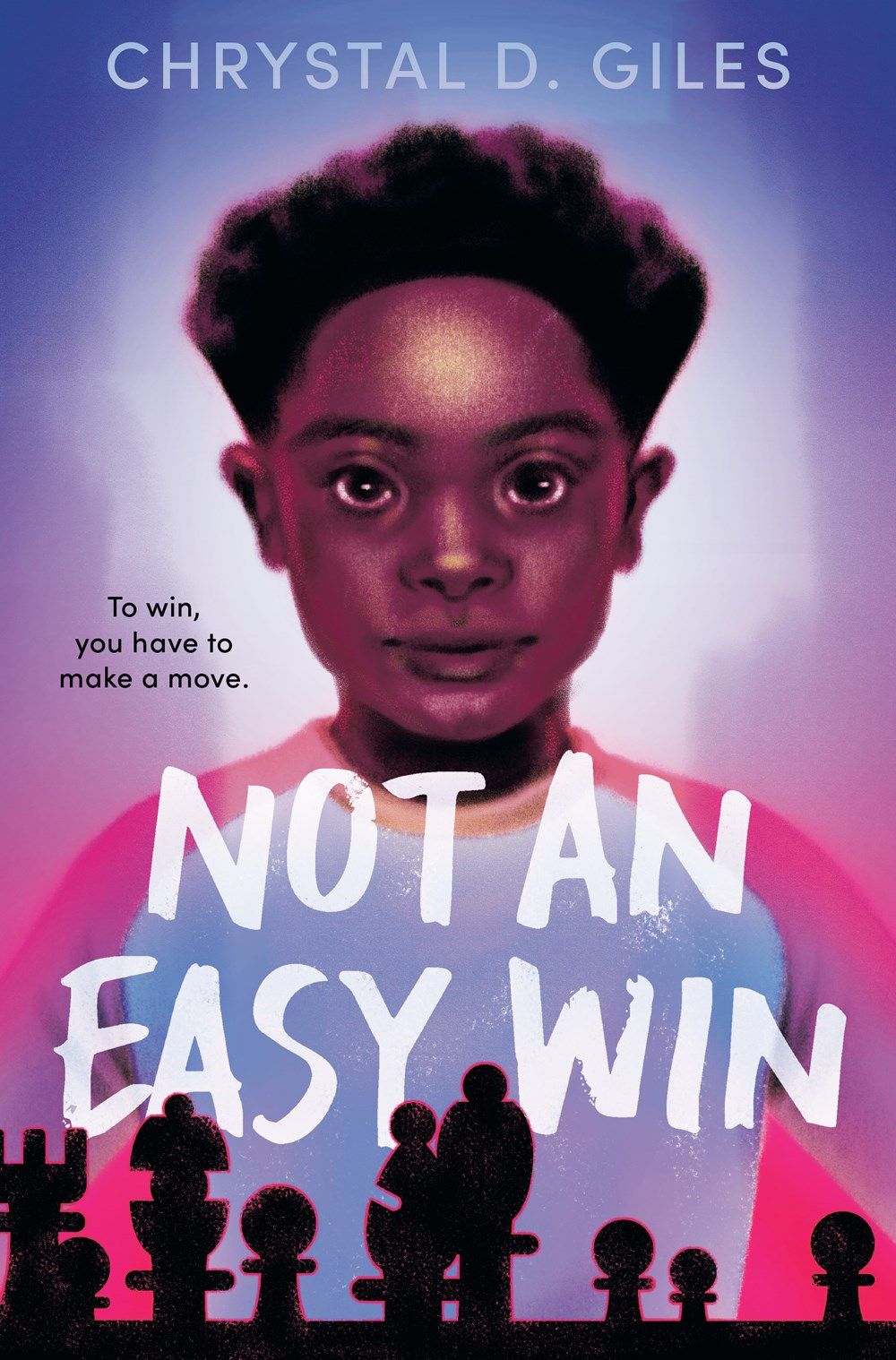 Not an Easy Win by Chrystal D. Giles (February 28; Random House Books for Young Readers)
After Lawrence's father is incarcerated, he, his mom, and his younger sister move in with his Granny. Shortly after, Lawrence gets expelled from his mostly-white new school for being in a fight he didn't start, but the principal refuses to listen to him. He's now taking online classes, but Granny insists he find something to do to get him out of the house. He begins working at the local community center, where a girl his age introduces him to chess. He joins the chess club, and while he isn't the best, he's learning fast. However, a kid named Deuce, the son of the person who runs the community center, keeps trying to pick a fight with him, and Lawrence knows he can't get into any more fights. Can he find some common ground with Deuce and ways to de-escalate when emotions get high? This is such a smart and moving character-driven middle grade.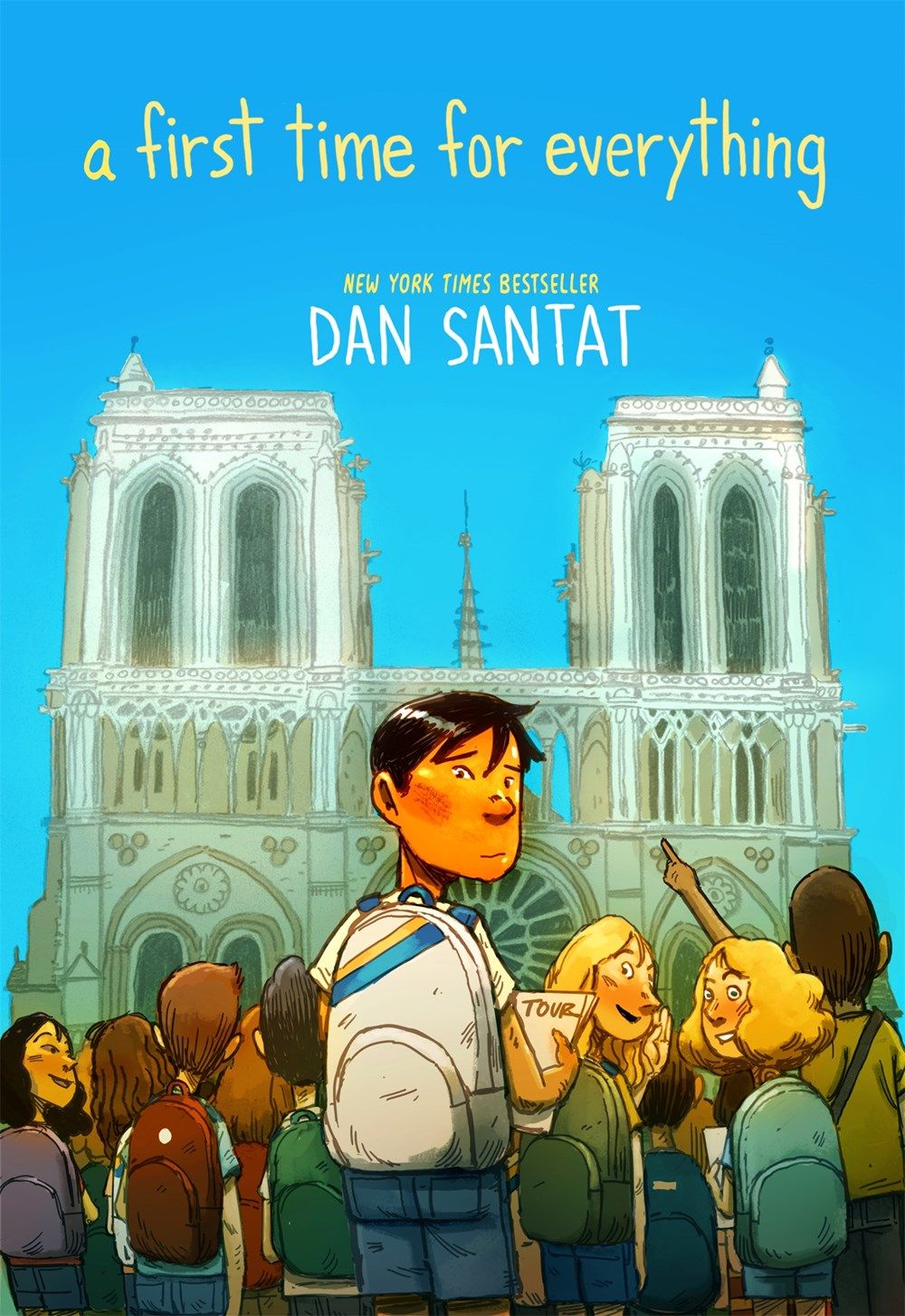 I haven't yet nabbed a copy of award-winning illustrator Dan Santat's middle grade graphic memoir, but I have seen some inside pages, and I can't wait to read more. The graphic memoir opens with 13-year-old Santat being forced to perform a speech for an upcoming tournament in front of the entire student body and being roundly mocked by the audience. He'd always tried to be invisible, and now he knows why. When a teacher asks his parents to have Dan attend a class trip to Europe and they agree, he thinks he will have a miserable time. Girls who have bullied him in the past are going, too, and he has low expectations. But the trip becomes a lot more life-changing than he could've imagined.
If you'd like to read more new children's book releases, check out my list of November children's book releases, December children's book releases, and January children's book releases. You can also sign up for the twice weekly The Kids Are All Right newsletter, where I and middle grade author Karina Yan Glaser review new children's books and books on a theme.
And, you can find a full list of new releases in the magical New Release Index, carefully curated by your favorite Book Riot editors, organized by genre and release date.