Are you ready to hang out with some of the coolest cats—err, people—on Instagram? Then you'll want to hop into this month's #RiotGrams.
This is the first of three #RiotGrams challenges for 2019. It's perfect whether you're new or old hat, and we love you no matter how much or how little you participate. These are the (very loose!) guidelines:
We've talked a bit about Bookstagram here on Book Riot, and you probably know about our own sweet little Instagram account. Now we'd like to challenge the awesome readers and community of Book Rioters to take part in a month-long Instagram challenge, hosted by us. If you've got an Instagram account, that's all you need to take part.
We've come up with 28 prompts to get you thinking about photos and books for the whole month of February. Take these as suggestions—you don't have to be literal, though if you want to take these prompts very literally, chances are we'll see some really fun pictures, too.
Those who take part can do every prompt, some of the prompts, or just a few that call out to you. Post your pictures with the hashtag #RiotGrams so everyone can see them in one easy place. You can post them any time of day, from anywhere in the world. If you want to take a bunch in one day, go for it. There aren't strict rules. This is about having fun.
As a bonus, or perhaps an incentive, we'll pick photos from the challenge to feature on our own Instagram account throughout the month. This will be a fun way to think about books, to share favorite reads, and to keep up a powerful community of readers.
We'll post the full challenge prompt onto our Instagram, as well as leave it here for those who want to refer back. All photos, though, will happen right on Instagram with the #RiotGrams tag.
Here's the prompt with all 28 of the challenges. We invite you to use your imagination, get creative, or choose to do something else entirely (of course, we hope you'll tell us what it is in the caption!). Share your photos, then check out the photos tagged #RiotGrams on Instagram and spread the bookish love.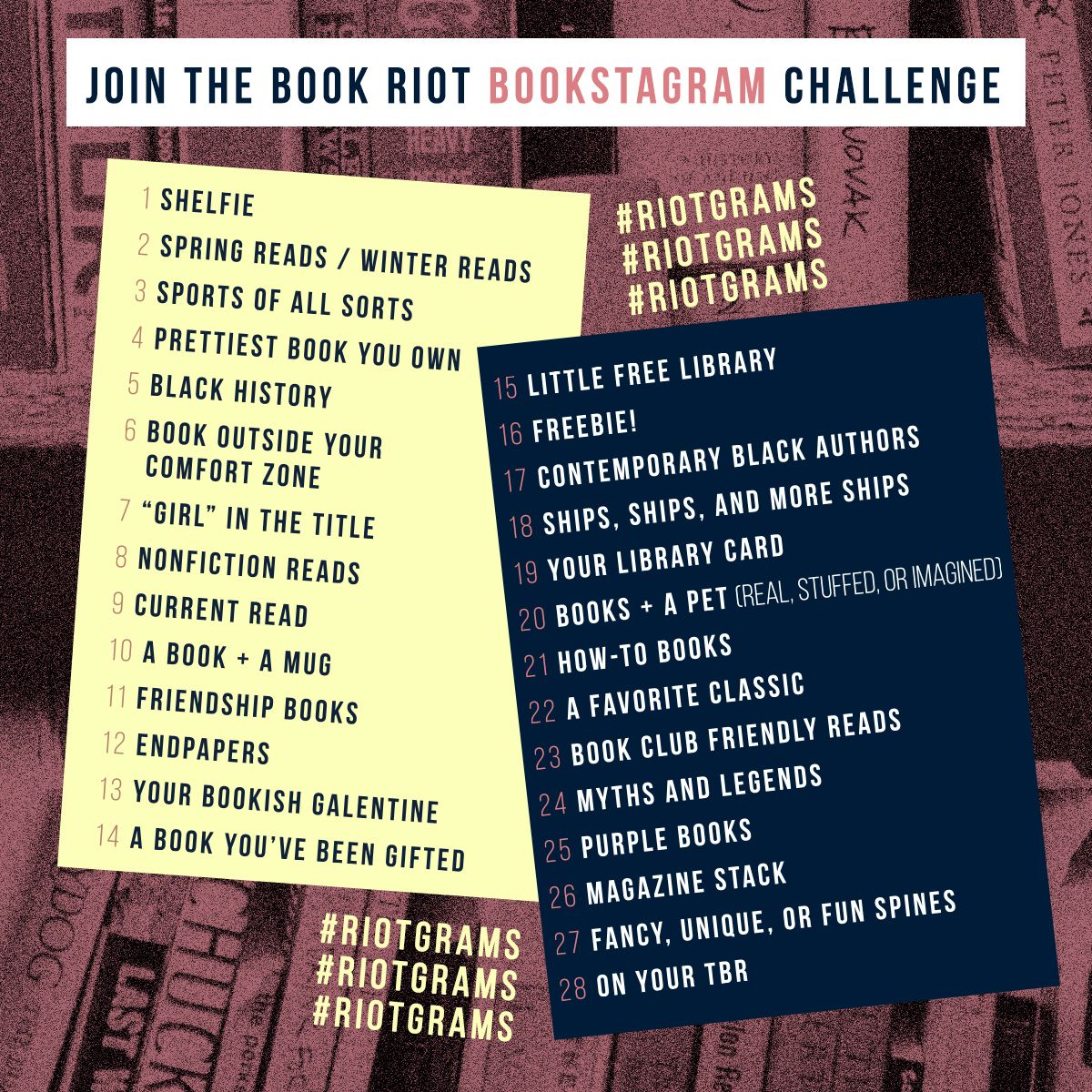 #RiotGrams for February 2019
1 Shelfie
2 Spring Reads / Winter Reads
3 Sports of All Sorts
4 Prettiest Book You Own
5 Black History
6 Book Outside Your Comfort Zone
7 "Girl" In The Title
8 Nonfiction Reads
9 Current Read
10 A Book + A Mug
11 Friendship Books
12 Endpapers
13 Your Bookish Galentine
14 A Book You've Been Gifted
15 Little Free Library
16 Freebie!
17 Contemporary Black Authors
18 Ships, Ships, and more Ships
19 Your Library Card
20 Books + A Pet (Real, Stuffed, or Imagined)
21 How-To Books
22 A Favorite Classic
23 Book Club Friendly Reads
24 Myths and Legends
25 Purple Books
26 Magazine Stack
27 Fancy, Unique, or Fun Spines
28 On Your TBR