Book Trailer
Featured Book Trailer: THE HUNTRESS by Kate Quinn
This week's featured book trailer is sponsored by The Huntress by Kate Quinn.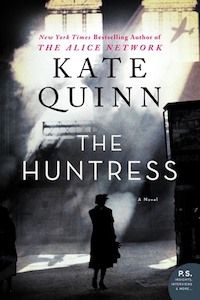 "If you loved The Tattooist of Auschwitz, read The Huntress." —The Washington Post
Already Named one of Marie Claire's Best Women's Fiction Books and One of BookBub's Biggest Books of the Year! From the author of the New York Times and USA Today bestselling novel, THE ALICE NETWORK, comes a fascinating new historical novel about a battle-haunted English journalist and a Russian female bomber pilot who join forces to track the Huntress, a Nazi war criminal gone to ground in America.