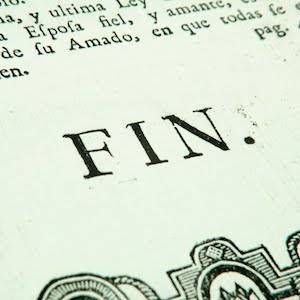 This is a guest post by Amanda Diehl. Amanda is a blogger and reviewer at Smart Bitches, Trashy Books. A recent implant to Boston, she's finally getting used to having seasons and is currently working on her MA in Publishing. Follow her on Twitter @_ImAnAdult.
_________________________
Take any one of my books off the shelf and there's probably a 50/50 chance you'll find a bookmark still in it. Let me also state that my bookshelf mostly contains books I haven't read yet, since I didn't have the space to bring my entire library when I moved. At any given time, I'm probably reading two or three books, switching between them when I feel that familiar itch of anxiety when I get three-quarters of the way through.
There isn't a known phobia about finishing books, but if there were, I'd be immediately diagnosed. Sometimes, I opt to shelve a book because part of it has been spoiled for me in some way, shape, or form, but that's a separate issue altogether. For the most part, I stop reading out of concern.
Concern that the ending won't be what I hope (in a bad way). Concern that one of my favorite characters will perish. Concern that I'm not quite ready to leave this reading world just yet. So I hold onto it as long as I can, as if by not reading, I can somehow prolong the story. God knows what that says about my personality!
I have yet to read Mockingjay, the third book in the Hunger Games trilogy, after listening to my friends express their disappointment in the ending. "You're going to hate it," they said. Maybe the release of the third film will finally get me to take that leap, or maybe I'll swear that off too. One of the most disappointing endings I've read was in The Age of Innocence by Edith Wharton and, while it was realistic, it wasn't the ending I wanted, and I agonized over it for days.
I do realize that I could be missing some of the best parts of books–the uplifting conclusions of stories, the quote-worthy bits of dialogue during a book's climax–but getting over that hump, where you can feel the direction of the book shifting, is tough. I get cold feet nearly every time and, like Julia Roberts in her wedding dress and track shoes, I'm off searching for something that requires less of an emotional commitment from me.
While many readers can devour books in a night when they're feeling particularly inspired (I've done this on occasion), my reaction is usually the opposite. I've had a friend comment that she can't understand how I can do such a thing; I must not be enjoying the book that much. Oh, but I am! So much so that I don't want it to end and, acting as master of my own destiny, I set it aside. More often than not, I'll return to it, though it could take a month or even a year (See: Everything is Illuminated). Despite the wait, I always finish what I start. Eventually.
Self-diagnoses aside, am I the only one with this sort of book anxiety? Does anyone have any tips on reaching the end of a book (home remedies and moonlight rituals included)?