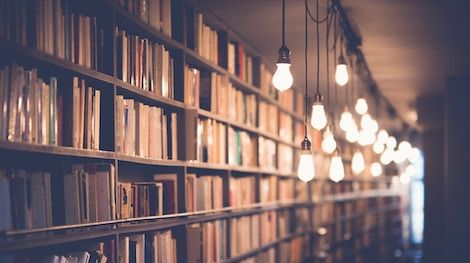 Lists
Independent Bookstore Day 2019: Our Favorite Indie Bookstores
Happy Independent Bookstore Day, Rioters! To celebrate this year, we asked our contributors to tell us about their favorite independent bookstores. Below you will find an array of magical places from around the country (be sure to add them to your list of places to visit, I certainly did!). In addition, take a look at Christina M. Rau's posts about Turn of the Corkscrew Books and Wine and Kew and Willow Books , and do tell us about your own favorite independent bookstore in the comments!
When I first moved to Northern Virginia a few years ago, I was excited at the prospect of living in a more urban environment because it meant more bookstores. I took a day off of work to go to the DMV and treated myself the rest of the day by traveling all over the area to a list of bookstores. McKay was by far the best. They had a huge amount of books in great condition for incredible prices. You can also turn in your used books for store credit. Once, when I turned in some books and shopped while they appraised them, it happened that the cost of the books I'd picked out was exactly the amount of store credit I received. It was a beautiful thing. The store recently experienced a reorganization of the space, so there are a few growing pains at the moment, but it remains my favorite bookstore in the area and always worth a 45-minute drive for me.
—Abby Hargreaves
I am incredibly lucky that the bookstore closest to my heart also happens to be closest to my home. Loyalty Bookstore is a tiny but mighty bookstore in the heart of Washington, D.C. Their mission is to highlight diverse voices and creatives, and they do so through the books they feature in the store, their partnerships with the neighborhood, and their incredible programming. In addition to amazing book clubs, children's events, and readings, they also have a shared "reading room" with the bar next door where they feature literary cocktails, created and paired with a new book each week. It's amazing that such a small space still has everything I could ever need. If they would let me live in the reading room, I would.
—Susie Dumond
Salem rewards book people very richly. Wicked Good Books is a must-stop bookstore right in the heart of the witchy-historical-literary action. The shop sells a mixture of new and used books, maintaining the never-know-what-you-might-find aspect of the original Derby Books without the ten-foot-high book towers. Wicked is not shy about promoting local, self-published authors, either. In a literary town like this one, there are plenty of undiscovered gems. The many small presses of the North Shore all contribute to the stock of this shop, often on the ever-fascinating consignment shelf. If you're looking for local history or flavor—and believe me, Salem has both in spades—this should be your first stop. It's also a great place to pick up a tchotchke or souvenir that isn't a witch shop. (That said, they will absolutely sell you a quality book of magic spells if that's your jam.) The booksellers are super nice and the store is often a good place to catch your breath during Halloween madness.
—Anna Gooding-Call
57th Street Books, Chicago, IL
Chicago is a good place for bookstores and book lovers. It's chock-full of amazing, independent, local bookstores, all of which have their own joys…but this one is mine. Down a few steps, and you're in a small bookstore that goes several rooms back, full of twisting, maze-like shelves and great staff selections. It's been my favorite place for a long time: the staff is wonderful, and it's truly a community center. Plus, the selection is unparalleled: they have everything you'll need and more, an award-winning children's section, a sci-fi and fantasy section that gets a ton of good love, and dedicated shelves to Chicago books. I love 57th. It feels like home.
—Leah Rachel von Essen
Duende District, Washington, D.C. & Albuquerque, NM
Duende District is more than just a bookstore. A pop-up with several locations across D.C. and a new stop in Albuquerque, Duende District features only books by writers of color. In 2017, owner & beastly bruja bookseller Angela Spring knew that her community wasn't being serviced, that people of color didn't have a place to gather for reading and cultural events. Over the years, she has worked hard and built Duende District not only into a formidable bookshop, but a way to bring authors of color into the community, to host book clubs and cooking events (in partnership with Toli Moli), and so much more. Angela is an advocate for booksellers of color and for inclusivity, and a huge advocate for underprivileged communities. Duende District is a place of comfort, where readers of all ages can find something that speaks to them. But it is also a movement, and a force to be reckoned with.
—Christina Orlando
Indy Reads Books combines two of my favorite things: books and social good. The bookstore acts, in part, as a revenue source for Indy Reads, a non-profit aimed at improving adult literacy in Central Indiana. It essentially makes for guilt-free book shopping, knowing that your dollars are going towards a good cause (as if a bookstore isn't cause enough!) As an added bonus, there is always a great curated staff pick section.
—Sophia LeFevre

This place is more than a bookstore. Byrd's Books is a home, it's a family. The owner Alice, her son Steve, and their amazing team of booksellers are devoted to this tight-knit community. They have created a safe space within their walls, where children are taught to love reading, appreciation for books is nurtured in adults, and lifelong friendships are formed. Aside from her encyclopedic knowledge of the publishing world, Alice opens her store each month to host intense, emotional discussions of books. The participants in the two monthly book groups have become a second family to one another, each person knowing they can attend if they didn't even read the book, or disliked the book…the people at Byrd's Books realize that sometimes we all just need to be around other bookish people. Steve has won many James Patterson bookseller holiday bonuses, being voted by the local community for his unparalleled passion and knowledge of children's and mid-grade literature. Poetry readings, writer's workshops, author events, story time with Santa Claus…there is something for everything at this warm and charming neighborhood bookstore.
—Elizabeth Allen
Full disclosure: I work here! But let me 'splain. The Book Catapult is one of the newest independent bookshops in San Diego and is owned by Seth Marko and Jen Powell, a husband and wife who reside in the store's South Park community and wanted to create that illusive "third place" with their shop. It's a small space with a lot of heart and a selection of books (including a *rocking* kids section) that I am so, so proud of for its breadth and it's depth. If I had to pick just one reason why it's my fave though, it's our community. This little bookstore has amassed such a warm, supportive, and loving community and they came to our aid when we needed it most. When Seth had emergency open-heart surgery and I was stuck at home with swine flu, they rallied behind us with both their patronage and volunteer efforts. In fact, friends of the store ran the place for weeks while we recovered. See, now that's a third place.
—Vanessa Diaz
After living most of my life without an indie bookstore, I know just how lucky and spoiled I am to live in a city with several amazing independent bookstore options. Always near and dear to my heart is Third Place Books, which has three locations in the city. The wood floors feel a little like the store might have been some grandparents' cabin that was so full of books, they just popped an open sign out front to turn it into a bookstore. They mix new and secondhand books, so shopping on a tight budget doesn't mean that the bookstore is off-limits. Author events are hosted regularly (good luck trying to find a parking space when Marlon James is visiting) with a broad array of authors. My daughter was thrilled when she saw Jeffrey Brown, who gave her an idea of what being an adult artist, her current career preference, could look like. The booksellers are a mix of ages, which I appreciate, and always ready to help track down your future book or to just chat reading or The Magnetic Zeros with customers. For instance, did you know that David Tennant has a podcast? I learned it at Third Place this week. To bring things full circle, it was a Third Place Books employee who encouraged me to apply at Book Riot. Each of the stores has a restaurant attached, and let me just say the toddler corrals are a rainy day godsend. I can buy a book, talk books and podcasts, get a scone or falafel and tea, then eat and read while my kid pretends to cook plastic grapes for a pirate ship? It's my third place for sure.
—Aimee Miles