This content contains affiliate links. When you buy through these links, we may earn an affiliate commission.
'Tis the season: the promise (maybe?) of snow, twinkling lights, candy canes, pictures with Santa, and of course, for my family, latkes and lighting the menorah. Being Jewish, although my son has books about all the holidays, I especially wanted Chanukkah books for kids for him. Thankfully, the bookstore closest to me has a substantial amount of Judaica, but I know that's not the case for many people. Even if you're not Jewish, I think it's important for everyone to be familiar with holidays that they don't celebrate—only through learning can we create understanding and acceptance, and what better time to start than in childhood?
As someone who grew up with half my family being Roman Catholic while I was raised Jewish, I absolutely loved this book. Rachel Rosenstein is Jewish, and really, really wants to celebrate Christmas. This hit home in so many ways—everyone else's house lit up for the holidays, feeling like everyone else celebrates Christmas, loving Chanukah but maybe wanting to be part of Christmas—and reminds kids (and parents!) what the holiday season is really about, no matter what religion you are.
My son still loves his board books, so this is perfect for him. George and his friends celebrate Chanukah, learn what a mitzvah is and why it's important, eat latkes, and play dreidel. This is a fun, basic book for babies and toddlers to get into the Chanukah spirit.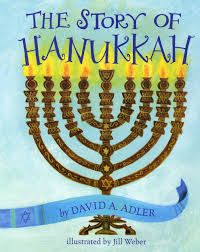 For early elementary school-age children, this book is beautifully illustrated and provides a simple history of the Maccabees and the miracle of the oil in the temple. I love this for the storytelling and the pictures—and there's even a latke recipe in the back (I'm a sucker for a good latke).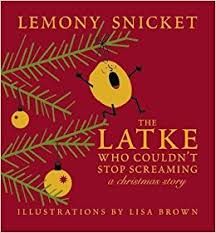 Perfect for fans of Snicket, this small book is fun for older kids and even adults—the wry humor is a treat. Full of holiday symbols, I can't give away too much with this book, but just trust me—this is one for the collection, no matter what holiday you celebrate.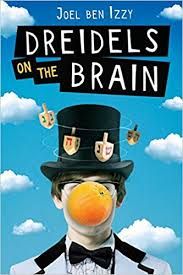 This middle grade novel was a National Jewish Book Award finalist, and it's easy to see why. Set in 1971, Joel's got several strikes against him: he's a dork, his family is broke, and he's one of the few Jewish people in his town. Based on the author's own childhood, this is a wistfully funny book about those awkward middle-school years, family, and that ever-elusive thing called faith.
What holiday books do you love? We have even more Chanukkah books for kids here.