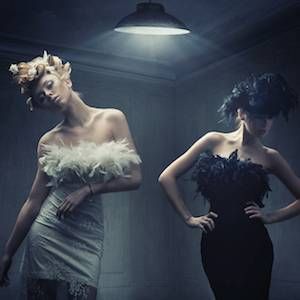 This Riot Recommendation is sponsored by Material Girls by Elaine Dimopoulos.
In Marla Klein and Ivy Wilde's world, teens are the gatekeepers of culture. A top fashion label employs sixteen-year-old Marla to dictate hot new clothing trends, while Ivy, a teen pop star, popularizes the garments that Marla approves. Both girls are pawns in a calculated but seductive system of corporate control, and both begin to question their world's aggressive levels of consumption. Will their new "eco-chic" trend subversively resist and overturn the industry that controls every part of their lives?

Smart, provocative, and entertaining, this thrilling page-turner for teens questions the cult like mentality of fame and fashion. Are you in or are you out?
____________________
The fashion industry is a great deal like the book industry: it's about art and creativity and standing out, but it's also about money and marketing and fitting in. That tension can create ruthlessness, and a level of cut-throat competition you wouldn't expect from an art-based business- and that tension makes for excellent reading. From compulsively readable fiction (hello, The Devil Wears Prada) to insider memoirs (the memoir of Grace Coddington from Vogue comes to mind), to how-tos, we wanted to know: what's your favorite book about fashion?
We rounded up your suggested titles and built you a nice list of 48+ great books about fashion. Get ready to work it while you read it. There's something here for everyone, from fiction fans to those who like a non-fiction pick about how to rock your threads.
50 Dresses That Changed The World by Design Museum
101 Things I Learned In Fashion School by Alfred Cabrera
Advanced Style by Ari Seth Cohen
Alexander McQueen: Blood Beneath the Skin by Andrew Wilson
Bringing Home the Birkin by Michael Tonello
Coco Chanel: The Legend and the Life by Justine Picardie
Confessions of a Shopaholic series by Sophie Kinsella
Culture to Catwalk: How World Cultures Influence Fashion by Kristin Knox
The Devil Wears Prada by Lauren Weisberger
Dreaming of Dior by Charlotte Smith
Elsa Schiaparelli: A Biography by Meryle Secrest
Etiquette and Espionage (the entire Petticoat Protectorate series) by Gail Carriger
Fashion Babylon by Imogen Edwards-Jones
Fashion Victims by Vladimir Vagin and Emily Rodda
The Fashionable Mind by Kennedy Fraser
From the Memoirs of a Non-Enemy Combatant by Alex Gilvarry
Georgiana: Duchess of Devonshire by Amanda Foreman
Gorgeous by Paul Rudnick
Grace by Grace Coddington
In Her Shoes by Jennifer Weiner
In My Shoes: A Memoir by Tamara Mellon
Isabella Blow: A Life in Fashion by Lauren Crowe
It's So You by Michelle Tea
Just Being Audrey by Margaret Cardillo
The Ladies' Paradise by Émile Zola
Man Repeller: Seeking Love Finding Overalls by Leandra Medine
Manolo Blahnik and the Tale of the Elves and the Shoemaker: A Fashion Fairy Tale Memoir by Camilla Morton
Overdressed by Elizabeth Cline
Patrick Demarchelier by Patrick Demarchelier and Anna Wintour
Refinery29 Style Stalking by Piera Gelardi
Revenge of the Girl With the Great Personality by Elizabeth Eulberg
Rookie Yearbook One (and Two and Three) by Tavi Gevinson
Saree by Su Dharmapala
The Secret Lives of Dresses by Erin McKean
Sequins, Secrets, and Silver Linings series by Sophia Bennett
The Sisterhood of the Traveling Pants series by Ann Brashares
Target Underwear and a Vera Wang Gown by Adena Halpern
Tim Gunn's Fashion Bible: The History of Everything in Your Closet by Tim Gunn
To Die For: Is Fashion Wearing Out The World? by Lucy Siegle
The Truth About Style by Stacy London
Valentino: At the Emperor's Table by André Leon Talley and Valentino Garavani
A Vintage Affair by Isabell Wolff
Vivienne Westwood by Claire Wilcox
The Vogue Factor by Kirstie Clements
What Not to Wear by Trinny Woodall and Susannah Constantine
The Woman I Wanted to Be by Diane Von Furstenberg
Women in Clothes by Sheila Heti
Worn Stories by Emily Spivack