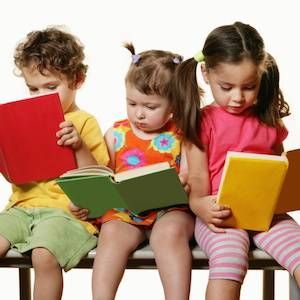 Children's
Our Favorite Books from Elementary, Middle, and High School
This content contains affiliate links. When you buy through these links, we may earn an affiliate commission.
Pencils are being sharpened and backpacks being packed: it's back to school time. And frankly, that makes me a bit nostalgic for my school days, especially for the books I read in school. I remember my elementary school library had a claw-foot tub in the library, with a sleeping bag and throw pillows, you know, thrown in, and I remember fondly the feeling of sitting in a bathtub in the middle of a library, reading books.
I'm not the only one who looks back fondly on school books. When I asked my fellow Rioters to weigh in with their most memorable books, they provided their own bits of nostalgia. So here's a list of our most memorable books from elementary, middle, and high school.
Elementary School
Dana Staves: Number the Stars by Lois Lowry – I read this in fifth grade, and it was the first time I encountered a story about kids in the Holocaust. I vividly remember the scene where Nazi soldiers come to the house, looking for Jews who might be hidden there; Annemarie's family is hiding her Jewish friend, Ellen, and before the soldiers can reach them, Annemarie yanks her friend's Star of David necklace off to protect her. It was a situation unlike I had ever encountered, and it scared me, but it also gave me hope for friendship and strength.
Kate Scott: The Hobbit by J.R.R. Tolkien – My dad read this to me when I was a small. I fell in love with Middle Earth (and the fantasy genre in general) and went on to become a full fledged LOTR junkie in middle school.
Alison Peters: Anything at all by Beverly Cleary, but particularly the Ramona Quimby series. I didn't have a sister, and Ramona and Beezus's relationship just sounded wonderful to me. I loved their adventures, fights, make ups, and the way they stood up for each other. And it was my first experience with dying for the newest book in the series to come out–paving the way for so many, many more series I couldn't live without.
Amanda Diehl: The Oz series by L. Frank Baum. My library had the entire collection and I can still picture in my mind where they were located on the shelves. It was so whimsical and fun and I loved all of the illustrations. I remember being disappointed that so much of Oz wasn't covered in the original film because there were cooler inhabitants than Munchkins and Flying Monkeys.
Rachel Manwill: Matilda and The BFG by Roald Dahl. I started my elementary school life in England. Because of this, I missed some of the typical American literature as a kid, but I did have the pleasure of discovering Roald Dahl, and these two books in particular had a profound impact on my reading life, even to this day. They were my first introductions to magical realism and the knowledge that sometimes grown-ups suck.
Rachel Cordasco: Little House on the Prairie by Laura Ingalls Wilder- I was always interested in stories of pioneers and adventure, but this book (and the rest of the series by Laura Ingalls Wilder) made me fall in love with this period of American history. I suffered through the locusts and harsh winters with the Ingalls family, and I roamed the plains and explored with Laura. These books shaped me in crucial ways, and I find it only fitting that I wound up moving from the east coast to Wisconsin, much like Laura's parents did.
Nikki Steele: I was ALL about Matilda when I was growing up–her bookishness, her magic, her amazing teacher. I wanted to be her, at least for the good parts. I also adored The Chronicles of Narnia by C.S. Lewis. It's not the same re-reading those books, but I loved the adventure then and the sense of purpose all of those kids have. It's also made reading The Magicians series by Lev Grossman that much more fun now.
Tasha Brandstatter: The Ghost Wore Gray by Bruce Coville was the first book I loved. It had everything childhood me loved: ghosts, buried treasure, art, creaky old inns, and summer vacation. It also has one of my favorite lines ever in a MG novel: "What a hunk! Too bad he's dead." The rest of the books in this series, The Ghost in the Third Row and The Ghost in the Big Brass Bed, are delightful as well. I still reread them on occasion and they've stood the test of time.
Jessica Pryde: I remember more the sensation of reading Number The Stars than the actual story. I recall the thrill of reading it the first time in third grade, and repeatedly returning to it as I saw it in my classroom library. It was a combination of reading about a girl my age surviving through adversity, and a book I really enjoyed always being at my fingertips. Also, Anansi the Spider gave me a really early appreciation of storytelling.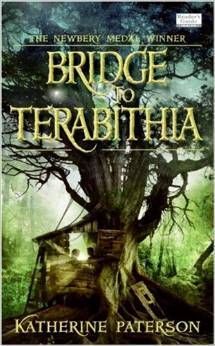 Peter Damien: I read an awful lot of books as a kid, but I'm not sure any of them were having major emotional impacts on me. Maybe because I was a boy, or maybe because most of them were too busy being full of monsters. I don't know. What I do know is that I read Bridge to Terabithia by Katherine Paterson as quickly and innocently as all those other books…and it obliterated me. The ending is abrupt and tragic (Do I need to worry about spoiling a book as old as Star Wars?) and I didn't realize I had developed something of a crush on the girl until the ending happened. I remember wandering around the house, sad and hurt and bereft and entirely unprepared for that reaction. So profound was its effect, I have never gone back to it again.
Middle School
Alison Peters: Tess of the D'urbervilles, by Thomas Hardy. I think I was challenged to read this book before high school, and being the reading smart-ass that I was (am?), I took it up without hesitation. And I seriously loved this book, with its moors and lovers and jilted romance. But it really did take me till high school to get the gist of the whole 'got pregnant in the field after doing it that one time' vagueness. But it still stands out as one of my all time favorites.
Amanda Diehl: Up the Down Staircase by Bel Kaufman. This was probably the first epistolary novel I read and I was immediately taken with the genre. And, of course, we all have those amazing teachers who help guide us during our more formative years, so I found a lot of similarities between Sylvia and my favorite teacher (who also happened to teach English).
Swapna Krishna: A Ring of Endless Light and Troubling a Star by Madeleine L'Engle. When I was in middle school, most of what I read was classics (upon reflection, I'm pretty sure I did NOT understand the books I was reading back then). These two books were the first YA books I'd read and to this day, they're still on my bookshelves.
Rachel Manwill: I Know Why the Caged Bird Sings by Maya Angelou. As a military kid, I moved around a lot, and when I hit 7th grade, I ended up in an English class that bored me to tears because the books were so far below my reading level or I'd read them already. My teacher recognized this and gave me books that the other kids weren't reading. Angelou's memoir was the first one she gave me, and I remember staying after class to discuss it. I was profoundly honored that a teacher trusted me with that kind of material and it was cemented in my brain as my first "grown up" book.
Rachel Cordasco: The Anne of Green Gables series by L. M. Montgomery- I absolutely fell in love with the rural landscape and people of Prince Edward Island, and Montgomery's prose was vivid and entrancing. I remember binge-reading them with joy.
Nikki Steele: One of my favorites memories was sitting in 7th grade English class reading Watership Down. At first, I just felt really cool reading my thick book when all the others kids were still paging through magazines or smaller books. It really ended up changing me, though, when I realized a somewhat cute story about rabbits, of all things, was becoming so much more.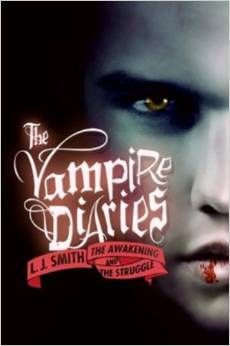 Tasha Brandstatter: The Vampire Diaries by LJ Smith. I went CRAZY over these books. Like full-on obsession, in the way only a teenager can obsess. I read all three books so often they started falling apart, wrote fan fiction, dressed like the characters, the whole nine yards. They were the first, and remain the only, books I've ever geeked out over like that (although I do love nearly all of LJ Smith's other novels).
Jessica Pryde: The Only Alien on the Planet by Kristen D. Randle. It was a RIF book I picked up in sixth grade, and I recall reading it multiple times over the next few years. A girl, new to school, strikes up a friendship-relationship with a kid who gets no love by anyone. He's quiet, but super smart, and has a really snarky sense of humor; basically, he reminded me of me at a time where I didn't really have a lot of friends. I was in love instantly, and that relationship was matched by none other while I was in middle school.
Peter Damien: Star Wars: Heir to the Empire by Timothy Zahn doesn't seem like it would be so important a book, given that it was "just" a tie-in novel, but it was a watershed moment for me. Not only because I discovered with Zahn's trilogy that I could carry on my love of Star Wars into novels, but also because in or out of a media tie-in novel, Timothy Zahn is a superb science fiction writer. They were sprawling, epic novels (far better written than the movies, let's be honest), and I was so enthused by them that I began writing. I haven't stopped since. (They were also the first time I realized how books could be structured and mechanically shaped, the first time I noticed the authorial details and not just the story, and that was an immense benefit.)
Dana Staves: I was a late arrival at the Little House on the Prairie party, and I only ever read the second book, but I remember sitting in the back of my sixth grade classroom, hating school (very unusual for me) and reading that book, and there being a description of cooking salted pork that made my mouth water and made me hate school more and wish for prairie life and salted pork and sunbonnets.
High School
Kate Scott: Jane Eyre by Charlotte Brontë – I read Jane Eyre the summer I was sixteen on a week-long vacation in Detroit. I was completely enraptured by Brontë's use of language and it has remained one of my top five favorite novels of all time.
Alison Peters: The House of the Spirits, by Isabel Allende. This was assigned summer reading, and it just blew my mind. Up till that point, most of the school reading was American/English canon classics that the Norton publishing group would heartily approve of. My first glimpse into some South American history, magical goings-on and love across generations thrilled me, and changed what I enjoy reading, for the rest of my life.
Dana Staves: Mythology by Edith Hamilton – My 9th grade English teacher assigned this collection of mythology to us. It was such a drastic departure from anything I had ever read before. But the characters! Helen, with her face! Madea, totally freaking out! Odysseus, just trying to get home, and poor Penelope, weaving and unraveling. It was a new world with that book.
Amanda Diehl: The Handmaid's Tale and Oryx and Crake by Margaret Atwood. And so began my love affair with Margaret Atwood. Though I feel The Handmaid's Tale should be required reading for everyone, I think it's especially important for young women. I remember having powwows with my girl friends over this book and it still gives me fond memories of female bonding. As for Oryx and Crake, well it's just plain amazing.
Rachel Manwill: Absalom, Absalom by William Faulkner. This is the book that taught me that it's okay to hate a piece of literature. I read this as summer reading before my senior year and I actually flung it across the room because I hated it so much. But once I calmed down, and finished it (begrudgingly), I had to write an essay about it. And trying to channel all my dislike into a coherent and competent 3-page paper was the hardest piece of writing I'd ever had to do. But I picked apart the things I liked from the things I didn't, and being able to explain what I disliked allowed me far more insight and as a reader from then on.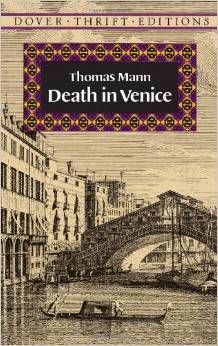 Rachel Cordasco: Death in Venice by Thomas Mann- I read this novella for a high school lit group, and fell in love with Mann for ever and ever to eternity. His exploration of a life devoted to art, and aesthetics in relation to sensuality, were fascinating. Mann's prose is also exquisite and expressive, the kind of style that inspires its readers to write.
Nikki Steele: I'm going to echo Alison up there and say that Allende wrote the most memorable book for me in high school. On the Road by Kerouac was a close second, because teenagers and hormones and wanderlust and such, but The Stories of Eva Luna was so much more. It gave me new ideas of what it meant to be a woman. It played with fact and fiction in a daring way that absolutely thrilled me. It was also one of the first times I read about sex where it wasn't talked about as something earth-shattering, dangerous, taboo. Of course, it was those things but she also allowed it to be a normal part of life.
Tasha Brandstatter: I read so many incredible books in high school that not only shaped the way I read and look at literature, but affected my view of the world, from Jane Eyre (my favorite book of all time), to The Age of Innocence to Things Fall Apart. But for this exercise I'm going to go with Stranger in My Arms by Lisa Kleypas. Here's the deal: I'd always been a bit snobby about romance novels, but I was sitting around my grandparents' house one summer day, super duper bored, and Stranger in My Arms was lying open on my grandfather's chair. Yes, my grandfather read romance novels. By the truck load. Anyway, I picked Stranger in My Arms up, thinking I'd just flip through it, and a romance reader was born. Thanks to Lisa Kleypas and that book, romance novels were the only books I willingly read, or wanted to read, for the next decade. And none of my grandfather's Lisa Kleypas books were safe after that.
Jessica Pryde: There were two books I read in high school (well, one is technically a series) that influenced my reading forever. The first was The Vampire Chronicles by Anne Rice. My best friend and I had determined to read it "together" while she was summering in New York and I was working in DC. I'd been a vampire girl since Buffy and the Interview with the Vampire movie, and this just sealed the deal. I spent the next year or so eating the Anne Rice backlist, found more and more awesome stories about vampires before they were all the rage, and used Lestat as my measurement of greatness in all fictional men, period. He was nearly overthrown by Mr. Darcy. Pride and Prejudice. I read it first in ninth grade for a technical reading course, and was impressed, intrigued, but hadn't really expanded my purview. I read it again in eleventh grade as part of a research project…and discovered online fanfiction in my research. I was forever changed. I didn't read anything but Pride and Prejudice fanfiction for like…three years. And while I have moved back into the world of books, and moved on to different fandoms, I still go back to my roots sometimes.

Peter Damien: Somewhere in my high school years, I discovered Harlan Ellison, and it was a godsend. I think that's probably the best age for anyone to discover his works. Yes, I was floored by "Repent, Harlequin!" Said The Ticktock Man and other such stories…but it was his video interviews, and his nonfiction, and some of his other stories that were vital to me. They contained the same bottomless well of anger which I had, but that anger was not a wildfire, it was a fuel and it was powering this vast and roaring engine. For the first time, with Ellison for support, I began to figure out how to express myself, how to be angry and how to stop putting up with bullshit when it was important not to do so. Other books may have helped me write, or read more widely, but Ellison's work helped me begin to live and function, and I'm immeasurably grateful. And also, "Lonelyache" is the single most perfect title and aptly descriptive word ever used, honestly.