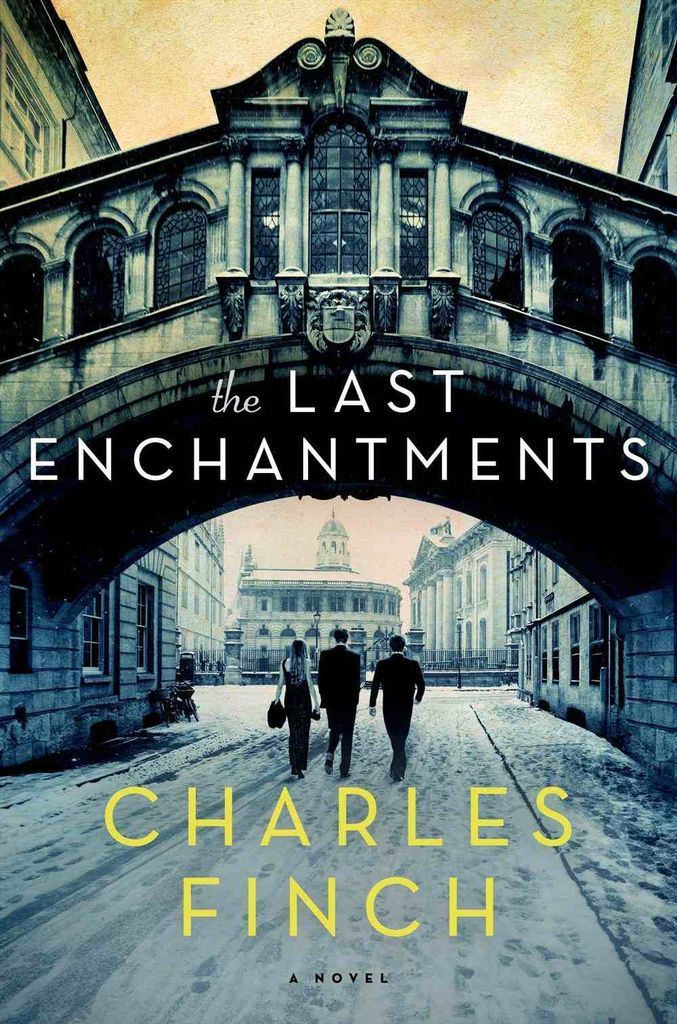 Fiction
Your Favorite 21st Century Coming-of-Age Love Stories
This giveaway is sponsored by The Last Enchantments by Charles Finch.
After graduating from Yale, William Baker, scion of an old line patrician family, goes to work in presidential politics. But when the campaign into which he's poured his heart ends in disappointment, he decides to leave New York behind, along with the devoted, ambitious, and well-connected woman he's been in love with for the last four years.
Will expects nothing more than a year off before resuming the comfortable life he's always known, but he's soon caught up in a whirlwind of unexpected friendships and romantic entanglements that threaten his safe plans. As he explores the heady social world of Oxford, he becomes fast friends with Tom, his snobbish but affable flat mate; Anil, an Indian economist with a deep love for gangster rap; Anneliese, a German historian obsessed with photography; and Timmo, whose chief ambition is to become a reality television star. What he's least prepared for is Sophie, a witty, beautiful and enigmatic woman who makes him question everything he knows about himself.
___________________________
If the unending flow of news stories about Millennials is any indication, coming of age in the 21st century brings experiences, challenges, and relationship possibilities unlike those young people have encountered ever before. For this giveaway, we asked you to tell us about your favorite books about coming-of-age and falling in love in the 21st century. Your top three picks are:
The Fault in Our Stars by John Green
Eleanor and Park by Rainbow Rowell
The Perks of Being a Wallflower by Stephen Chbosky
These titles may not come as huge surprise, but the rest of the list is a real mix. Not every book you mentioned was actually about the 21st Century, but all were written within the last 14 years, so they definitely have a 21st century perspective on falling in love, and I'd say that counts. There are YA favorites alongside literary fiction bestsellers. But they are all about figuring out who you are and falling in love. Take a look at the titles tickled your fancy:
An Abundance of Katherines and Looking for Alaska by John Green
Timebound by Rysa Walker
My Most Excellent Year by Steve Kluger
Just Listen and This Lullaby by Sarah Dessen
My Struggle (Books 1 and 2) by Karl Ove Knausgaard
The Circle by Sara B. Elfgren and Mats Strandberg
That Time I Joined The Circus by J.J. Howard
Atonement by Ian McEwan

Forever by Judy Blume
Me Before You by Jojo Moyes
Beach Music by Pat Conroy
The Lover's Dictionary by David Levithan
Fangirl by Rainbow Rowell
A Visit from the Goon Squad by Jennifer Egan
A Walk to Remember and The Notebook by Nicholas Sparks
The Interestings by Meg Wolitzer
Divergent (Series) by Veronica Roth
Winter's Tale by Mark Helprin
The Monsters of Templeton by Lauren Groff
The Time Traveler's Wife by Audrey Niffenegger
Harry Potter (Series) by J.K. Rowling
To Be Sung Underwater by Tom McNeal
Never Let Me Go by Kazuo Ishiguro
The Spectacular Now by Tom Tharp
The Twilight Saga by Stephenie Meyer
City of Thieves by David Benioff
Rules of Civility by Amor Towles
The Bookman's Tale by Charlie Lovett
The Sugar Queen by Sarah Addison Allen
The Savage Detectives by Robert Bolano
Cartwheel by Jennifer duBois
The Love Affairs of Nathaniel P. by Adelle Waldman
Halo (Trilogy) by Alexandra Adornetto
The Statistical Probability of Love at First Sight by Jennifer E. Smith
The Rosie Project by Graeme Simsion
Anna and the French Kiss by Stephanie Perkins
Water for Elephants by Sara Gruen
Alif the Unseen by G. Willow Wilson
Anthropology of an American Girl by Thayer Hamann
A Map of Tulsa by Benjamin Lytal
Prep by Curtis Sittenfeld
Will Grayson, Will Grayson by John Green and David Levithan
A Discovery of Witches by Deborah Harkness
All the Sad Young Literary Men by Keith Gessen
Naomi and Ely's No Kiss List by Rachel Cohn and David Levithan
The Impossible Knife of Memory by Laurie Halse Anderson
________________________
Sign up for our newsletter to have the best of Book Riot delivered straight to your inbox every week. No spam. We promise.

To keep up with Book Riot on a daily basis, follow us on Twitter, like us on Facebook, and subscribe to the Book Riot podcast in iTunes or via RSS. So much bookish goodness–all day, every day.