This giveaway is sponsored by A Promise of Fire by Amanda Bouchet.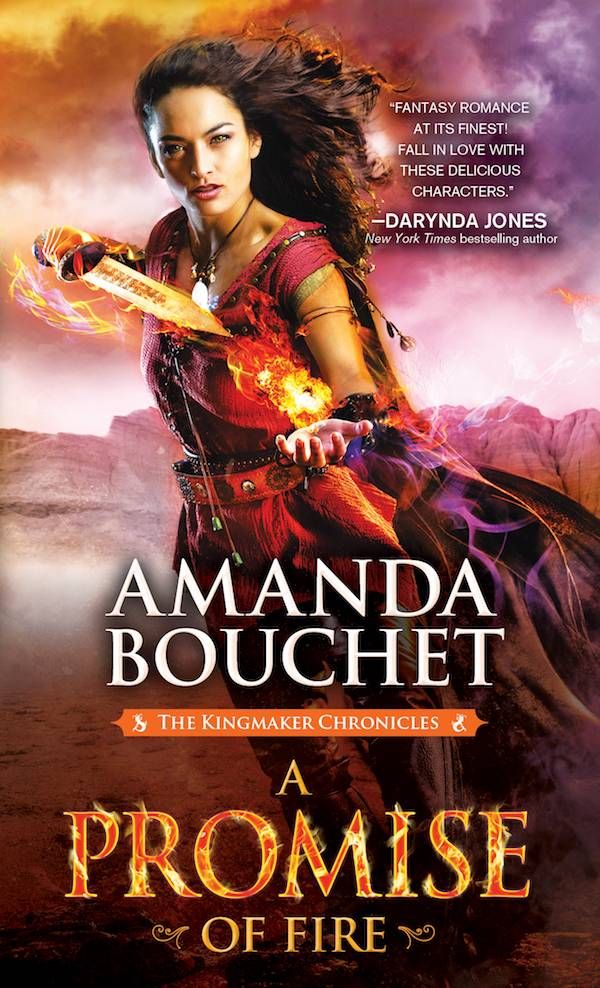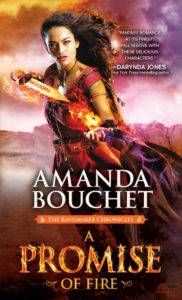 "Cat" is a powerful clairvoyant known as the Kingmaker. This smart-mouthed soothsayer has no interest in her powers and would much rather fly under the radar. But when an ambitious warlord captures her, she may not have a choice…
Griffin is intent on bringing peace to his newly conquered realm in the magic-deprived south. When he discovers Cat is the Kingmaker, he abducts her. But Cat will do everything in her power to avoid her dangerous destiny. Although up for the fight, Griffin would prefer for Cat to help his people willingly, and he's ready to do whatever it takes to coax her…even if that means falling in love with her.
---
A great romance needs chemistry, passion, and don't forget magic. Who says you can't have a serving of dragons and sorcery with that sizzling tryst? We asked you to tell us your favorite fantasy romances and you responded. Here are 40 of your favorite fantasy romances!
Magic Study by Maria Snyder
Dragon Bound by Thea Harrison
The Night Circus by Erin Morgenstern
The Book of Life by Deborah Harkness
Red Queen by Victoria Aveyard
Crystal Flame by Jayne Ann Krentz
The Sword by Jean Johnson
Fever series by Karen Marie Moning
A Court of Mist and Fury by Sarah J Maas
Uprooted by Naomi Novik
Graceling by Kristin Cashore
Magic Bites by Ilona Andrews
The Mark of the Tala by Jeffe Kennedy
The Marriage Spell by Mary Jo Putney
The Raven by Sylvia Reynard
Dragonlance Chronicles by Tracy Hickman
Shades of Magic series by V.E. Schwab
Soulfinder series by Maria V. Snyder
Elsewhere by Gabriel Zevin
Outlander series by Diana Gabaldon
Anita Blake series by Laurell K. Hamilton
You Slay Me by Katie Macalister
Sons of Destiny series by Jean Johnson
Nicole of Prie Mer by Robin Hardy
On the Edge by Ilona Andrews
Heartless by Marissa Meyer
Bid Time Return by Richard Matheson
Charley Davidson series by Darynda Jones
Alpha & Omega series by Patricia Briggs
Forever by Pete Hamill
Undead and Unemployed by MaryJanice Davidson
Darkfever by Karen Marie Moning
How to Tame a Beast in Seven Days by Kerrilyb Sparks
Kingmaker Chronicles by Amanda Bouchet
London Steampunk series by Bec McMaster
Poison Study by Maria V Snyder
Son of the Shadows by Juliet Marillier
Shiver by Maggie Stiefvater
The Librarian by Christy Sloat
Mystic and Rider by Sharon Shinn
Save
Save
Save
Save
Save