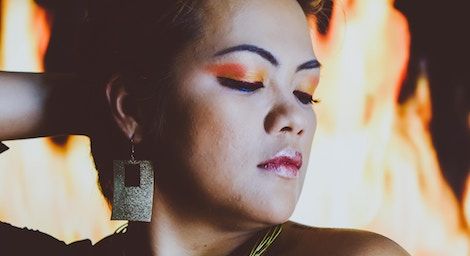 Pop Culture
Fantasy Makeup Looks Inspired by Instagram-Worthy Book Covers
This content contains affiliate links. When you buy through these links, we may earn an affiliate commission.
Halloween is long gone, but that doesn't mean the opportunity to bathe in the creativity of fantasy makeup is gone too. Nope! The face and body are just a blank canvas ready to become the next great work of art, and any good art enthusiast knows that just like books, art can be enjoyed any time and any place.
You know how the saying goes: "Don't judge a book by its cover," because a lackluster cover can keep a reader away from engaging in their favorite new story. BUT! Sometimes your eyeballs get the best of you, because we all like looking at pretty things. That's not always a bad thing, especially today, when we've curated some fantasy makeup looks bringing life to the book covers you would totally follow on Instagram.
Green Queens
The cover for Serial Killer Z: Infection is an explosion of a rich emerald gem, which brings to mind everything green from a garden goddess to an alien. Whether the green inspires an ethereal or exotic fantasy look, rest assured they'll look dope AF.
Pop Goes the Muse
Goodbye, Vitamin is a book cover that gives me colorful, vibrant, very good vibes and makes me think of Andy Warhol. Here's the inspired Warhol look that is all that and a bag of chips:
the Warrior Princess Whose Face is Beat to the Gods
Children of Blood and Bone has been the book of the year. Now, that's most likely due to the amazing story, but we are pretty sure the amazing cover helped get more noses in the spine. Do you know what's better than a dope warrior fighting the good fight? TWO!
What's Black and White and Red All Over?
No, it's not a newspaper. It's the cover for Cruel Beauty, obviously. For me, a quick glance at the book cover immediately made me think of Deadpool. Now, I have a craving for chimichangas.
The Face Kissed By A Rose
The cover for How to Be Safe is so breathtaking that I would buy the book just to be a mini piece of art on my bookshelf. Let's not think too hard about the dark story behind the cover and concentrate on the blooming bouquets it inspired in this breathtaking creation:
Somewhere Over the Rainbow
The cover for Oil on Water gives me serious ROY G. BIV wavelengths, and all I want to do is paint my entire face and body in ALL OF THE COLORS! Who's with me? These lovely folks obviously are:
A Polka Dot Afro Circus Zebra
The Female Persuasion cover reminds me of that moment in Madagascar 3 when Marty finally embraced the circus. May we present the colorful stripes that would make Lisa Frank proud:
Fly Like A Hummingbird
The Ensemble has a cover so bright and colorful that I imagine a hummingbird mistaking the image for real flowers and continuously banging its beak into the book until it gets stuck. Poor hummingbird! For anyone up for rocking a hummingbird on your face (like a Big G), we have a couple of tutorials to send your way:
Pollock Please
All I know about Jackson Pollock's work is that it looks like splashes, splatters, and swirls of colors, and the How to Murder Your Life cover reminds me of this pastel interpretation of a Pollock painting.
The Mirror Has Two Faces
The cover for The Psychopath Test is all Jekyll and all Hyde, so the perfect makeup look inspired by this book cover embraces duality above all else. No matter which side of the coin you get, the end result looks super cool.
Who's a Pretty Pretty Peacock?
Don't the birds on the cover for The Gunners give you a major peacock vibe? Good, I'm glad it's not just me, which is why this look created by makeup artist Kearston French was an immediate winner.
Behold the Mesmerizing Unicorns
When I saw the book cover for The Merciless III, I immediately envisioned a sea of unicorns dancing on rainbows and farting glitter. Taking a gander at these spectacular makeup feats below, my imagination seems spot on, if I say so myself. Want to add just a sprinkle of unicorn sparkle to your makeup game? Try this easy peasy tutorial.
Now, it's safe to say that sometimes it's more than okay to judge a few book covers, especially when those book covers inspire us to paint our faces and body in daring and spectacular ways! Since you've already fallen down this bookish makeup rabbit hole, you might as well continue on your fabulous way:
Makeup Books for Cosmetic Geeks
When Books Inform Lipstick Choices
Bookish Lip Balms Your Face Needs