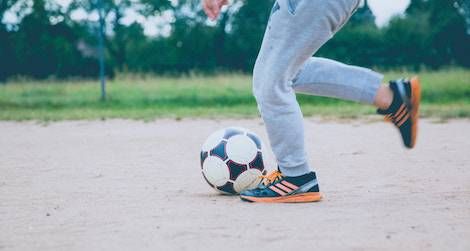 This content contains affiliate links. When you buy through these links, we may earn an affiliate commission.
Soccer is the second most popular sport for kids in the United States (shhh, don't tell football fans). I played soccer. My sisters played soccer. My friends all played soccer. We had soccer themed parties. We played soccer at recess. We worshipped Mia Hamm. But in the '90s when I was growing up there were no movies or soccer books for kids. In the '90s, soccer was still scoffed at and spurned as a "girl's sport." And I'm jealous. Because NOW, after the U.S. women's team won the World Cup in 2015 and a gold medal in London, and international soccer games have become more accessible with the internet, soccer is cool, and there are books about soccer, and people proudly wear soccer jerseys, and go to professional soccer games, and it's awesome!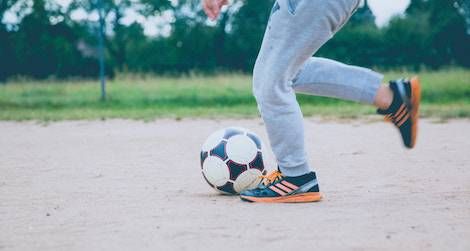 So, if your kid loves soccer, and you're looking for something for them to read this summer, don't worry: there are now PLENTY of soccer books for kids to choose from (still jealous):
Booked by Kwame Alexander (written in verse)
Like Jason Reynolds's A Long Way Down and Thanhha Lai's Inside Out & Back Again, Kwame's Alexander's stories are written in verse. Both Booked and The Crossover look very sports- centric on the outside, but on the inside these books are so much more. This is a quick, very enjoyable read.
The Boy in the Dress by David Walliams, Quentin Blake (illustrator)
So the rumor is: David Walliams in the new Roald Dahl…Well, I don't know about that, but this books is very good. (I don't know about you, but I am wary of saying anything or anyone is the NEW- something-or-other; I mean, Roald Dahl is Roald Dahl and David Walliams is David Walliams…am I right?) Anyway, I'm sure you can tell from the title that this book is also more than just a soccer book. It's about identity and acceptance, and a great book for any soccer-loving kid.
Saving the Team (The Kicks #1) by Alex Morgan, Paula Franco (Illustrations)
Alex Morgan was a 2015 World Cup champion and a gold medalist at the London Olympics, is a striker for the professional women's soccer team Orlando Pride, and has a series of middle grade books called The Kicks, which has been adapted into a TV series for Amazon (busy much?). The book is about Devin, who has moved to California from Connecticut, and is hopeful that in California she'll be on a really good soccer team. But the team's a mess, and now Devin has to straighten them out.
AND
Who Is Pele? (Who Was?) by James Buckley Jr., Andrew Thomson (Illustrator) (release date June 5)
I love the What Was? Who Was? Where is? book series. In fact, the library where I work ordered the entire series one month, because so many kids were coming in and looking for them. They're great books for projects because they have pictures, and they're written with kids and kids' interests in mind. Both books would be great for soccer fans who want to know more information about the sport.
I always recommend Big Nate books to reluctant readers, because they're full of pictures and funny. In this book in the series, Nate joins his school's soccer team as the goalie. And as anyone who's ever played soccer knows: being the goalie can end in disaster.
Speaking of goalies…When Ari Fish finds a trading card of his all-time favorite professional goalie, and then he is picked to be starting goalie on his school team, he is sure the card is lucky. But when he loses the card, and everything starts to go south, Ari has to learn how to create his own luck.
In the 1990s, Clarkstown, Georgia, was designated as a refugee settlement center. There were families from all over the world living next door to each other. They had different cultures and spoke different languages. But one Jordanian woman, Luma Mufleh, decided to unite the kids of the town and start a soccer team. They called themselves the Fugees. This true story takes place during one season, and chronicles the hardships of refugee families, and the wonderful charisma of Coach Luma, who keeps everyone banded together through all of their hardships.
This would be a book for older readers, but a great book for anyone passionate about the game of soccer. Pelé believes that soccer can be used to create real and positive change around the world; inspiring impoverished communities, and galvanizing young men and women to aspire to be something more than their circumstances allow. A great book from a great soccer player.
Lola Levine Is Not Mean! (Lola Levine #1) by Monica Brown, Angela Dominguez (Illustrator)
Lola loves to play soccer, but when she accidentally hurts a boy during recess after getting a little too competitive, Lola is dubbed Mean Lola Levine by her classmates. Uh-oh. Will Lola persevere, and salvage her good name?
This story is set in Zimbabwe and follows two brothers as they seek asylum and safety after their village is destroyed by soldiers. This is a book about survival, and how having a passion, like soccer, can empower us and protect us during the most harrowing circumstances.
When the U.S. Women's Soccer team won the 2015 FIFA World Cup, my love for soccer was rekindled. It had been a few years since I'd played, and I'd naturally fallen away from the sport. But Carli Lloyd and Hope Solo and Alex Morgan became my heroes; I wanted jerseys with their names on them, and I wanted to be younger so I could play soccer again…Many of the women from the team now have published biographies, but for younger kids I think Alex Morgan's is most accessible.
This is a picture book, so it's for younger readers, but I think older readers will like it too. In Pelé's own words, this picture book describes his love for soccer, and how playing soccer makes him feel. A great book for any emerging soccer player.
And in parting: as a librarian I'm meant to implore you to go sign your child up for the summer reading program at your local library! So please do, and while you're there, see if they have these great soccer books for kids! (And if you want your own soccer books to read, check out our list of recs for the World Cup.)