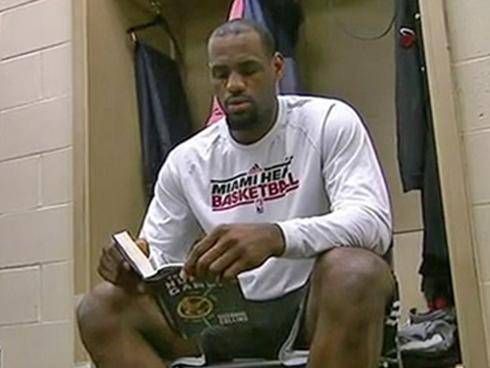 In May of this year, during the NBA playoffs, Miami Heat star LeBron James created a stir (in a good way this time) when he was photographed reading The Hunger Games in the locker room before a game. During a recent interview with ESPN's Michael Wilbon, LeBron said he loves reading, because it "strengthens his mind" and distracts him from the external pressures of the NBA game. Plus, he said teachers and parents contacted him to tell him how kids had seen him reading and wanted to read themselves. LeBron: "Anything I can do to help better kids as far as education…" Kudos, LeBron! (Here's a story about LeBron's and other NBA players' love of reading.)
https://www.pinterest.co.uk/pin/520376931922442201/
But of course, more athletes than just King James enjoy a good book. Here are several more photos of well-known athletes reading (for comedy, advocacy, and for legitimate love-of-reading reasons)!
Here we have Sean Burnett, a relief pitcher with the Washington Nationals reading Fifty Shades of Grey. This was actually part of a whole video of Nationals relievers reading that travesty of book, which you can see here, if you dare.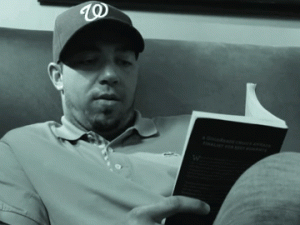 Here we have former New Orleans Hornets and current Washington Wizards center Emeka Okafor reading The Road. Okafor graduated from the University of Connecticut in three years with a degree in finance and a 3.8 GPA. He ain't no dummy.
https://www.pinterest.co.uk/pin/524669425314793878/
Professional tennis player Serena Williams examines the back of this beaten paperback novel. Can't quite make out what book it is, but she seems enthralled — her finger is holding her place.
https://www.pinterest.co.uk/pin/469500329886331132/
Green Bay Packers tight end Jermichael Finley poses with his son Kayden to promote a program called Accelerated Reader — which Finley had himself used growing up.
https://www.pinterest.co.uk/pin/75083518771752090/
New York Jets quarterback Tim Tebow takes a break from Tebowing to read his favorite childhood book, Dr. Seuss' Green Eggs and Ham as part of Pizza Hut's BOOK IT! program. You can see the whole video here.