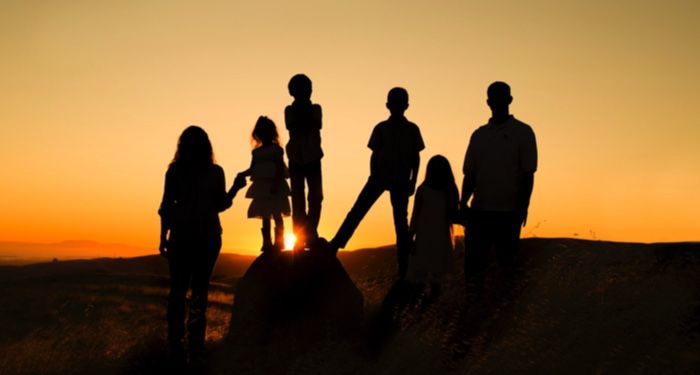 Audiobooks
6 of the Best Family Dramas on Audio for Your End of Summer Listening
I adore a good family drama, and as I chose my TBR for this summer's cabin getaway, I couldn't help but think back on some of the most memorable family stories that I've listened to in the last few years. So whether you are longing to avoid or be around family, there's a book on this list for you.
A Spool of Blue Thread by Anne Tyler, Narrated by Kimberly Farr
Centered around a family house in Baltimore, A Spool of Blue Thread examines the intricate relationships between members of a single family, focusing on Red, Abby, and their four children. Through the decades, the family's story comes together, each new piece revealing new secrets, bitter regret, and nostalgic memories. A Spool of Blue Thread illustrates Tyler's deep understanding of her characters and illustrates how her storytelling flourishes in its sense of place. Kimberly Farr narrates this story, keeping the ties of the various stories clear in the listener's mind.
A Kind of Freedom by Margaret Wilkerson Sexton, Narrated by Kevin Kenerly, Bahni Turpin, and Adenrele Ojo
In her debut novel A Kind of Freedom, Margaret Wilkerson Sexton tells the story of three generations of a Black family from New Orleans. After Evelyn chooses to leave her life of privilege for Renard, a no-name working class man, she has no idea the trajectory her family's story will take. Wilkerson's novel is a fresh take on the family novel, telling each generation's stories together, alternating between the different time periods. The three narrators give each generation its own unique voice and point of view.
The Turner House by Angela Flournoy, Narrated by Adenrele Ojo
The Turner family has lived in the same house in Detroit for half a century, but when Viola reluctantly moves out due to financial struggles, the Turner siblings must decide what to do with the familial landmark. Set in the backdrop of a struggling city with a failing real estate market, this family story is full of secrets, family machinations, and pure drama. The all-star narrator Adenrele Ojo performs The Turner House with all her signature complex emotional depth.
Instructions for a Heatwave by Maggie O'Farrell, Narrated by John Lee
When Michael Francis goes missing one morning, his wife Gretta doesn't know what to make of it. She calls her family, inquiring if they've seen their father lately. Her three grown children, some of whom live overseas, immediately return home to try to find their father and question their mother about why on earth Michael Francis would leave his family without a word. Part family drama, part mystery, Instructions for a Heatwave examines what families leave unsaid and how those things can have lasting consequences. John Lee brilliantly narrates this audiobook, his deep voice bringing forth the hot summer day Gretta's husband disappears.
Commonwealth by Ann Patchet, Narrated by Hope Davis
Author and indie bookstore owner Ann Patchett is an American treasure, and Commonwealth was my first introduction to her work. Spanning half a century, Commonwealth follows several characters' lives after Bert kisses another man's wife at a christening party, joining two families together for better or worse. Patchett deeply understands her characters, and Hope Davis's narration beautifully brings them to life.
The Wangs vs. the World by Jade Chang, Narrated by Nancy Wu
When Charles Wang loses his wealth, seemingly overnight, he forces his family into a cross-country road trip to see his eldest daughter, Saina, who is living in upstate New York. Along the way, the secret of his financial failure, the feelings his children still hold for their stepmother, and Saina's artistic disgrace all come to light. This wild novel will have you alternatively sitting on the edge of your seat and laughing out loud. Audiobook narrator veteran Nancy Wu performs The Wangs vs. the World in her characteristic skill and finesse.