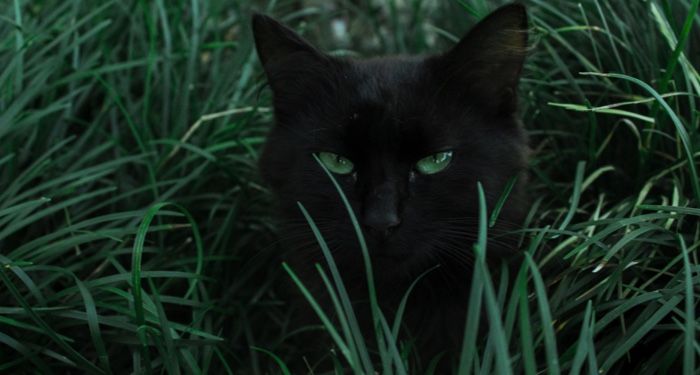 Lists
Stand By Me: 9 Familiars/Animal Companions in Literature
This content contains affiliate links. When you buy through these links, we may earn an affiliate commission.
We'll start with a definition of the first term in the title: What is a familiar? Per Merriam-Webster, it is "a spirit often embodied in an animal and held to attend and serve or guard a person." And according to the Teen Vogue article, "What a Witch's Familiar Really Is," there is no limit to what these animal companions can be, though the common trope of cats still holds true:
Can any animal be a witch's familiar? Sort of, yes! Insects, cats, mice, rats, toads, ravens, and dogs are traditionally familiars. However, it depends upon how the witch and the animal connect.

LISA STARDUST from "What a Witch's Familiar Really Is"
In terms of magical connection, I would not say my dog, Eleanor, is a true familiar, but she often knows that my children are awake before I do. She'll rouse, shake her ears, and jump off the bed. Moments later, my toddler will shuffle in asking for breakfast, or I'll check the baby monitor and see my 10-month-old staring at the camera with her signature "come get me" face.
Eleanor is not a guard dog. She is 12 pounds of chihuahua-miniature poodle mix, with ears bigger than she knows what to do with, and a haughty nature that constantly seeks pets. But she's observant, and she's sensitive. She is patient with my children and very attuned to their sleep schedules. Will she guard me against bloodthirsty enemies or demons? Eh, probably not (especially if they bribe her with food), but I adore her spunky personality just the same.
Familiars & Animal Companions In Literature
Familiars and animal companions in literature do more than pets in the mundane, real world. Rarely is an animal companion just there. The animal has much more agency. And whether a familiar to a witch, a shape-shifting daemon, or an animal that announces a powerful being's presence, they are important to the overall story, and beloved by readers.
Below is a list of books that include familiars or animal companions in some capacity. A couple of the below examples are widely known, but I wanted to include examples that are recent releases or new discoveries for readers. Hopefully one of the below companions entices you to add a book to your TBR.
Middle Grade and YA Books With Animal Companions
Adult Books (of Various Genres) With Animal Companions
Animal Companions in Short Stories and Graphic Novels
More Articles on Familiars and Animal Companions
It would take many, many more words to cover all that literature has to offer for animal companions. Definitely share your favorite familiars and animal companions on Book Riot's social media! Who would you want protecting you as you go through your life? Or is there a familiar you hope never to cross? You can find more animal companions in literary fantasy here or you can read about pets in fiction in this list
There is an abundance of furry friends and creatures in literature. Hopefully you'll find the familiar that connects with you best as you journey on your own adventures. Meanwhile, Eleanor looks at me from the couch, wondering when the children will go down for a nap so she can sleep in peace.