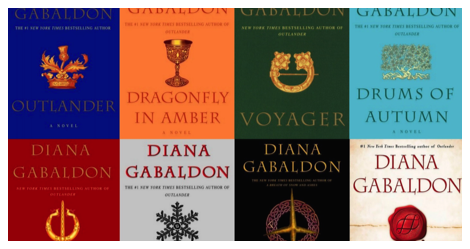 I would be the first to admit that I'm not a fan of the romance genre. At heart I'm a bit of a cynic and romance has never done it for me. I have the same experience no matter the medium– romance in books, in films, or on TV is always a challenge. I can deal with romance when it's not the sole narrative of a story—but even then I'm incredibly resistant.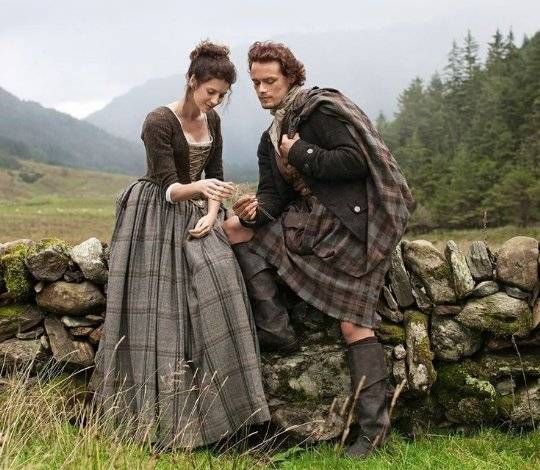 A few years ago, a friend of mine insisted that we sit down and watch an episode of Outlander. I had neither seen, read, nor heard of it, but as soon as the theme tune came on my interest was piqued and at the end of the episode I was hooked.
I raced through the first half of the first season and, while waiting for the remainder of the season to air, I got antsy. I did some research and found out that it was based on a series of books. I searched Diana Gabaldon on Amazon and got my grubby paws on the first book (known in the UK as Cross-Stitch). I swallowed it in a few days. It was the first time that a story with a strong romance element caught my attention.
Many Rioters are likely familiar with the basic premise- In 1946 Claire Randall, while on holiday with her husband in the Scottish Highlands, walks into a Stone Circle and disappears, turning up in the same location, some 200 years previously on the cusp of the seminal Jacobite Rebellion of 1745. She meets Highlander James Fraser and commences a second life.
Gabaldon's protagonist couple are far from perfect and need to be comprehended with deference to the 1700s as well as the 20th century- but they strike a balance with one another which kept me interested. Claire and Jamie are a team. Both of them are well developed characters in their own right and they occasionally clash. Given that they come from different times, those disagreements and the perspectives behind the characters are extremely interesting. Their relationship is well presented precisely because it isn't perfect- like all teams.
This is also not a story of perfect, model-like ladies and well- muscled gentlemen with perfect manners. Claire, Jamie and Frank feel real- they have real flaws, real bodies and they really age as the decades pass in the story. Life in the 1700s is far from simple- the lack of modern amenities is frequently contemplated and it's easy to respect the characters for their hardiness and strength. I love this representation of women, limited by the laws of their time but very much a central force for survival and progress in times of hardship.
Even in the 1700s, Claire's 20th century perspective allows for the involvement of LGBT characters, reflections on slavery, the treatment of minorities, women's rights, military abuse and sexual freedoms. Given the historical context of the story, those strains become even more interesting. I'm not an expert in romance or in historical fiction so maybe these perspectives are more common than I might have expected, but seeing these gigantic questions from the 20th and 21st century in an 18th century context made me think harder about society as a whole.
There is a core recognition throughout Outlander that relationships are hard and that surrounding events have a large impact on human life. Outlander is not a fairytale and that was precisely why I kept reading. The romance is structurally central to the Outlander story as it progresses, but the historical aspects are fascinating. The Jacobite Rising was a seminal event not just in Scottish but also in British history, and this historical fiction gives an incredible insight into the state of affairs and society in the mid 1700s. As the tale winds on, the narrative moves away from Scotland and pushes Jamie and Claire into a future they hadn't contemplated.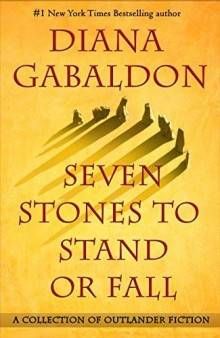 I'm not finished all of the books yet- there are multiple side novellas, short stories and a secondary series to get through, as well as companion books. A fiction collection (Seven Stones to Stand or Fall) is due in mid 2017 and I already have it pencilled into my reading plan for the year.
Diana Gabaldon has created a rich world in multiple timelines, with strong, witty characters. Though her main love story is prominent, there are secondary family stories, relationships and realities that are contemplated throughout the books. Love comes in many forms. I don't expect I'll ever fall in love with the romance genre- but Outlander has opened my cynical heart.