Lists
Fall Tasks Perfect for Audiobooking: Fall into Fall Readathon
Our Fall into Fall Readathon is sponsored by Swoon Reads — publishing the latest and greatest in YA fiction recommended by readers like you. See all the readathon posts here.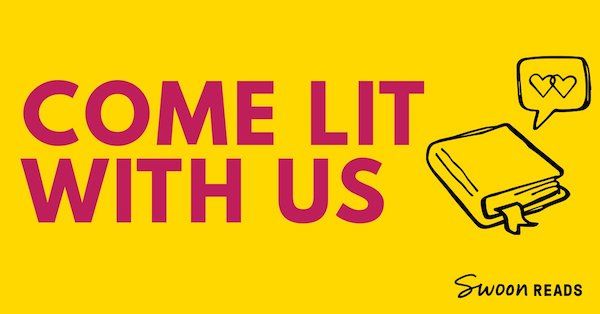 You've got the power to get books published! Swoon Reads publishes the latest and greatest young adult fiction recommended by readers like you. From heroic epics, to alien adventures, to all-the-feels romance—if you're loving it, we'll publish it. Readers who sign up for Swoon Reads or download the app get unlimited access to the latest and greatest unpublished manuscripts. You can rate, comment on, and share your favorites. Then, Swoon Reads uses your feedback to help decide which get made into real, ink-on-paper books. The best part is it's all completely free. So, come lit with us!
---
While many readers might think of fall reading as cuddling up under a blanket with a book, there are plenty of fun fall activities that lend themselves to listening to an audiobook instead. Here are 10 suggestions:
Walking in the woods
Where I live, fall is probably the best time of year for getting outside. The air is cool, the sun is still shining, and there's often a crisp layer of leaves on the ground. Load your favorite audiobook, put on some comfortable boots/sneakers, and hit the trails.
Learning to knit
Fall is the perfect time to get back into crafting, and knitting is an excellent skill to pick up. You might need to put down your audiobook to watch some tutorials online, but be patient! If you're already an experienced knitter, check out these lists of bookish patterns: fantasy and science fiction projects, Wonder Woman projects, comics-themed projects, literary mittens, or literary hats. We can also recommend many great audiobooks that are great for knitting.
Going for a drive to see leaves
Fall colors are an amazing part of the season. Use a fall foliage map to find the best time to see fall colors in your area, then plan a walk/drive in a beautiful area with an audiobook to keep you company.
Trying out new adult coloring books
Audiobooks while coloring is one of my favorite activities, but it's especially great in the fall on those days when it just doesn't work to get outside but you still need to chill out. Not sure what coloring book to buy? Try comics coloring books, profanity-filled coloring books, coloring books for stress or anxiety, or any of the coloring books recommended in our holiday gift guide.
Drinking a Pumpkin Spice Latte
I don't know if you've heard, but the Pumpkin Spice Latte is back. Head to your nearest coffee establishment, buy a seasonal beverage, and enjoy! If the PSL isn't your cup of tea, then find another delicious fall drink—hot apple cider, hot chocolate, or fall-specific teas—to enjoy while you've got your headphones on.
Raking leaves or doing outdoor chores
I don't love all of the chores that are associated with getting ready for winter, but fall tasks do offer some new avenues for listening. If you want to avoid talking with your family, get an audiobook out while you're raking leaves, putting away patio furniture, organizing your garage, or whatever else your particular location requires.
Baking a seasonal pie
Fall is the time of apple and pumpkin pies, so why not listen while you bake? All the chopping, mixing, rolling, and waiting offers plenty of time to get in a few additional chapters, but consider investing in wireless headphones or a bluetooth speaker to avoid getting electronics in your food. Not into pie? Try making a seasonal soup or bread instead—same ideas apply.
Pretending to watch a football game
Personally, I enjoy watching a good football game, but I know it's not for everyone. If you don't love it but end up having to watch with friends or family anyway, putting in one of your earbuds and listening to an audiobook instead of the game commentary can be more sneaky than pulling out a paperback.
Trying a crafting kit
If you're looking for a low cost and low time attempt at crafting, check out the kits available at your local craft store. The kits will usually provide all the supplies you need—no extras to sit around and clutter your house when you're done—and give you great instructions for how to complete the project. There are a ton of great ones to make fall decor for your home!
Cozying up your house
My sister loves fall decorating. She pulls out scented candles, artfully arranges pumpkins, organizes an extensive blanket collection, and more. Load up a soothing audiobook and spend some time thinking about the hygge (or ikigai, lagom, or fika) of your home so you can make it as cozy as possible for those times when you want to cuddle in with a great read.