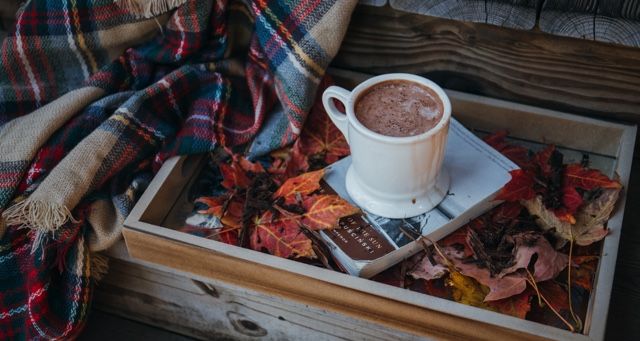 This content contains affiliate links. When you buy through these links, we may earn an affiliate commission.
There's something about the changing of the leaves and cool autumn breezes that makes me feel nostalgic. The new season always leads me to a more introspective place, and there's nothing that feeds my nostalgic soul more than some beautiful historical fiction. And with some of the most hyped books of the year hitting shelves in September and October, there are some fascinating new titles to scratch that historical fiction itch. Check out these eight new historical fiction books with beautiful prose, dynamic characters, and captivating settings.
New Historical Fiction in Fall 2019
Fifteen-year-old Ana is forced to grow up too fast when her family pushes her into a marriage to a man twice her age. Although moving to New York is the dream of many of her friends and family in the Dominican Republic, it isn't her dream. And when she arrives, she feels lost. But when political turmoil in her home country pulls her husband away, she has a chance to find her own voice. Following Ana through her first year in 1960s New York is eye-opening and emotional. Danger lurks at every corner for Ana, and although this is historical fiction, her experiences are still very real to many. Dominicana is beautifully and thoughtfully written, and Ana's story is quietly powerful.
The Revisioners (November 5, Counterpoint) by Margaret Wilkerson Sexton
Josephine freed herself from slavery as a child and is now the owner of a thriving farm. When a white woman moves onto the property next door and tries to strike up a tenuous friendship, their relationship may cause Josephine irreparable harm. Generations later, Josephine's descendant Ava struggles with Josephine's legacy as her white grandmother pays her to move in and keep her company. If you read Wilkerson Sexton's debut novel A Kind of Freedom, you know she has an incredible gift for finding the circumstances and struggles that connect many generations of African Americans. The Revisioners gives voice to a too often silent history and features real, layered, dynamic characters that will stay with you far past the last page.
Cyril Conroy bought the lavish, historical Dutch House outside of Philadelphia as a surprise for his wife. At the time, he thought of it as a grand romantic gesture that would set their family on a path to success. In reality, it was the house that tore them all apart. Over the course of their lives, Conroy's two children consider where everything went wrong, the long-lasting effects of childhood trauma, and the fluid nature of memory. This is not a novel for lovers of action and plot-driven narratives. After finishing this book, I tried to describe it to someone and realized I couldn't put my finger on much at all that really "happened." The movement, development, and growth all stems from the characters and their personal interpretations of the family's history. Nothing happens, but so very much happens. Ann Patchett has such an incredible gift for creating complex, human characters that really resonate. The Dutch House is a stunner of a novel, with a wonderfully unique sense of place and time.
Hiram was born into slavery. And although he was robbed of the chance to know his mother, she left him a great gift. It's a power that he struggles to understand, but when he joins the Underground Railroad, he learns how valuable it truly is. This is a haunting tale of memory, family, and the lasting damage done by slavery. Coates created a powerful protagonist in Hiram, and the "conduction" element of the story is a really interesting and unique mechanism. For a magical twist and new perspective on the horrors slavery, The Water Dancer is a must-read.
In 1941 Berlin, a Jewish mother is determined to save her daughter Lea by helping her escape the Nazis. Lea's mother seeks help from a Rabbi. But it's his daughter Ettie who finds a solution by creating a golem, a mystical Jewish creature, to protect Lea. Once Ettie and her golem set off to France, they learn that their paths have become forever entwined with Ettie's. What results is a magical, haunting, and poetic tale of what we sacrifice for the ones we love. Hoffman, most known for Practical Magic, has a wonderfully spellbinding narrative voice. The magical elements, Jewish folklore, and lesser known historical events of The World That We Knew make it a crucial addition to World War II fiction works.
On Swift Horses (November 5, Riverhead Books) by Shannon Pufahl
Muriel is newly married and lonely in her new hometown of San Diego. Her brother-in-law, Julius, is working in casinos and lovesick for a handsome, young card cheat. Set in post-WWII San Diego and Las Vegas, this queer Western is an exploration of desire, risk, and uncertainty. The writing is beautiful and the characters are wonderfully complex. On Swift Horses isn't so much about plot, but more about exploring the two protagonists, Muriel and Julius. Each chapter peels back a thin layer of these characters, revealing more of their motives, fears, and longings. It's a wonderfully atmospheric novel, with the uncertainties and thrills of the post-war west in vivid color. On Swift Horses is a western that feels both familiar and entirely new.
Ramon is haunted by the persistent ghost of Marisol, an aunt he never met, in modern day New Jersey. Marisol vanished during the Cuban Revolution, and the mystery of her disappearance became lost with time. Ramon learns that Marisol won't rest until her secret history is uncovered. Told through the eyes of Marisol's spirit, The Book of Lost Saints is a haunting story of generational trauma, family, and exploring your own culture. Each new hint of Marisol's past will draw you in and add to the vivid depiction of historic Cuba.
Scottish physician and explorer David Livingstone traveled through Africa in search of the source of the Nile River. In 1873, he died of malaria and dysentery before his mission was complete. His mourning servants decided to mummify his body and carry it over 1,000 miles to return it to the British. Their journey is a testament to human resilience and loyalty. But even more, it provides a chance to examine the hypocrisy of colonization and slavery. Gappah takes a true story and transforms it into a gripping narrative of power, human nature, and ethics. Out of Darkness, Shining Light is thought-provoking and entirely unexpected.
---
We hope this list of new historical fiction books helped you find some great new additions to your TBR. You might also enjoy:
50 Must-Read Historical Fiction Books
15 New Historical Fiction Reads to Pack For Your Summer Vacation