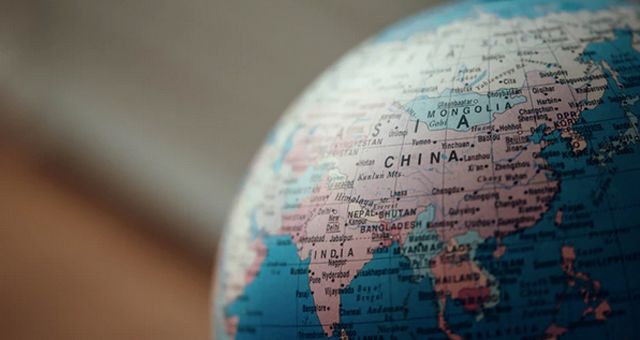 This content contains affiliate links. When you buy through these links, we may earn an affiliate commission.
The days are shorter. The nights are colder. The books are coming at a rate that few can keep up with. It must be fall! And what a season it is, with a new Krasznahorkai novel, the U.S. release of the Man Booker International Prize Winner Celestial Bodies, some exceptional nonfiction, and so much more! Check out these fall 2019 new releases in translation.
Fall 2019 New Releases In Translation
Parade: A Folktale by Hiromi Kawakami, translated by Allison Markin Powell
In her afterword, Hiromi Kawakami describes Parade as a "memento of a story that has ended." The word memento is a lovely and fitting description for this small companion story to Kawakami's bestselling novel Strange Weather in Tokyo. Set on a lazy summer afternoon, Tsukiko is telling Sensei a story of her childhood, of how one day she awoke to find two tengu—winged creatures of Japanese folklore—by her bed. They became her constant companions and showed her that there's more to the world than she thought. A moving story of kindness with the subtle and beautiful writing Kawakami's known for and captivating illustrations by Takako Yoshitomi, Parade will prove to be a precious keepsake for fans of Kawakami and Strange Weather in Tokyo. Find your way into the other works of Hiromi Kawakami with this reading pathways post.
The Factory by Hiroko Oyamada, translated by David Boyd
In Hiroko Oyamada's English language debut The Factory, three characters find work at an industrial factory. They settle into their new jobs and they soon realize that their lives have slowly (or is it quickly? Time doesn't seem to make sense any more) been taken over by the factory. Reality dissolves, strange creatures begin to appear, and the list of unanswered questions about this unusual factory grows longer. I suspect that this strange and surreal tale might fill part of the Convenience Store Woman–sized hole in many readers' hearts.
Welcome to America by Linda Boström Knausgård, translated by Martin Aitken
"It's a long time already since I stopped talking." And so opens Welcome to America, Linda Boström Knausgård's intense and masterful portrait of family and trauma. Twelve-year-old Ellen has stopped talking following the death of her father, causing deeper cracks in an already splintered family. In striking prose, Knausgård examines the power of silence and the complicated reality of family. A singular and thought-provoking story with a child narrator you won't soon forget. I look forward to Knausgård's next book!
Celestial Bodies by Jokha Alharthi, translated by Marilyn Booth
One of the most hotly anticipated books of the fall, Celestial Bodies is the first novel originally written in Arabic to ever win the Man Booker International Prize and the first book by an Omani woman to be translated into English. It's a beautiful and sweeping story of three sisters from a small Omani village. Jokha Alharthi charts the sisters' individual but deeply interwoven paths in life, against a backdrop of rapid social and economic change in their country. Seamlessly navigating between time and perspective, Celestial Bodies is a striking feat of storytelling. Chair of the 2019 Man Booker International Prize panel of judges Bettany Hughes describes it as, "A book to win over the head and the heart in equal measure."
A Fist or a Heart by Kristín Eiríksdóttir, translated by Larissa Kyzer
Up until this year, very little Icelandic literature by women has come across my desk so I'm thrilled to have two fascinating novels out this year—History. A Mess. by Sigrún Pálsdottír, translated by Lytton Smith and A Fist or a Heart. Award-winning poet, playwright, and novelist Kristín Eiríksdóttir has written a clever and many layered story of isolation, art, and memory. A Fist or a Heart follows the lives of two women—connected, but we don't know by what—Elín, a septuagenarian props-maker and Ellen, a gifted young playwright. A novel of isolation and secrets, the emotional resonance of A Fist or a Heart sneaks up on you as you're trying to figure out what's lying underneath the solitary lives of these women.
The Promise by Silvina Ocampo, translated by Suzanne Jill Levine and Jessica Powell
Legend Silvina Ocampo worked on perfecting this novel over the course of 25 years, right up until her death in 1993, and it's out this fall in its first ever English translation. It's being published alongside Forgotten Journey, a collection of short stories by Ocampo translated by Suzanne Jill Levine and Katie Lateef-Jan. In The Promise, a woman reminisces about her life, and lets her imagination get away with her, after falling overboard into the sea—a reflection of Ocampo's own struggles with dementia and her interest in memory and identity. It's said to be Ocampo "at her most feminist, idiosyncratic and subversive" and I just can't wait to get my hands on it and Forgotten Journey.
The Incompletes by Sergio Chejfec, translated by Heather Cleary
From the docks of Buenos Aires to Barcelona to Moscow, The Incompletes is a "story of something that happened one night years ago, and the events of the morning and afternoon that followed." But nothing is straightforward in this latest pairing of Sergio Chejfec and translator Heather Cleary (other titles include The Planets and The Dark) as secrets abound, information is pieced together through postcards and notes on hotel stationary, and the narrator's imaginings run rampant. It's a journey like no other and you'll just want to let go and go along for the ride with this complicated but compelling story, one that Hernan Diaz, author of In The Distance calls, "an extraordinary palimpsest of a novel."
In an interview in the Paris Review, László Krasznahorkai says of Baron Wenkcheim's Homecoming, "I've said a thousand times that I always wanted to write just one book. Now, with Baron, I can close this story. With this novel I can prove that I really wrote just one book in my life. This is the book—Satantango, Melancholy, War and War, and Baron. This is my one book." László Krasznahorkai is beloved in many literary circles and while this announcement that Baron will be his last work is surprising and sad to many, this final novel in his four-part masterwork is already being hailed as his best! Set in contemporary times, Baron Wenckheim's Homecoming tells the story of Baron Béla Wenckheim, who returns at the end of his life to his provincial Hungarian hometown.
2019 Nonfiction in Translation
And, as nonfiction in translation is growing, I'd be remiss to not mention some of the amazing nonfiction out this fall:
Investigative journalist Eliane Brum gives voice to a wide range of Brazilian people in this important collection of essays.
Andrea Marcolongo's love of Ancient Greek is infectious in this brilliant meditation on language and life.
Fans of the Millennium Trilogy won't want to miss this fascinating investigation into the unsolved assassination of Swedish Prime Minister Olof Palme, based on Stieg Larsson's own rediscovered archive.
Me & Other Writing by Marguerite Duras, translated by Olivia Baes and Emma Ramadan
An impressive and wide-ranging collection of nonfiction by Marguerite Duras, who's probably best known for her internationally bestselling novel The Lover.
Naja Marie Aidt chronicles the first few years after the tragic death of her 25-year-old son Carl in this poignant and heartbreakingly beautiful book.
In this incredible memoir, written from his prison cell, Turkish novelist Ahmet Altan reflects upon his imprisonment and the solace and strength his art provides him.