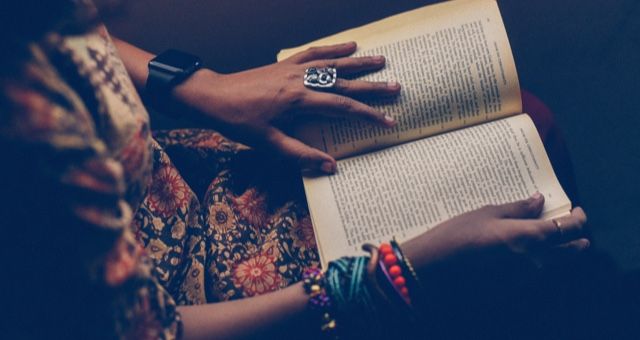 Lists
6 Stunning Debut Books By Women To Read This Fall
This content contains affiliate links. When you buy through these links, we may earn an affiliate commission.
Autumn has officially arrived—and for readers, that only means one thing: fall reads! This year will bring an inclusive crop of amazing new books to choose from. While many favorite authors are releasing their anticipated latest novels this season, there's also a slew of debut works you won't want to miss out on.
These compelling new releases are extremely varied in subject and tone, but they all share one thing in common: They're written by women with fiercely sharp, smart, unique, and funny voices. So take out your TBR list, and get ready to make some notes!
What better setting for a fall read than an all-girls boarding school with a dark and sinister past? In Katie Lowe's suspenseful debut novel, a group of 16-year-old girls delve into the long-buried history of occult and witch trials at their school, Elm Hollow Academy. Led by their mysterious art teacher, Annabel, they soon uncover a whole new world of ancient rites and rituals. And despite Annabel's best efforts to convince them it's all just mythology, the girls quickly begin to think that magic is real and that they can harness it for themselves.
Ever wondered what goes on behind the scenes of a cultural institution like the Metropolitan Museum of Art? Christine Coulson is giving readers a peek behind the curtain with her first novel, "Metropolitan Stories." Having worked at the iconic New York establishment for over 25 years, Coulson knows the ins and outs of the offices, conservation studios and storerooms hidden behind the priceless works of art—and of course, the eccentric characters that work there. This witty and humorous series of vignettes gives you a glimpse into this closely guarded world while also paying homage to her former employer.
Ali Wong first captured our hearts in her hilarious Netflix special, Baby Cobra, and this year's Always Be My Maybe only solidified our love for her. Now, she's back with her first book, a collection of smart and humorous essays filled with sharp insights on everything from dating to motherhood to working in a male-dominated industry. Though written in the form of letters to her daughters, Wong's refreshingly unfiltered voice and sharp insights will prove relatable to everybody.
Set in postwar American West, Shannon Pufahl's debut novel, On Swift Horses, centers Muriel, a young newlywed who leaves her home state of Kansas to travel west with her husband, Lee, and her wayfaring brother-in-law, Julius. Feeling lonely and lost in her new city of San Diego, California, Muriel finds herself drawn to the racetrack and soon finds herself caught up in the world of risky bets and horse racing. While she navigates her new world, Julius finds himself caught in a dangerous love story that takes him on a journey from Las Vegas to Tijuana.
As the debate around cultural appropriation rages on, Lauren Jackson aims to deepen the conversation with her highly anticipated debut novel, White Negroes. The book—with a title inspired by the 1957 Norman Mailer essay, "The White Negro: Superficial Reflections on the Hipster"—deconstructs the racial contradictions behind American culture, including everything from music and fashion to activism and digital culture. Mixing sharp wit with incredibly thoughtful analysis, Jackson makes the subject of appropriation accessible without relying on platitudes or one-size-fits-all answers.
In this sharp and gripping debut from Kiley Reid, a young black babysitter, Emira, is confronted by police while out with the young white children she cares for. When a video of the incident starts to circulate, her employer, a successful businesswoman, vows to make it right and do what it takes to help Emira. Her well-intentioned efforts set the women on a complicated collision course, especially when a shared connection from their past resurfaces. Written with both empathy and unflinching candor, Reid's novel delivers piercing social commentary on race and privilege in America that will have you contemplating it long after you finish reading.