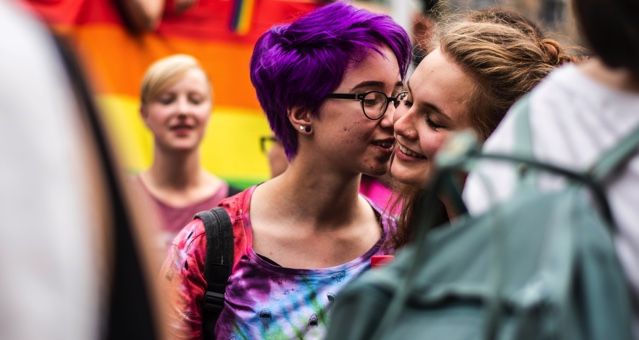 LGBTQ
5 Fall 2019 Bisexual Girl and Lesbian YA to Add to Your Queer TBR
This content contains affiliate links. When you buy through these links, we may earn an affiliate commission.
Looking to fill your fall 2019 with queer girls in YA? Look no further than this list of awesome bisexual girl and lesbian YA books. From queer retelling of myths to gay space operas and graphic novels, there's a book on this list to delight everyone.
Orpheus Girl by Brynne Rebele-Henry (October 8)
The Orpheus myth is reimagined as a queer girl love story that takes on the topic of conversion therapy. Raya and Sarah are from a conservative Texas town; when they're discovered in an intimate moment, they're sent to "Friendly Saviors." There, Raya decides she will be Orpheus and escape the center and their so-called treatments.
Told from the alternating perspectives of the two lead girls, Petrus's debut novel features two queer Black girls from different backgrounds falling in love. Audre is being sent to the U.S. from Trinidad after her relationship with another girl is discovered. Mabel is an American girl who falls for Audre. Mabel wants to take care of Audre as she adjusts to her new life. But a health scare reverses their dynamic and soon it's Audre taking care of Mabel.
The Truth Is by NoNieqa Ramos (September 3)
Verdad is a questioning Puerto Rican teen dealing with a lot of heavy stuff: the death of her BFF, parental expectations, and her MIA father. She thought she didn't have time for love, until she meets a new trans guy, Danny, at school. Danny is comfortable in his gender and sexual identity. Verdad, on the other hand, has to deal with her own internalized homophobia and transphobia as she explores her identity.
Cosmoknights by Hannah Templer (October 8)
As the official description delightfully declares, this graphic novel features a "ragtag band of space gays." Pan is a princess who lived a small scale existence until she had to leave her life as she knew it. Years later, some gladiators show up at her door. She's pulled into a life where she's on the run and embroiled in a fight against the patriarchy.
Having already written a memoir about ice skating (Spinning) and a sweeping story set in outer space (On a Sunbeam), Walden turns her attention this time to a fabulist story about friendship and grief. Bea runs away, and runs into Lou in the wild west Texas landscape. As the natural world morphs before their eyes, a strange cat joins the girls and a group of creepy men haunt them.
---
For more queer YA, check out these 10 2019 bisexual YA books from earlier in the year. You'll also likely want to know about a bunch of queer girls in YA from earlier in 2019. What bisexual girl and lesbian YA books coming out this fall are you excited about?