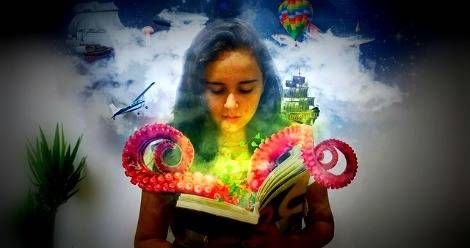 Pop Culture
Fairy and Folk Tale Collections That Aren't The Brothers Grimm
This content contains affiliate links. When you buy through these links, we may earn an affiliate commission.
Jacob and Wilhelm Grimm's contribution to the popularity of fairy tales is incontrovertible. But by reading and knowing only their variations, we lose the rich diversity and malleability of the fairy tale genre. And don't even get me started on Disney. Last year I taught fairy tales for the first time, and struggled with helping students understand that there's no 'original' tale, no single version of a story. I mainly blame Disney, but the fixation on the Brothers Grimm is problematic too. Don't get me wrong, I love the Grimm's, and I've seen almost all the Disney movies (though as an adult some teeth gnashing accompanies the watching). However, so many wonderful, weird, and beautiful folk tale and fairy tales are out there—why stick to only one collection?
Below, I've listed my favorite books collecting fairy and folk tales, and some I look forward to reading.
Full of bawdy humor and sex, if you haven't read The Arabian Nights before, you really should. No adolescent Aladdin here, these stories are for adults. And Scheherazade's such a heroic badass. Saving women's lives by telling stories; my kind of hero! I've read three translations of The Arabian Nights, and Haddawy's is my favorite.
800 pages of fairytale glory. You probably know Calvino's postmodern novels, like If on a Winter's Night a Traveler, but he was also a huge fan of fairy tales. In Italian Folktales, he collects 200 tales about villains with silver noses, queens that give birth to apples, talking birds, a pastry that's a woman, and so much more. These tales are amazing. I've been reading 10 after every book I finish.
A classic compilation of Japanese folklore, featuring some of my favorites, like "The Bamboo Cutter and the Moon Child," and many dragons. DRAGONS! This collection can be read by adults and children alike.
Want to see all the different ways a tale type can be told? Then you should read Heiner's fairytale collections. I'm highlighting this one because of the Disney live-action B&B movie coming out, but Heiner has many tale type collections—like Cinderella Tales from Around the World. However, this one's a great place to start. Of course it contains the classics—like "East of the Sun, West of the Moon," and both the Villeneuve and Beaumont B&Bs (the version Disney used)—but it also collects a ton of equally wonderful B&B tales. 188 to be exact.
My favorite American Indian folklore collection, though I've many more to read. Rather than dividing the tales by tribe, which most collections do, the editors divide the chapters by tale types. This makes the collection a wonderful general overview of American Indian folklore, particularly if you're more interested in tale types rather than the tales of specific tribes, though tribal names are still listed for each tale.
Beginning in 1889, Scottish fairytale buff Andrew Lang published a total of 12 fairytale books, naming them after colors. He gathered his fairy tales from around the world, and they're a great read for both adults and children. Warning: he does white-wash some of these tales by exchanging foreign terms or ideas with British variations.
On my TBR pile
But I've already read almost 200 B&B tales in the Heiner anthology, why would I need another, you ask? Well, because. Also, Maria Tatar's fairytale expertise means I'm reading everything she publishes.
A collection of African American folklore by a literary great, also written in dialect. I need to read this soon!
Schonwerth was a contemporary of the Grimm Brothers. This collection supposedly rivals theirs, and I hear it contains lots of feminist fairy tales.
After reading "The Monkey Prince" in Heiner's anthology, which she credits to Stokes' anthology, I immediately bought this. "The Monkey Prince" is one of my favorite B&B tales—full of humor and a feminist princess who definitely does not need rescuing—so I'm excited about reading the entire collection. And I've never read a collection from India before.
Want to read retellings instead? Here's a list of children's books, another with romantic variations of B&B, and an epic list of 100 retellings.
What are your favorite fairy or folk tale collections?