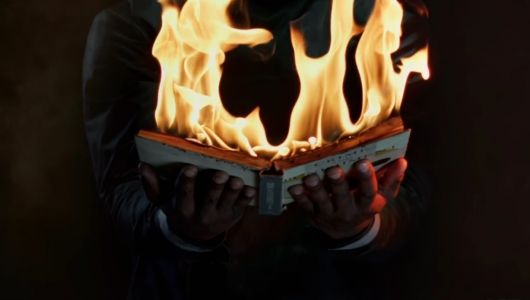 News
See the First FAHRENHEIT 451 Trailer
This content contains affiliate links. When you buy through these links, we may earn an affiliate commission.
It may seem like HBO's Fahrenheit 451 trailer and adaptation is particularly relevant these days, driven by the current political climate, but it's a film that has been in the making since before the 2016 presidential election. Fahrenheit 451 is a story that was relevant long before Ray Bradbury wrote it, and it will likely be relevant far into the future.
During the 2018 Television Critics' Association Winter Press Tour, the film's director, Ramin Bahrani was careful to distance the film from Trump's presidency and the events that have occurred since he took office (remember Fire & Fury ?): "Politically things are going in a very strange direction in terms of what is real and what is not real…I don't want to focus so much on [Trump] because I don't want to excuse the 30, 40 years prior to that. He's just an exaggeration of it now…"
From the little sneak peaks we've been given of HBO's Fahrenheit 451 so far, it looks like Bahrani has done a good job of addressing Bradbury's concerns that we are steadily, and with increasing speed, eroding our culture in favor of advancements in technology. In an age in which technology rules, books will logically be seen, at best, as relics or, at worst, as threats.
Take a look at the Fahrenheit 451 trailer and let us know what you think. Bonus points if you can catch more than 5 titles in that pile of books. I saw Crime and Punishment, Catcher in the Rye, Lolita, Things Fall Apart, and something by Mark Twain – all of which have been challenged on more than one occasion. Very fitting. Somebody at HBO has done their homework.
Catch all of our coverage of Fahrenheit 451 here.