This content contains affiliate links. When you buy through these links, we may earn an affiliate commission.
This is a guest post from Patricia Elzie. Patricia is a self-proclaimed information junkie. She has a Masters in Library and Information Science and has volunteered hundreds of hours as a sex educator. Her hobbies include baking, sewing, archery, poorly playing the ukulele, cosplay, going to Disneyland, tiki bars, and home brewing her own ciders. Her literary interests include comic books, sci-fi, fantasy, erotica, pop non-fiction about food, pop science, fairy tales, YA, and LGBTQ. Patricia is a Slytherin and resides in Pasadena, CA. Follow her on Twitter @theinfophile.
---
Kink or BDSM (Bondage & Discipline, Dominance & Submission, Sadism & Masochism) is a lot of work in real life! There's preparation, planning, negotiation, aftercare, finding a partner, and dozens of other things between you and having a good time. If you're new to BDSM or curious about kink, this can all be really intimidating. What if you don't like being spanked? What if you don't like telling people what to do? What if you're not good at tying knots?
Books to the rescue! Just as we can use books to read about far-off places and travel without actually traveling, or having adventures without actually leaving the apartment or putting on pants, erotica can be a great way to explore something like kink in a zero-pressure environment. Just as fantasizing about being a vampire doesn't make someone immortal, the kind of erotica that gets your motor running doesn't define who you are but it can help you learn more about what stimulates your mind. A great thing about erotica, especially kinky erotica, is that some fantasies are taboo and that's what makes them hot so reading about them can arouse your senses in a safe space.
If you're just getting your feet wet you may not be ready (or wanting) to jump right into intense BDSM classics such as the writings of the Marquis de Sade or Pauline Réage's Story of O. You may also not have an idea of what kind of stories you'd be interested in so luckily, there are many contemporary collections of kinky short stories available to please a wide range of sexual orientations.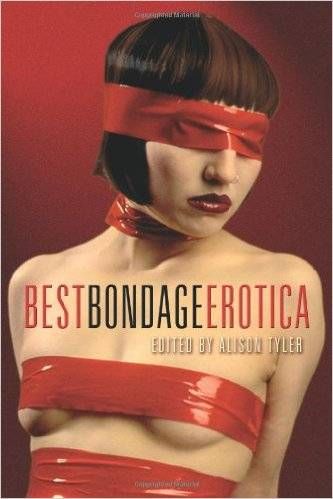 Best Bondage Erotica, edited by Alison Tyler, has a great selection of stories (and we aren't just talking about rope, silk scarves, or duct tape). Stories in this collection introduce you to a wide variety in the ways of bondage beyond just tying someone up.
Bondage on a Budget, edited (again) by Alison Tyler & Dante Davidson is a bit less intimidating than the previous recommendation. These stories are imaginative in a different way but can also be just as arousing. You may find yourself digging through the kitchen drawers for some ideas!
Best Fetish Erotica, edited by Cara Bruce, reaches beyond bondage into the wide world of fetish. Spanking? Sure! Tickling? Absolutely. Santa Claus?! Most definitely. These stories delight on a number of levels, some of them even inducing laughter while still getting you hot and bothered.
If you have an idea of what you're looking for and that idea happens to be female dominance, then you should check out Whipped, edited by Carol Queen. A new copy includes a DVD of the 2000 documentary by the same name, which is a candid look at the lives of three New York women who work as professional dominatrixes.
Have more recommendations for books of BDSM short story collections? Leave them in the comments!