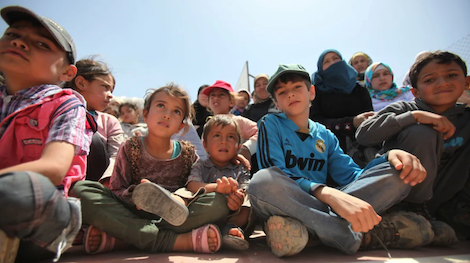 Critical Linking
Experts Say Storytime Can Help Children Recover From Trauma: Critical Linking, April 25, 2019
Sponsored by our $100 Amazon gift card giveaway! Enter here.

---
The lives of millions of Syrian children have been disrupted by their country's ongoing civil war. As a result of this crisis, refugees from Syria have poured into camps in neighboring countries like Jordan, where children might not have an outlet to process their feelings or painful experiences.
According to The New York Times, an innovative reading program in Jordan is helping to heal some of these emotional wounds.
I don't know if "recover" is the right word, rather than "process." But I can't wait to hear more about this research as it evolves.
---
Nearly a year and a half after it first premiered at Sundance, the film adaptation of The Walter Dean Myers novel, Monster, has finally been acquired, and it has a new name!
Now titled All Rise, Byron Allen's Entertainment Studios Motion Pictures has acquired the worldwide rights to the film from BRON Studios. A U.S. release is planned for fall 2019.
---
This week, Vans posted an animated Harry Potter x Vans image to its social accounts, linking out to a new landing page: vans.com/harrypotter. According to the announcement, the collection will include footwear, apparel, and accessories. And judging by the four core graphics on the landing page, the products will carry a house theme: Gryffindor, Slytherin, Ravenclaw, and Hufflepuff. There's no information yet on the launch date, specific products in the line, or price range.
I know so many people who will be excited by this.